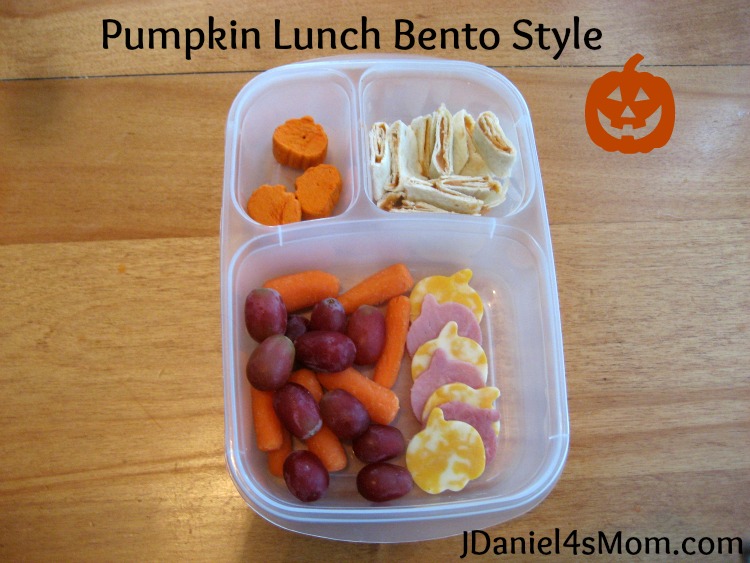 October has been a crazy and busy month. On Wednesday we went to the pumpkin patch with JDaniel's class, rushed from the farm the patch was on to his speech assessment and then to a local park to visit with some playgroup friends we haven't seen in ages. Thankfully the park is less than a mile from the testing site. The farm was forty minutes away from our church's school where the testing took place. With so much going on I created lunch and breakfast ideas we could take on the go if we needed to.
With all that going on I knew I needed to pack JDaniel a bento lunch to have at some point. He ended up having it in the waiting area of the testing center. I was so glad I had brought it with me the testing ran over an hour and it was 1:30 p.m. before he finished.  The tester commented that he had so much to say it was hard to move on to the other questions on the language part of the test.
Lunch Ideas
What did he have for lunch? He had pumpkins spice marshmallows, pumpkin spice cream cheese spread on a flour tortilla and cut into sections, carrots (left uneaten), red grapes, and ham and Colby Jack pumpkin cutouts.
Breakfast Ideas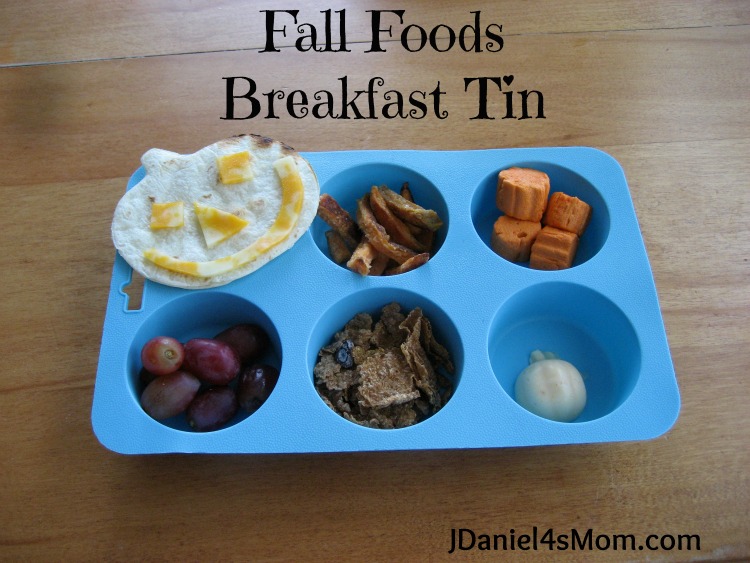 A breakfast muffin tin meal with a pumpkin theme was also served this week. JDaniel has started asking for a flour tortilla and Colby Jack cheese for breakfast. Some mornings he gets all the ingredients out and makes it himself. This lunch features his favorite breakfast sandwich in a the shape of a pumpkin. He also got sweet potato french fries leftover from the night before, pumpkin spice marshmallows, red grapes, raisin bran, and frozen yogurt pumpkin.
JDaniel doesn't usually get dessert at breakfast time, but he loves the marshmallows and I thought I would spoil him a little.
We have loved taste testing pumpkin relate products we have found at the store.
More Lunch and Breakfast Ideas
Breakfast Ideas Kids will Love
What is your favorite pumpkin product?

(Visited 74 times, 1 visits today)