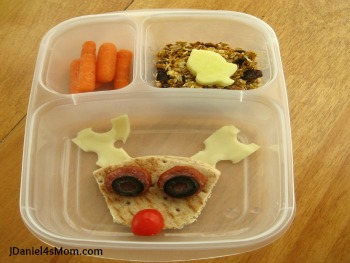 This post contains affiliate links.
I usually share with you JDaniel's reaction to lunches I have created or how I put them together. Today I thought JDaniel and I would walk you through how we put this reindeer lunch together in a bento box.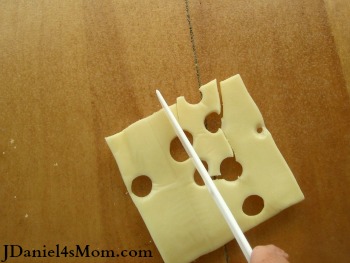 JDaniel used a barely sharp plastic knife to cut antlers out of Swiss cheese. He ended up cutting out about four antlers for our reindeer. Why? Well, he kept eating the antlers. I thought it would be a good idea to cut everything we needed first before we constructed the lunch. That turned out to be a very bad idea.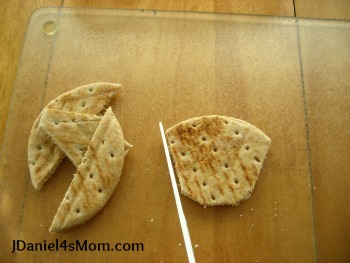 Cutting out the bread didn't pose the same problem that cutting out the cheese did. We had scraps we didn't need and JDaniel was able to snack on them.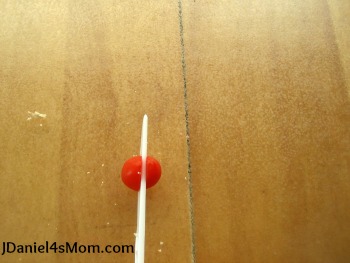 Slicing the tomato for the nose was a little tricky. The tomato kept rolling around. Finally I  started out the cut and JDaniel was able to finish it.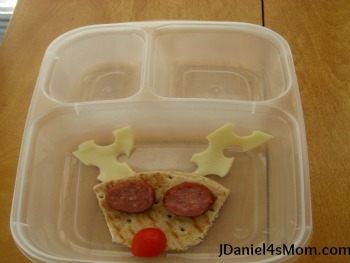 Once the foods we needed to cut out were done, we started to construct the sandwich. The cheese antlers when into the box first. The bread head was placed on top of them. JDaniel's favorite sausage slices leftover from dinner were placed on the head for the eyes and the tomato slice was placed on as his nose.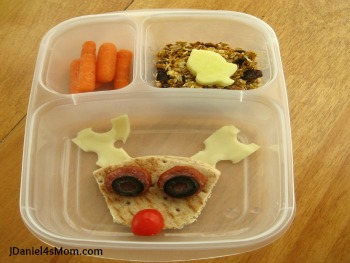 Black olives were added to the deer for his pupils. I gave the reindeer lunch. JDaniel didn't think kids would like them for Christmas and even reindeer might not like them. I put them in anyway. The reindeer was also given homemade granola and an abstract art bell.
It turns out reindeer eating children eat everything, but the carrots. I guess JDaniel was right!
If you like this reindeer lunch, here are some more food creations:
Watermelon Cookie Cutter Cutouts
You will find more food creation for kids on my Food Creations board on Pinterest.

(Visited 112 times, 1 visits today)