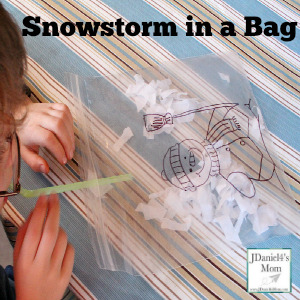 I mentioned yesterday that JDaniel really has wanted snow to fall here. He was blessed to have snow fall at Christmas time two years ago and again the following spring for this birthday. We haven't had snow since then.  While my sister in New York has snow at least half the year, we tend to get rain.
We can't seem to get snow outside, but I decided we could create a snowstorm in a bag. I traced a snowman onto a large plastic storage bag using a clip art snowman I found online.
Then JDaniel helped me gather materials he thought would make good snow. We ended up with tiny pieces of a foam sheet, paper towel, napkin, tissue and some felt.  After weighing them each in his hand, he declared that the napkin was probably the lightest. I thought it would a good idea to try a few pieces of the other materials to see if they moved around in the plastic storage bag.
Once all the little pieces were in the bag, I showed JDaniel how to close all but a tiny area of the bag. He inserted a drinking straw into the bag to begin blowing the pieces. The blowing pieces in the bag would be our snowstorm.
The piece blew around a little when the bag was held up right. The snowman ended up getting a swirling snow body. The bag ended up with a lot of condensation and very puffy after only a few blows. Unlike a real snowstorm the wind in the bag was warm and left a hazy residue on the bag. The small pieces of tissue and napkin were damp. They started to stick to the inside of the bag.
After talking over what could be done to make the white pieces fly more and stick less, JDaniel decided we needed to place the bag on the table and try blowing into the bag while it was flat .
The pieces of white materials flew around so much better with the bag on the table. JDaniel was thrilled. The bag still filled with air and some of the pieces stuck, but the activity worked well this way.
Snowstorm in a Bag Update!

We are still crossing our fingers for snow this year! Since we haven't had any fall yet, we made a snowstorm in a bag just as we did when JDaniel was little. I thought you might like to see what the new bag looked like.
Taking time to play and do a science experiment was such fun. We both really enjoy this preschool activity.
 I called it a preschool activity, but I bet older children would enjoy it too. Making a snowstorm in a bag isn't the same as having real snow! Maybe we will still have some if not I will be pulling this bag out and we will play and explore it again.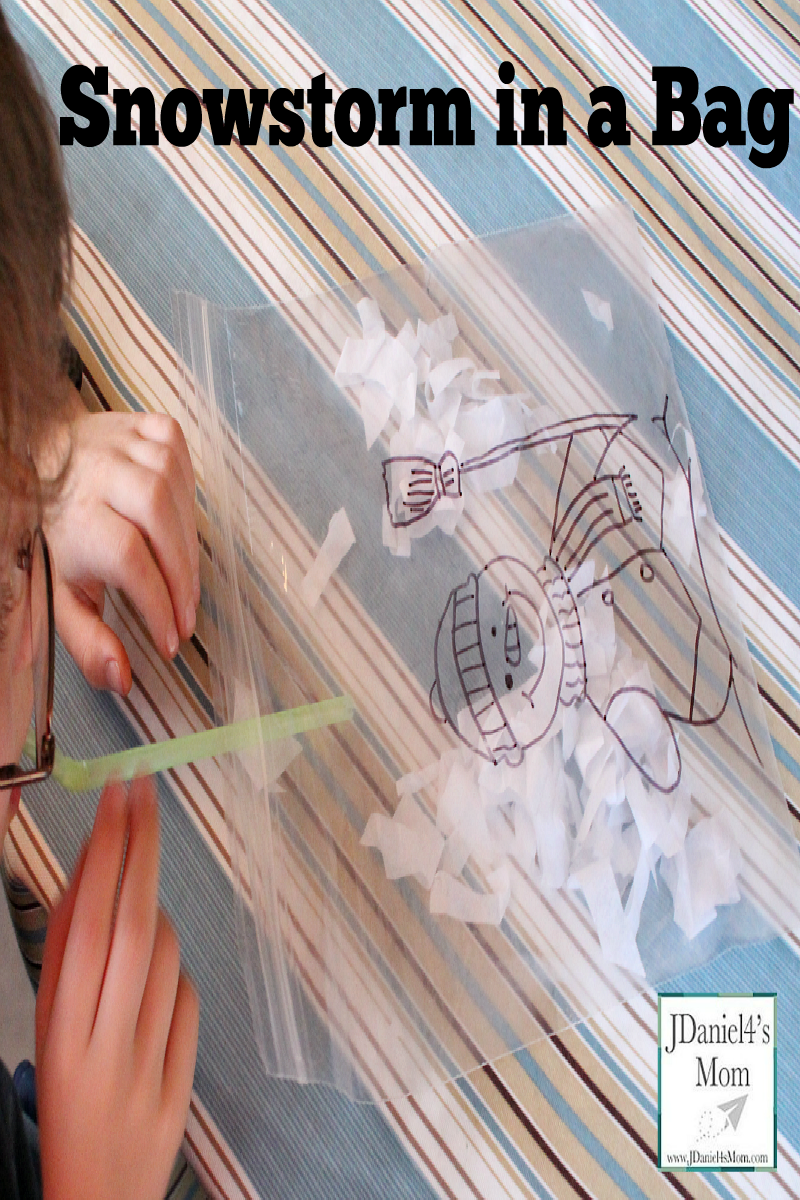 (Visited 13,409 times, 52 visits today)