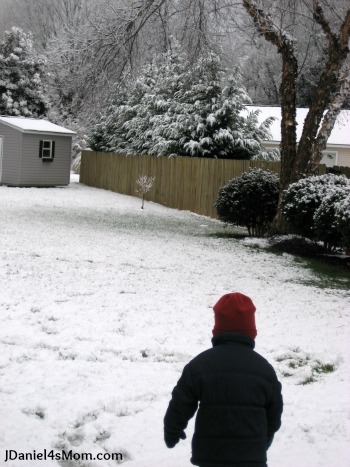 Last Saturday we took JDaniel to a puppet show called Glow Tales. All of the puppets and much of the stage glowed. It was really very cool. The theater was kept most dark so the black light could do it work. As we left the theater, we walked into a world that looked just as magical and pretend as the one we had just been apart of. The cars in the parking lot were covered in a light dusting of snow. Snow swirled around us just as if someone shaken up a snow globe containing our town and just righted it. Maybe just enough snow for playing in the snow.
The snow wasn't deep and it really barely covered the grass. The street in front of the theater was clear and damp. We doubted that much snow would be in our yard when we got home.
Playing in the Snow
Much to our surprise we had about two inches of snow in our neighborhood. That isn't much for many of you, but for us it is a lot. We haven't had more than a few flakes fall in two years.  JDaniel has been praying for snow since late November and was sure that God has some how missed his petitions for snow.
I had to convince him to come inside and change into warmer clothes when we pulled into our driveway. Thankfully my sister Kate lives in NY and sends us snow items like boots, gloves, and hats. I dug them out of the hall closet and had JDaniel put them on.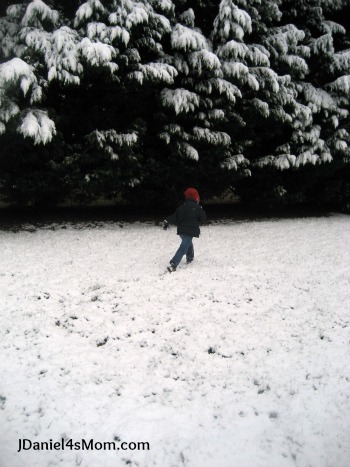 Then I had to dig my snow things out. It took forever to find my snow boots and gloves. They were piled in a closet behind two years worth  of other clothes and stuff.
When we headed outside for some time playing in the snow, I asked JDaniel what he wanted to do. I was worried the sun would come out and melt the snow before we got to things he really wanted to do.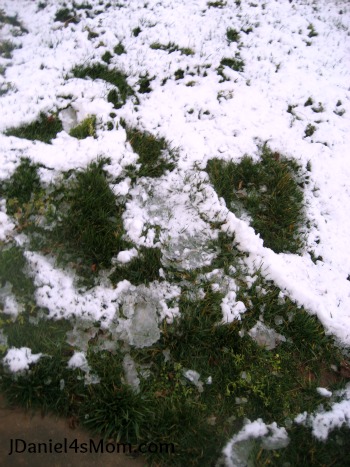 The first thing on his list was to make a snow angel just like the Cat in the Hat. There was barely enough snow to move around with his arms and legs, but he was thrilled to be getting to make one. I just loved watching flap his arms playing in the snow.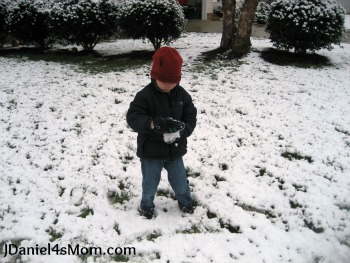 The second thing on the list was to have a snowball fight. JDaniel really wanted one with his dad, but my husband has been having back problems and doesn't bend over or throw well. I don't throw well, but I was up for the challenge of dodging  JDaniel's balls of snow. Chasing him around the yard and trying to tag him with snowball was a lot of fun too.
The snow barely lasted until the following morning and it was totally gone by the time we came home from church. I am so glad we took time for playing in the snow for few hours in the snow on Saturday. Maybe we will be opening the door to more snow in early March. A very special boy has a birthday then and I am sure he would love for God to give him snow as a present.
This post is linked to Mrs. Matlock's Alphabe Thursday.