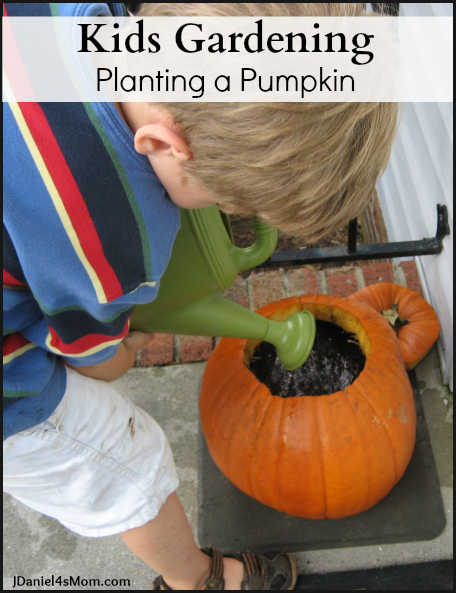 Planting a pumpkin seeds in a pumpkin is our latest attempt to grow pumpkins. Last summer we tried several times to grow pumpkins in our backyard. The seeds grew into long vines with beautiful blooms. The blooms were then eaten by big beetles that apparently love pumpkin flowers and live under the shed we planted our pumpkin seeds beside. This fall I decided we would try to grown them one more time with seeds fresh from a pumpkin.
Why?
JDaniel and I recently read a book called Pumpkin Hill and that same afternoon I came across a post from Growing PreK called The Pumpkin Project. We didn't think that this was a coincidence. It was like we were having a kids gardening project put in front of us that we really needed to do.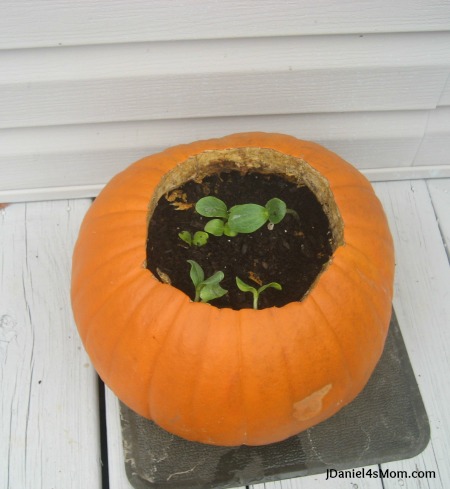 Kids Gardening Project with Pumpkin Seeds
Preparing the Pumpkin

I love the idea of growing a pumpkin in a pumpkin. Growing in PreK cleared the pumpkin seeds out of the pumpkin and left the guts and everything else inside. We cleared everything out of the pumpkin using our hands at first. We clawed and pulled the guts and seeds out. Our hands were soon covered in slippery and slimy substances. Then we used ice teaspoons to scrape along the inside of the pumpkin to separate the reminder of the pumpkin's guts from its interior wall.
Most planters and pots have holes in the bottom of them for drainage. We pushed a screw driver into the bottom of the pumpkin to give it some areas for drainage too. That and one of us might over water the seeds and I didn't want them to drown.
When we had completely cleaned out the the pumpkin, we headed to the kitchen sink to rinse off the seeds. I am not sure that we needed to clean them off, but I thought it was the right thing to do for this kids gardening project.
Planting in the Pumpkin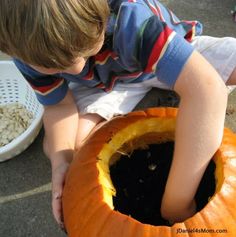 With the seeds clean we headed back outside to fill the pumpkin with potting soil.  We couldn't decide how deep into the soil the seeds needed to be. What we decided to do was to add soil then seeds, add soil then seeds, and add soil then seeds.  The hope is that we have some seeds at the right depth.
Finally JDaniel watered the soil to give the seeds a moist area to grow in. We must have put in too much water. Just beneath the pumpkin on a rubber mat we placed the planted pumpkin on a pool of water appeared. I was so glad we had put drainage holes into the pumpkin for this kids gardening project.
Exploring a Book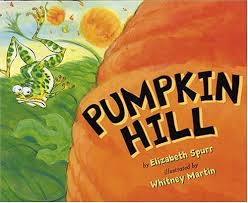 The link to Pumpkin Hill below is an affiliate link.
The book  Pumpkin Hill
 by Elizabeth Spurr is the wonderful story about how a lonely pumpkin became a whole patch of pumpkins. The lonely pumpkin grew alone on a hill. One day it broke from its vine and rolled down a hill and into a field. When it finally came to a stop, it broke open and scattered its seeds all over a field.
The owners of the field couldn't decide what to grow in the field that fall and so it was left unplanted. As time went on pumpkins grew in the field. No one knew they were there and so no one came to get them. The pumpkins withered and died leaving their seeds in the soil. Once again the farmer plowed the field and left it without seeds. He just couldn't decide what to plant.
This time a wind blew the pumpkins out of the field and into town. There were pumpkins everywhere. What happened next? Well, you will have to read the story to see what happens to all of them. Let's just say that were just like they grandfather pumpkin.
In our case our pumpkin and its seeds are sitting on our front step. I am hoping that we will have little sprouts by Halloween. The weather here in South Carolina has stayed warm and sunny.  If is stays warm, planting a pumpkin this late in the year may still work out for us. Hooray! This kids gardening project has been a success.
Here are some more fun kids gardening activities: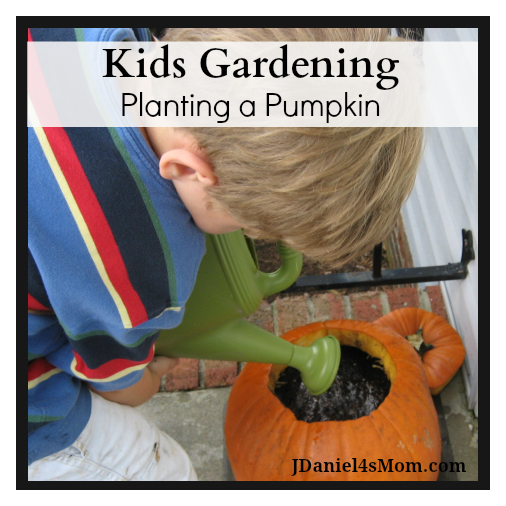 I have decided to ask you to link  your posts to the Read.Explore.Learn. Facebook page instead of running a link up. I hope you will stop by and share your children's book related activities there.

(Visited 9,120 times, 1 visits today)