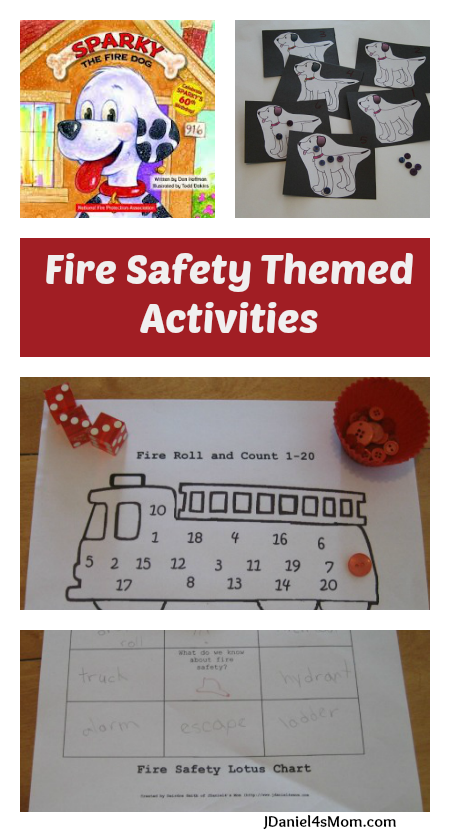 October is Fire Prevention Month. JDaniel  loved to climb all over a fire truck when it came the library for Fire Prevention Month. Now that he is in school all day we can't head over for story time and the fire truck's visit. I decided to share with you  and him fire themed learning activities and book designed to help children learn about fire safety.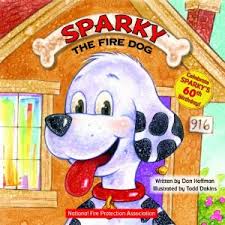 This post contains affiliate links
Most children love fire trucks, dalmatian dogs, and well everything that is fire safety related except maybe fire alarms.  
Sparky: The Fire Dog
 is a book filled with cute and informative pictures about a dog how he keeps safe.This books opens great discussions about fire safety and what children need to do encase of a fire. It is written in such a way that it doesn't scare kids or place ideas in their heads about fire that they don't need there.
Fire Safety Themed Activities to do After Reading the Book
Fire Roll and Count 1-20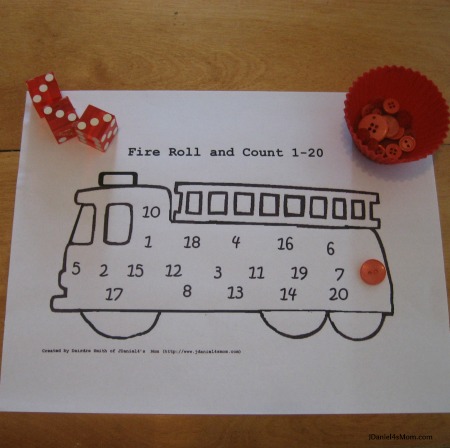 One of the areas JDaniel is working on at school is number recognition. He can count almost to 100 without skipping numbers, but recognizing numbers can be a challenge. I decided to focus this number recognition game of the numbers 1-20. He is actually good at recognizing  most of the numbers in that range. I thought introducing a new number game would be easier with number he knew most of the numbers. I can always go back and put in more challenging numbers on the board later.
The game is really easy to play. You simply roll the three die and then you count the dots displayed on the dice. Once you have the number, you place a red button on the number.
I like using buttons for game board pieces. They are great for fine motor skills and the game board came we used again and again because it is mark free.
Options:
You could use any of the following to mark the game board permanently if you like:
bingo marker
magic marker
pencil
crayon
You could also put the boards in a plastic sleeve and mark on the sleeve instead of the board itself.
You could used dice with number instead of dots to make the adding more challenging.
Fire Safety Lotus Chart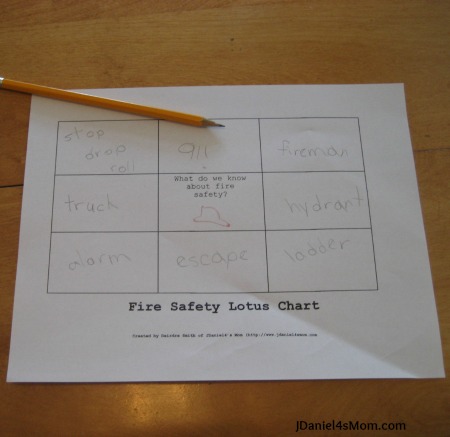 JDaniel's teacher mentioned that they will be using lotus charts a lot this year. I wasn't familiar with them and how they were used when she mentioned them at Back to School night so, I googled them. A lotus chart contains a central box that displays the theme or concept of the chart. Around the center box words or pictures can be placed that illustrate the concept or theme.
I created a lotus chart that JDaniel and I could used to display fire safety words. The wonderful thing about doing a chart like this while exploring a book is that you can look back in the book for words that you want to use and how to spell them.
This is not one of my a fire safety themed activities focused on math, but I thought you would like to see it.
Fire Dog Number Count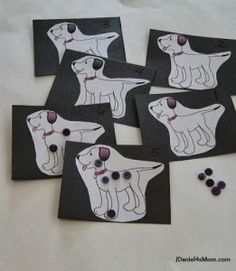 This is more of a preschool center activity than one for kindergartners, but I love how cute it turned out. JDaniel didn't have any trouble placing the correct number of button onto each dog to give it spots. I guess I could have made it harder by giving him bigger numbers and bigger dogs to put the buttons on.
Free Worksheets
I get comments all the time about wanting to have the handout or worksheet we have used to explore books. Up until now I have been sharing them. Not because I didn't want to share them, but because I haven't taken the time to create PDFs of them.
This week I have copies of the Fire Roll and Count game and the Fire Safety Lotus Charts. All you have to do is click on this Fire Themed Learning Activities and they are your.
What books are you exploring this week?

(Visited 2,804 times, 3 visits today)