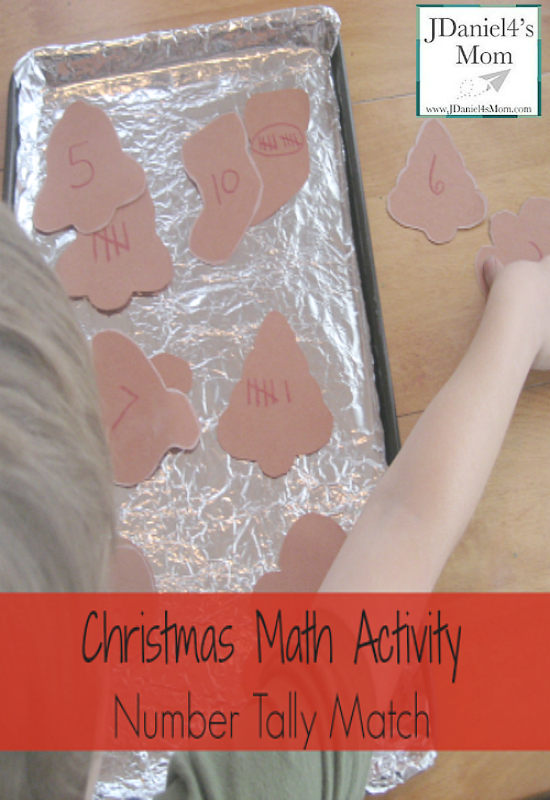 JDaniel's school is focusing the Common Core. One the Common core math skills he has been working on recognizing numbers via tally marks. Since gingerbread cookies are favorites at my house around the holidays, we recently worked on a  Christmas math activity that has us matching numbers on  pretend gingerbread cookies.
How to Put Together This Christmas Math Activity
I placed numbers on several brown cookie shape cutout I made by tracing the outline of cookie cutters. I then outlined the shapes with white crayon to create a frosting like edge. Several paper cut outs were made of each shape. I placed a set of tally marks on one of each shape. Various numbers were placed on the remaining cutouts of that shape. Only one of the numbers matched the one with the tall marks.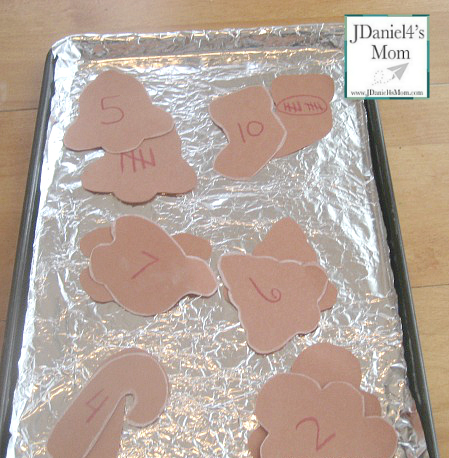 We placed foil on a old cookie tray and the matching started. It look a little bit of time to sort through the numbers. Once the number cookies had been laid out, he quickly matched them.
JDaniel is now five and in kindergarten. Young children would probably have found this more challenging. What he and I both worked on with this activity verbally explaining why the numbers matched. I just love to hear how he explains things. He was able to explain how each stick represents a part of the number.  The total number of sticks equals the whole numberWhen we had finished matching cookies, I had him put them in number order from the biggest number to the smallest. Then we arranged the numbers in reverse.
The number cookies with both numeral and tally mark displays could be used in many other ways.
Sort even and odd numbers
Create addition sentences
Create subtraction sentences
Play "I Spy The Number"
Show me the number before
Show me the number after
You will find this Christmas math activity and many more on my Early Learning Math board on Pinterest.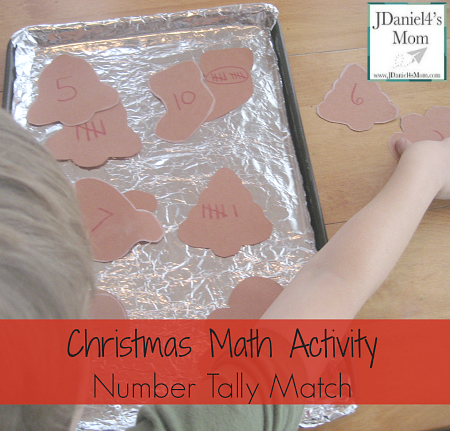 How else could I use these number cookies?

(Visited 87 times, 1 visits today)