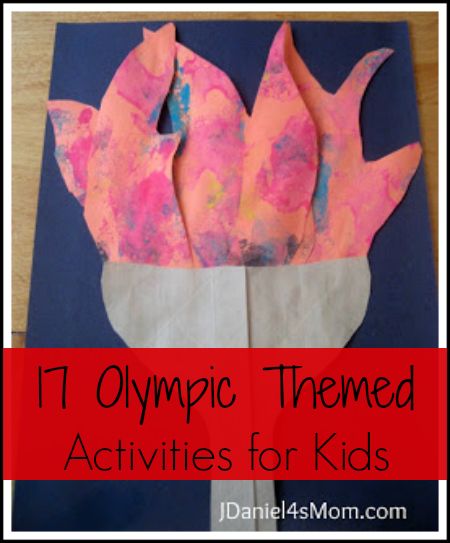 The symbols of the Olympics have inspired 17 Olympic themed activities for kids posts on this blog and for some of the posts I wrote for Kid's Activities Blog. The Olympic rings, torch, and Olympic values are each represented in the posts below. I hope you will be inspired to create them at your house or in your classroom with your children.
Crafts
The Olympic torch above was made by sponge painting various shades of red, yellow, orange and black paint. My son loved marching around the living room with it during the opening and closing ceremonies.
A paper towel wrapped around a kitchen spoon was another fun way we explored painting. It was supposed to look like an Olympic torch.
Food Creations
Olympic Symbols Bento Lunch displays various finger foods created to look like the Olympic rings, torch, and victory wreath.
Olympics for Kids- A Gold Medal Meal
shares a muffin tin lunch featuring a Nilla wafer gold medal and a cheese popcorn torch.
Olympics for Kids- Read.Explore.Learn.
introducing a wonderful Olympic themed book called Elympics and a bento lunch that explores the main character in the book.
Olympics for Kids- Edible Torch is post I wrote for the Kid's Activities blog. We made a ice cream cone and some wonderful snacks into a fun torch. It tasted great too.
Olympics for Kids- Fruit Filled Olympic Rings
 shares a great way to learn the colors and meaning of each ring. These fruit filled rings were a great visual display of the rings and their colors.
Learning Activities
Printable Olympic Passport with Learning Activities shares various ways a passport I created can be used to help children work on writing, researching, and pretend play. The ways you can use the passport are endless. I bet you can come up with several of your own.
Pom poms were sorted into old applesauce cups displayed to look like the Olympic rings in a post called
Olympics for Kids-Color sorting.
 We had great fun sorting the pom poms with chopsticks.
Threading felt leaves onto a pipe cleaner is a great fine motor activity. It also creates a fun laurel wreath for your little Olympian.
Olympic Themed Graphs and Charts features seven different charts, graphing sheets and diagrams that children can used during the Olympics or leading up to them.
Dream Big- Read.Explore.Learn.
is a post that shares a wonderful book about Michael Jordan's Olympic Dream. It also shares a sight word basketball game.
Olympic Values
I wrote a series of posts on the Olympic values during the Summer Olympics of 2012. They were great fun to write and we all learned how they practically applied to our lives.
This series was a lot of fun to write and I think it was a lot fun for you to read.
The first post in the series was called Olympic Values: Respect  and focused on self respect and knowing one's limit.
The second post was called Olympic Values: Growing Excellence and was about doing your best.
The final post in the series looks at the Olympic Values: Friendship and I talked about JDaniel's working on making new friends.I hope you find an idea among these 17 Olympic Activities for Kids.

(Visited 14,613 times, 11 visits today)