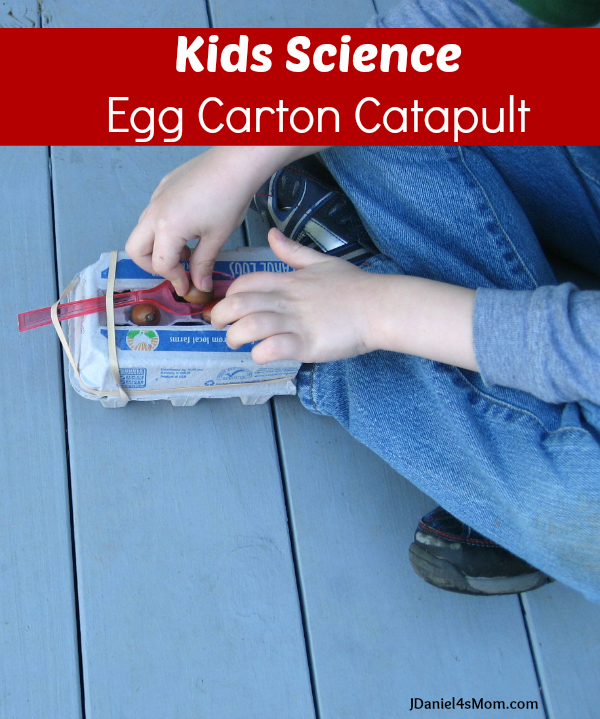 There is just something wonderful about kids, science, and an egg carton catapult. JDaniel and I took a homemade egg carton catapult out to the ramp in front of our shed and flung acorn after acorn into the air. Some covered a great distance and others barely made it out of the red plastic spoon we used as a lever. 
Before I share more about what made the difference in the distance an acorn flew let me tell you how we made the egg carton catapult.
 Kids Science Catapult
Materials:
Two thick rubber bands
Cardboard egg carton
Scissors
Plastic spoon
Items to fling and place in the egg carton to weight it down. (We used acorns.)
Steps for Creating the Egg Carton Catapult: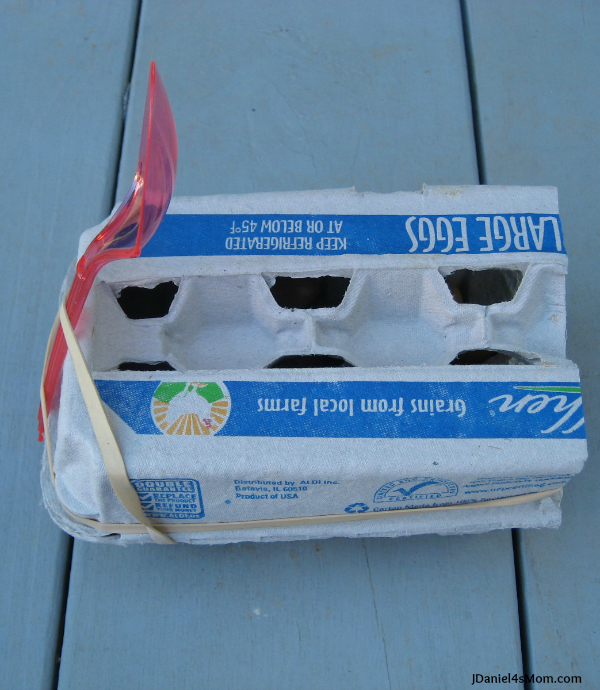 Cut the cardboard egg carton in half widthwise.
Place objects in the egg cups inside the egg carton to weight it down.
Wrap a rubber band around the side of the egg carton. Our egg carton had a lip that we could put the rubber band below to hold it in place.
Wrap the second rubber band around the egg carton from top to bottom.
Place the spoon beneath both rubber bands.
How to Achieve the Farthest Fling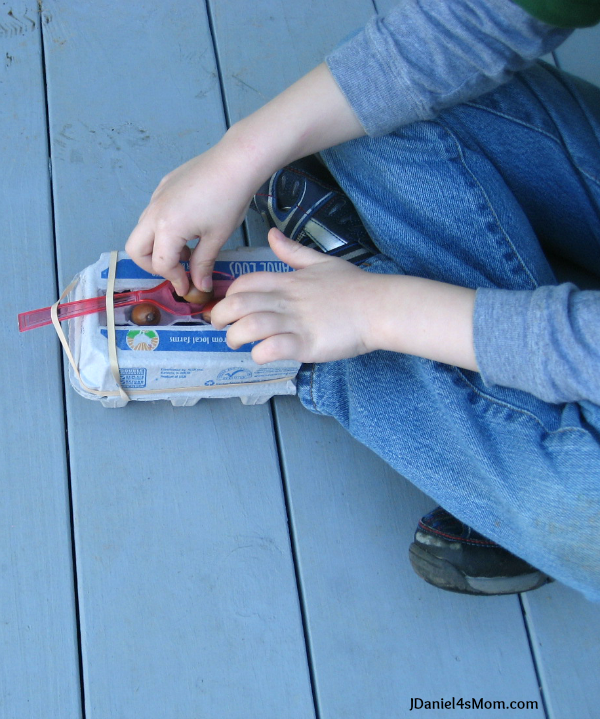 Best Item to Fling
We found that we were able to fling the heavier acorns the farthest. The smaller and lighter acorns barely made it a few inches away from the egg carton catapult. The larger and heavier acorns traveled at least a foot if not two.
Successful Flinging Technique
You could simply put an object in a spoon that has been carefully drawn back and then you can let it fly. It will fly. It may even fly pretty far. JDaniel found that pulling it back and pulling the egg carton off the ramp just a tiny bit added to the force that the spoon was able to use to shoot the object forward.  When the carton was pushed down to hold it in place the spoon flung the object just a bit closer to the catapult.
We didn't explore moving the handle of the spoon higher or lower between the rubber bands. We probably should have. Shifting the spoon handle up to create a long lever at the top would probably have made a huge difference.
We will just have to have another science time with our egg carton catapult. There are probably a lot of other variables we can explore.
If you are looking for another catapult idea you may want to try our paper roll catapult.

If you are looking for more science activities for preschool or kindergarten age children, you may want to explore my Early Learning Science board on Pinterest.



Deirdre Smith writes/owns 
JDaniel4's Mom
. After twenty years as a elementary school and technology resource teacher in Northern Virginia, she became a stay at home mom in upstate South Carolina. Her blog features ways she and her 5 year old are exploring learning, crafting, creating healthy meals and living life to its fullest. Deirdre can also be found on twitter as 
@jdaniel4smom
 and on her 
blog's FB page
. You can also check her out on 
Google+
.

(Visited 5,155 times, 1 visits today)