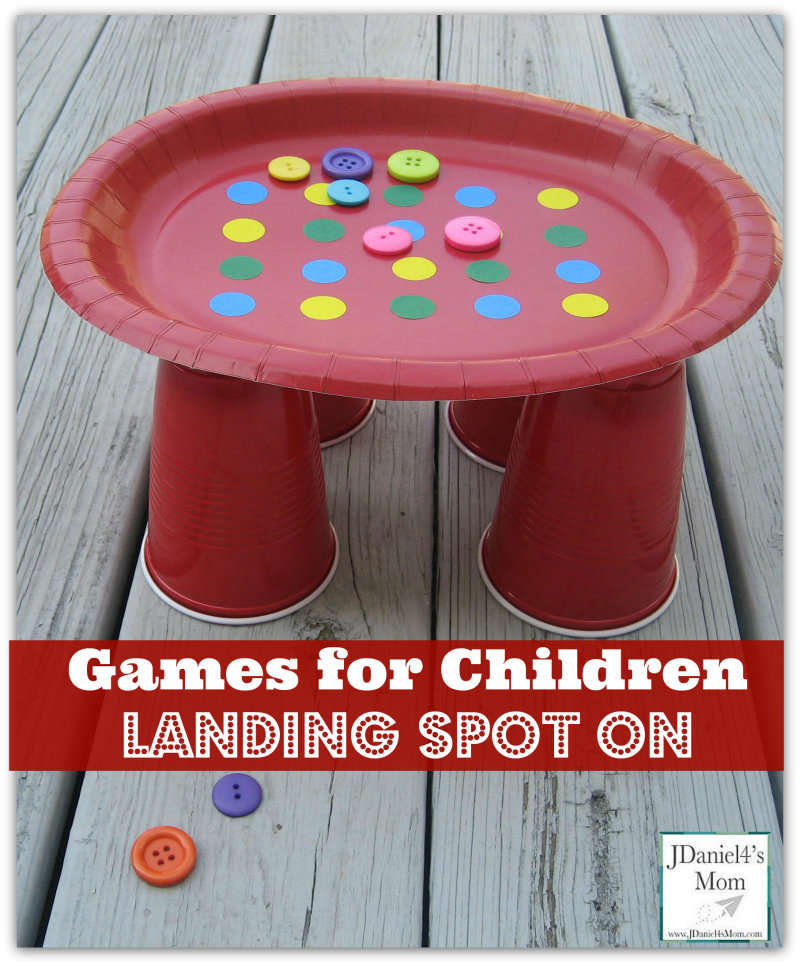 Simple household items and office supplies can be used to create games for children that will have them working on fine motor skills and having tons of fun. These Landing Spot On games will allow your kids to do just that.
Supplies for Landing Spot On Games for Children
Platter size paper plate
Colored dot stickers
Large drinking cups (4)
Button
Chopsticks*
Pom poms (colors that match the dots)
*If you want chopsticks like ones we used, there are available on this affiliate link Children's Cheater Chopsticks
. I couldn't find the chicken chopsticks, but the sheep is available.
How to Put the Game Together
This game board is so easy to put together. You simply place dot stickers an equal distance across and down on the plate. I ended up with four rows and five columns. You could easily arrange the dots any way that you would like.  Your children might enjoy creating their own game board design on the plate.
Once you have the dots arranged on the plate, it is time to set the plate on top of the four drinking cups. You can arrange the cups close together or spread them apart so they are more like table legs.
Games for Children
Landing Spot On- Buttons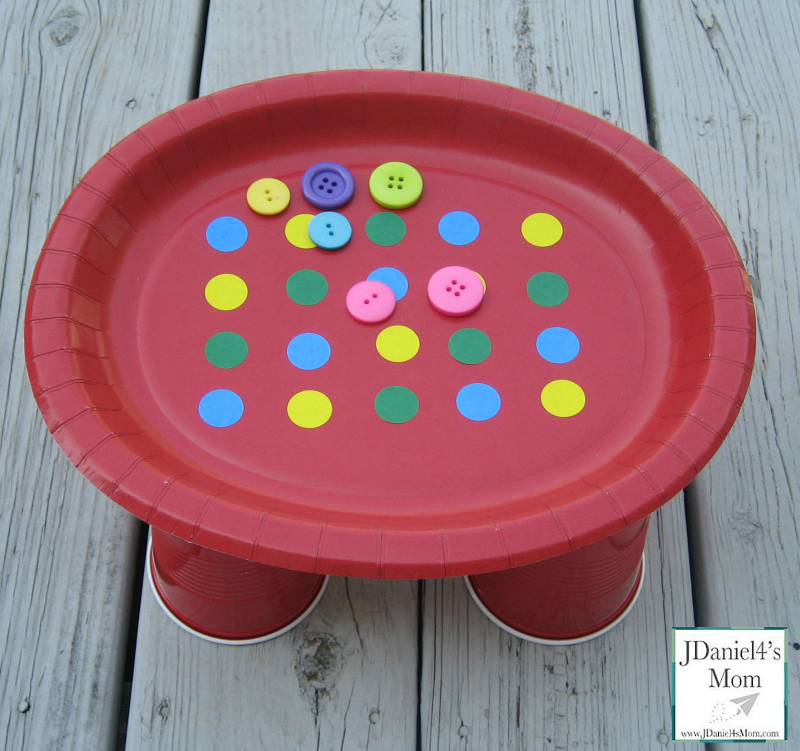 The goal of this game to get the buttons on the dots.  There are several ways you can get the buttons of the dots. The way you have your children try to get the buttons on the spots will depend on how well your children have developed their fine motor skills and their eye hand coordination.
They can:
Place a button on a spot
Drop a button onto a spot
Underhand toss a button onto a spot
Overhand throw a button onto a spot
Frisbee toss a button onto a spot
Landing Spot on- Pom Poms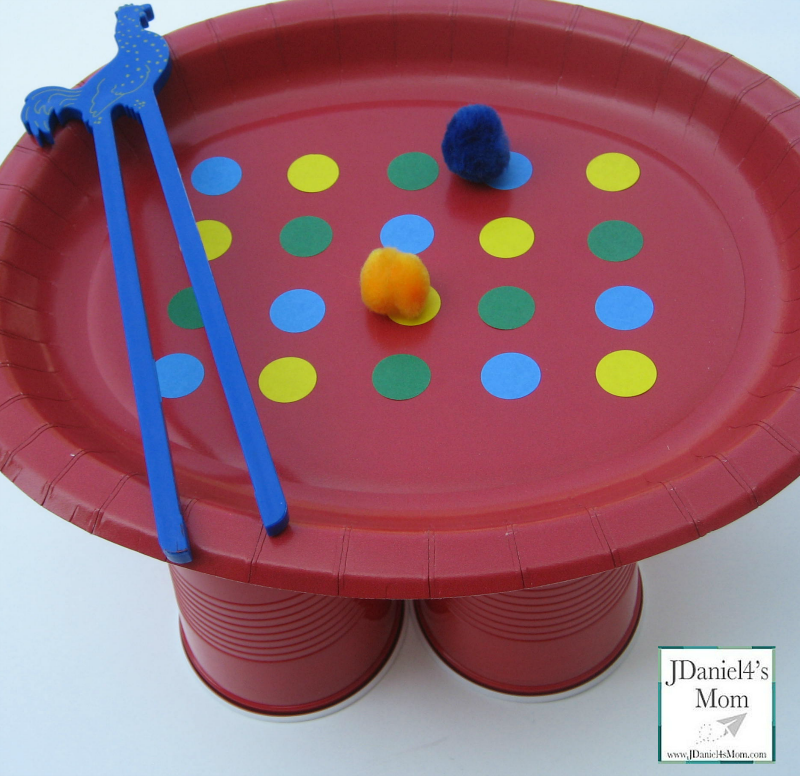 In this version of the game you are working with pom poms.  Pom poms tend to be  light and hard to throw so, for this version of the game children can use chopsticks.  The chopsticks will give children a little more control of the pom poms.
You can do the same actions that I listed for the buttons. We found the dropping the pom poms or placing them to be the easiest. Frisbee tossing didn't work well for us, but you may find that you really like frisbee tossing.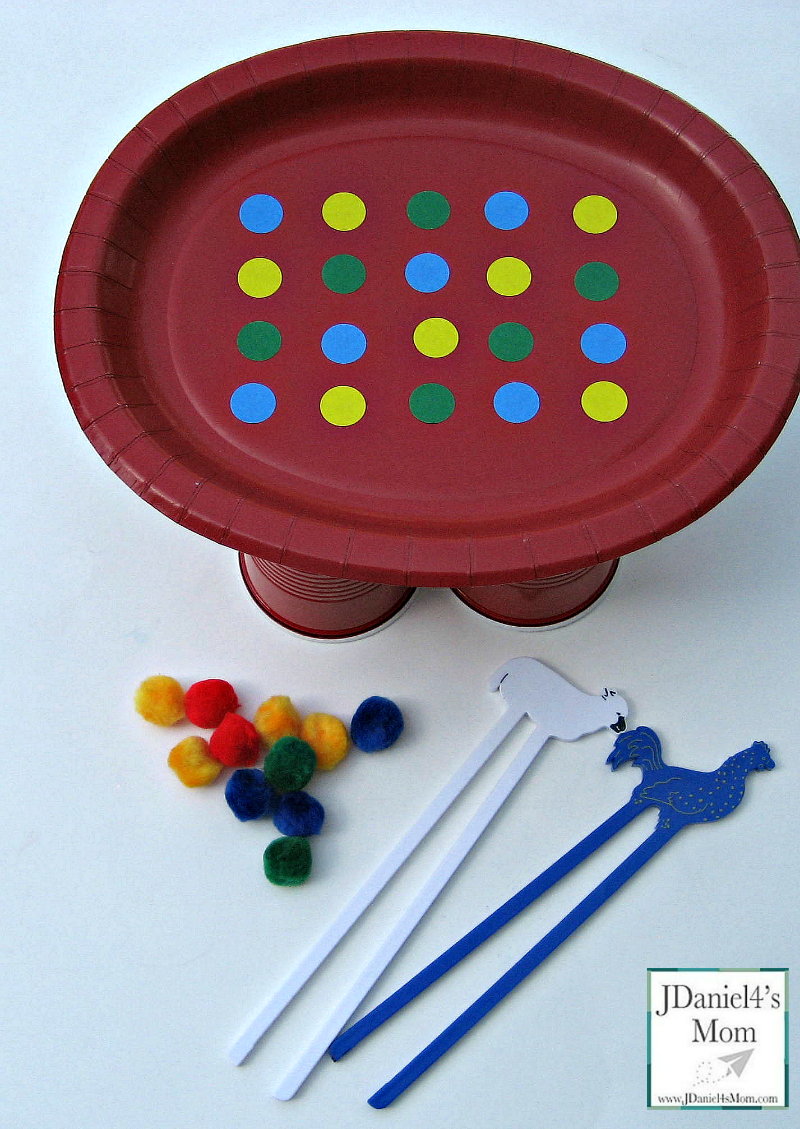 We played both games on our deck and on the kitchen table. It worked out well in both locations.
Other Fine Motor Activities
Fine Motor- Fold and Thread Necklace
More Fine Motor and Early Learning ideas can be found on my Early Learning Pinterest board.
Follow JDaniel4's Mom's board Early Learning on Pinterest.



(Visited 2,127 times, 1 visits today)