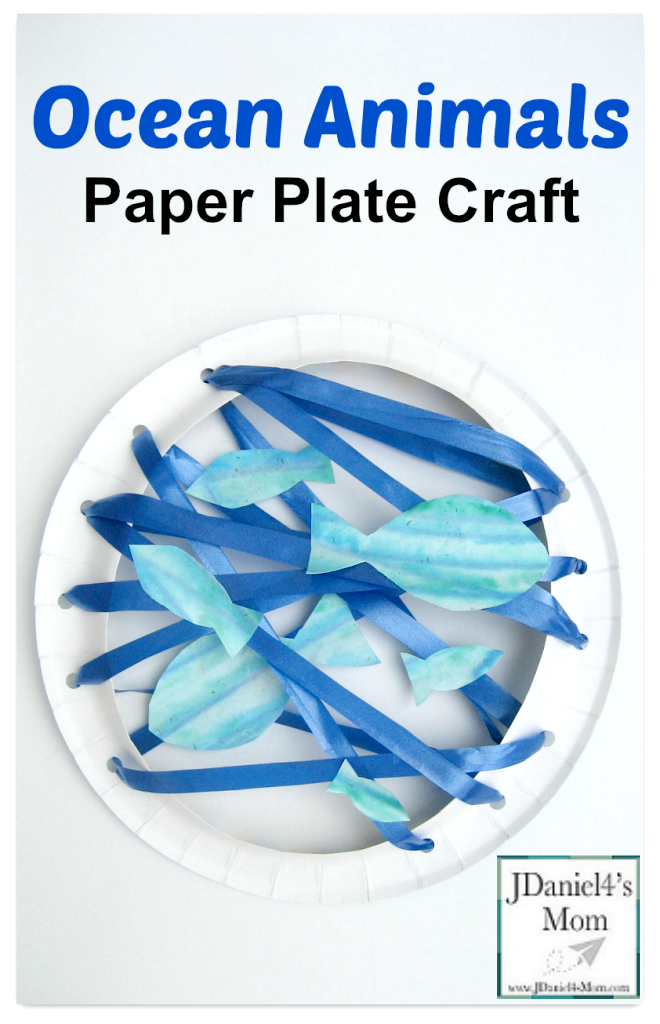 On a sunny day earlier this week JDaniel and I headed outside with his art set to create ocean painting. His art set includes all kinds of art supplies, but we focused on the markers and watercolors.  I didn't tell me we were going to create ocean animals with the paintings. That I saved as a surprise.
Ocean Painting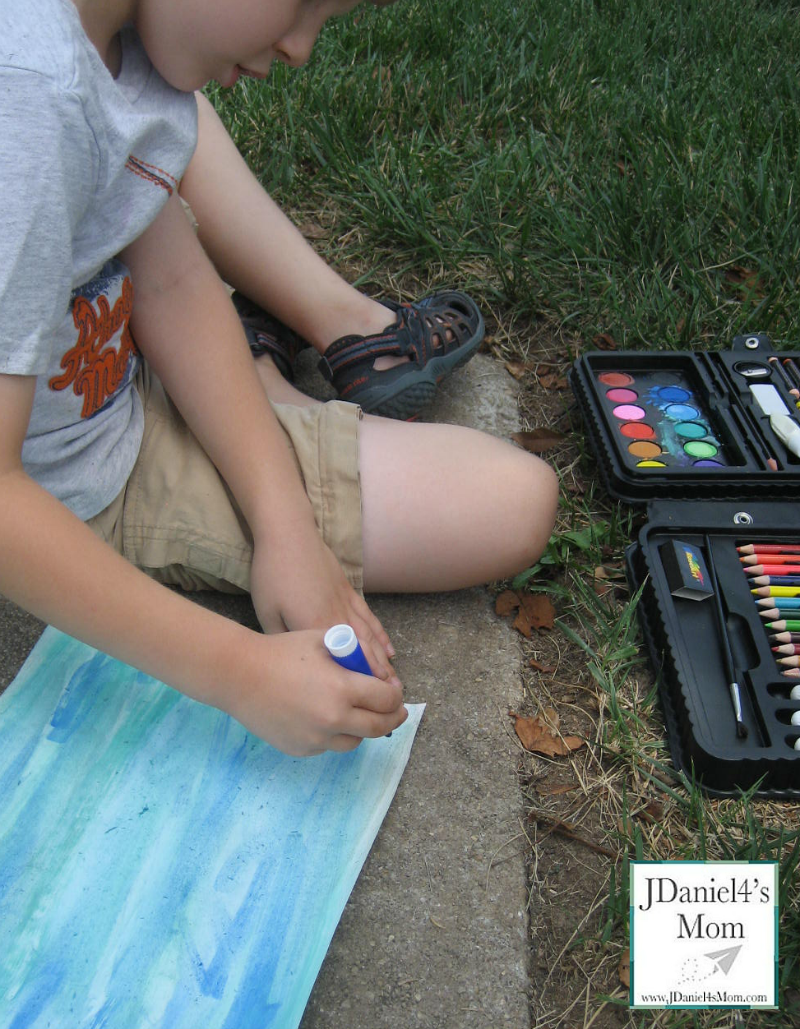 We both  used the blue and green watercolors to create blue stripes on white construction paper. The stripes were randomly arranged. We didn't do each of the blues in his art kit in an abcd pattern.
As the paint was drying, we drew on the watercolor paintings with magic maker. The end effect I had hoped for was a smudged blue stripes. Working with wet paint aided in the creation of that effect.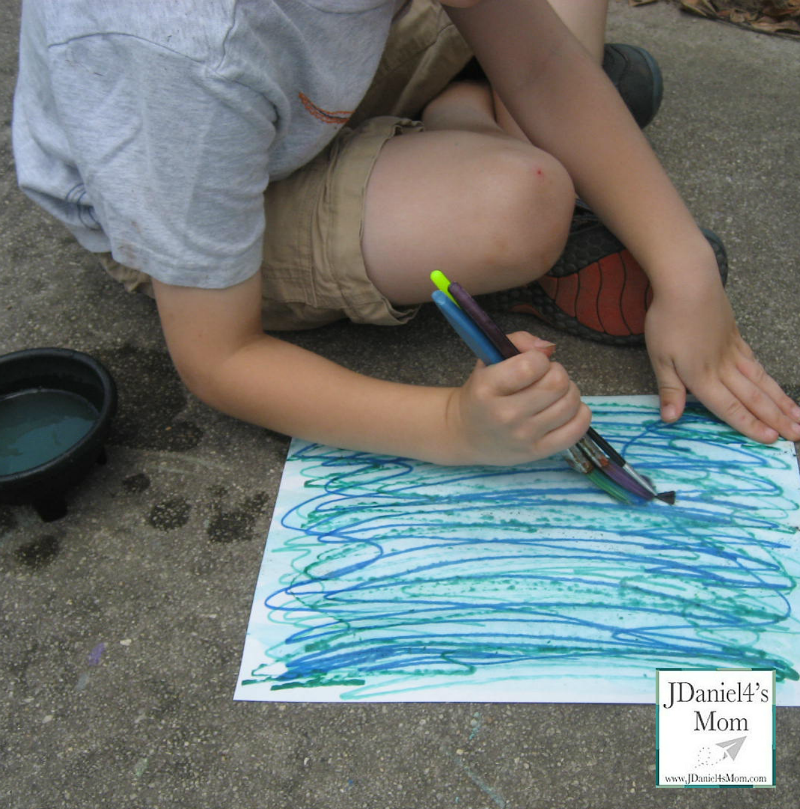 When the paintings were marked up, JDaniel used paintbrushes dipped in water to further smear the marker marks. It looked really cool when all the marker had been smudged.
It was now time to let the paintings dry. We left the painting in the sun and played tag while they dried.  My son is getting way too fast for me. I have to work hard to catch him.
Creating the Ocean Animals Home
Later we used a hole punch to create holes down the sides of a paper plate. I think we ended up with six holes on each side. Half inch blue ribbon was woven in a hole and out a hole on the opposite side of the plate. It was ended up being a great fine motor skill.
The ribbon was supposed to look like the waves or current in the ocean. It was also supposed to create a 3-D canvas for the fish we would make next to swim in.
Creating Ocean Animals
The watercolor and marker paintings were folded in half so, we would just have to cut out half a fish if we cut on the fold to get a whole fish. We cut out some big fish and some little fish.
The fish could have been cut out freehand or traced onto the paper to be then cut out.  Cutting is another one of those fine motor activities I wanted to tie into this craft.
Placing the Ocean Animals
The ocean animals ended up being randomly placed. I don't think there was a lot of thinking about where to put them. I did ask that some of them be placed on different layers of ribbon.
I think this craft turned out well. I guess I should say these crafts. There really were three crafts we created in the process. There were paintings, a ribbon woven creation, and ocean animals placed on the woven creation.
Supplies for this Ocean Animals Craft:
White construction paper
Watercolors ( blues and green)*
Magic markers (blue and green)*
Paintbrushes
Water
Blue ribbon
Paper plate
Hole punch
Scissors
*If you are interested in an art kit like JDaniel's, here is an affiliate link to a  Deluxe Art Set
 just like his.
We love the ocean and ocean animals at my house. If you love the ocean and ocean animals this maybe is just the right craft for you.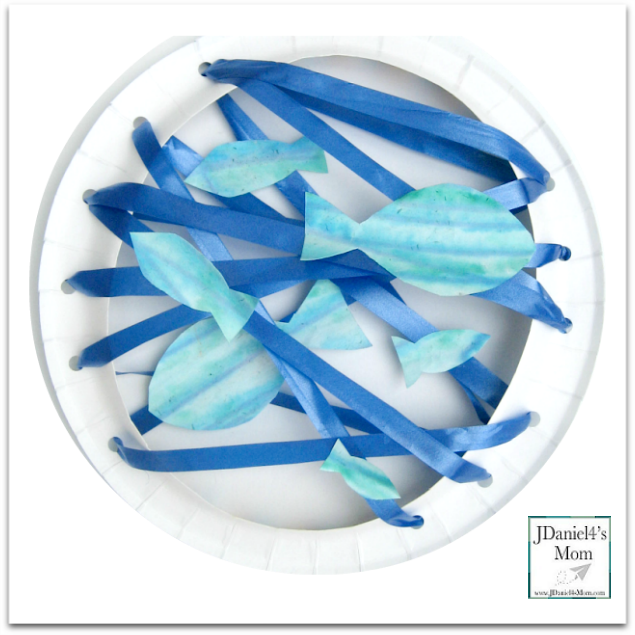 (Visited 2,121 times, 1 visits today)