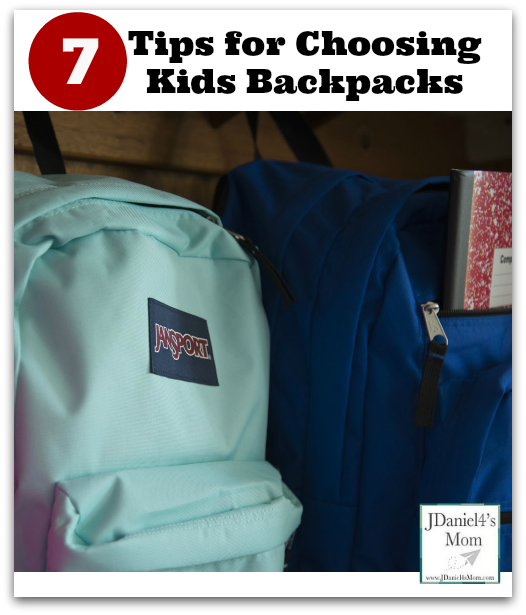 When it come to choosing the right kids backpacks, the sheer number of backpacks on the market may make it seem overwhelming. It seems like there are backpacks available in zillions of colors and styles. Before you head out with your children to select a backpack there are seven tips that I would like to offer you.
Choosing Kids Backpacks Tip One- Durability
Some kids backpacks just aren't made to last past the first quarter of school. They are made of flimsy fabric that just can't handle the rough and tumble life a backpack can lead.  Kids need a backpack that can handle being tossed into the backseat. They also need a backpack whose seams can handle the pressure of heavy objects like books being pulled by gravity downward.
Choosing Kids Backpacks Tip Two- School Rules
At my school the kindergartners are given string bag backpack to use so, they don't need to bring in a backpack. Other schools have rules that state that kids backpacks can't have wheels. I am not sure why they have those rules, but they do. You will want to check with your school to see if they have any backpack guidelines before buying your kids backpacks.
Choosing Kids Backpacks Tip Three- Straps
Kids backpacks can have straps that start in various places on the back of the pack. Some backpacks offer a waist strap that will make carrying those heavy books and notebooks home from school. It is totally worth having your child try on a backpack to see how it feels on their backs.
Choosing Kids Backpacks Tip Four- Number of Compartments
Kids love compartments in backpacks. Zippered and snapped areas,  places for thermos, and small items  that make them seem really cool. I believe it is possible to have too many compartments. While we tried to keep everything in the main compartment of my son's backpack last year, there were a few times that he couldn't figure out where something was.
Choosing Kids Backpacks Tip Five- Clean-Ability
Things happen both inside and outside a backpack that lead to them needing to be cleaned. If your kids backpacks might accidentally be placed near a puddle of mud  while they wait in car line, you may want to have a backpack that is easy to clean. I tend to pick backpacks that can be placed in the washer. They look and smell so much better after being washed.
Choosing Kids Backpacks Tip Six- Size Matters
When you think about all the things your children are going to need to carry to school, will they fit in the backpack  you have selected? It is so important to think about size while choosing a backpack. We had to move to the next size of backpack after hearing one of JDaniel's teachers describing what he was going to need to carry home everyday. We needed a backpack that was big enough to carry his lunch and school items, but we didn't need a super size kids backpack that would hit his legs when he wore it.  Finding the right backpack for a kindergartner can be tricky. Once again trying on a backpack was key to making the right selection.
Choosing Kids Backpacks Tip Seven- Cost
Just as size matters so does cost. There are wonderful backpacks available at almost every price point. You don't have to spend a fortune to find a really nice one.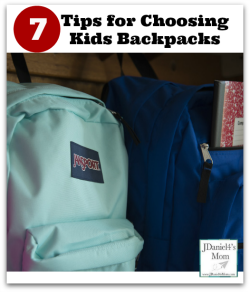 Notice that I didn't mention color, characters, glitz, of fun elements that can be used to decorate a kids backpack. Kids will know what they just love and have to have. They are all kinds style options and while they are important I think looking for the seven elements are more important.
I really want my son to have backpack that will make it through this year and maybe even into the next. If that is what you are looking for too, I hope you will follow the tips I shared above.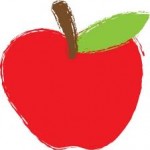 This is the second in a series of Back to School posts. The first was posted on Wednesday and is called 12 Back to School Shopping Tips.
For more Back to School ideas you may want to visit my Back to School Pinterest Board.
Follow JDaniel4's Mom's board Back to School on Pinterest.



(Visited 643 times, 1 visits today)