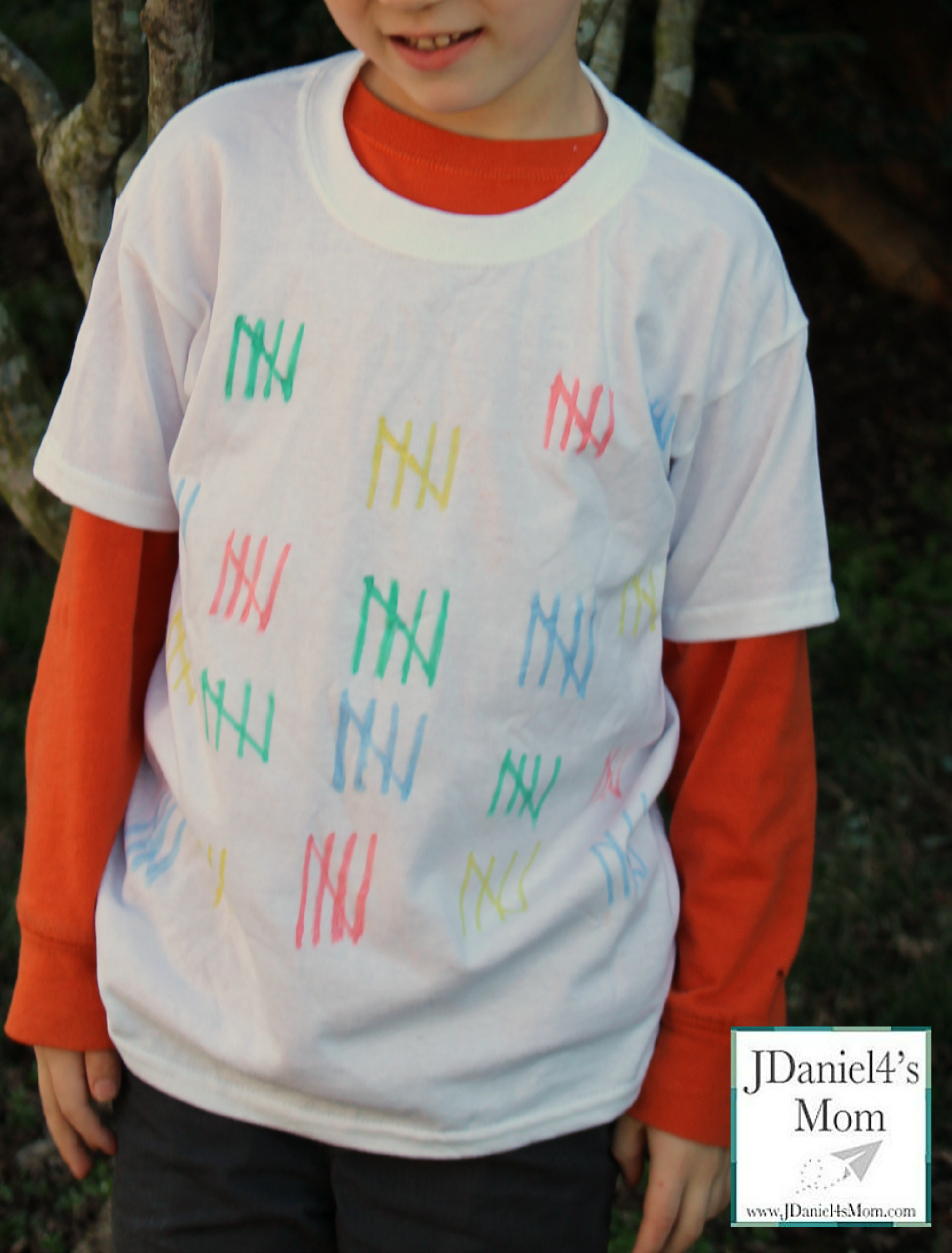 We were given the assignment by JDaniel's teacher to come up with a t-shirt for him to wear to celebrate the 100th Day of school. After searching Pinterest for 100th Day of School shirt ideas, I came across a super shirt created by Really Quite Lucky. She used a Silhouette machine to create her shirt with 100 tally marks . I don't happen to have one of those cool machines so, I needed to come up with some other way to replicate the tally mark idea for our shirt.
The link below is an affiliate link.
After doing a little thinking, I decided that I could use fabric markers to draw tally marks on a shirt. We headed to one of the big box craft stores in our town to look over their selection of markers. They only had pastel colored markers. I had a 40% off coupon for that store so,  I decided we would use what they hand rather than drive around town or order some on line. If I had it to do again I would have ordered  bright fabric markers , they would have added more color to the shirt.
Actually there are some things I did while creating JDaniel's 100th Day of School shirt that went well and some that I would do differently. I thought I would share them with you so you may make wiser shirt creation choices.

100th Day of School Shirt Choices
The Right Choices
I choose not to make the tally marks all in a row. By having them more random they filled up more of the shirt.
My sets of  tally marks are not all the same size. I really didn't want to have them be uniform.
I didn't try to make each set neat.  I like that each set is unique.
Hint
You may decide that random and unique is totally not want you want. If you would like nice straight uniform lines, you can use a ruler to mark of the areas for your tally marks on your shirt.
Wrong Choices
I really wish I have used bright colored markers. I know I mentioned that at the top of this post, but I felt like I need to say it again.
Not putting a piece of cardboard inside the shirt when I drew the tally marks on the shirt. The shirt has two tiny dots on the back due to the markers bleeding through. It doesn't look terrible. I just wish they weren't there.
While I like the randomness of the tally mark set, I do wish the peach set in the center of the last row lined up with the sets above it. I wish it was a little neater too.
If I made another shirt, I would probably make all of the sets of tally marks I little bigger.  I don't think it looks bad. It is just that bigger marks would have filled up more of the shirt.
I wish I had waited until the first layer of the marks had dried before trying to make some of the marks darker. The second layer of marks added to the not fully dry first set make the marks look a little fuzzy.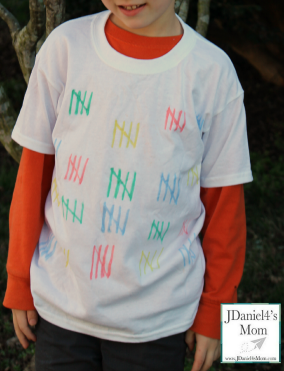 Here are some more tally mark activities:
Number Recognition- Do You Know Five?
If you make a 100th Day of School shirt, please leave me a comment below telling me about it  or share a picture of it on my Facebook page.

(Visited 993 times, 2 visits today)