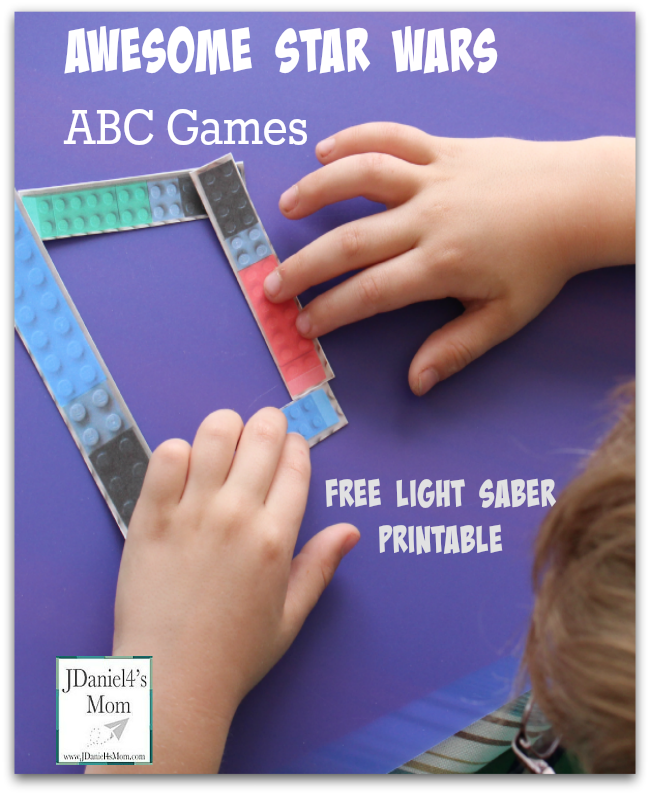 Both  Star Wars and LEGO are popular with kids. I decided created some awesome Star Wars ABC Games that feature light sabers made of LEGO.  Pictures were taken of the light saber LEGO creations so that could be used build alphabet letters.  You will want to printout these LEGO light sabers to play the games with your children.
The LEGO light saber printout contains a set large light sabers and a set of small light sabers that can be used for building letters. Some letters may need a combination of larger and small light sabers.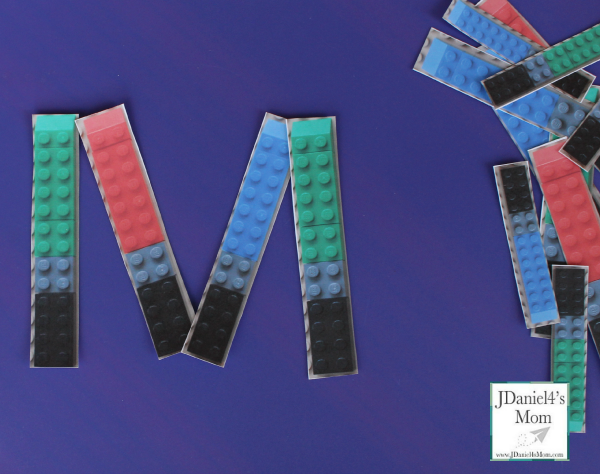 Here are some of the ABC Games You Can Play
Call It and Build It
Two players can take turns calling out a letter and building it. You will need to decide at the beginning of the game as to whether you will be building uppercase or lowercase letters. Actually you could have players build both if you like. It just a good idea to decide ahead of time what kinds of letters you will be building. The goal of this game is create the correct formation for each letter.
Alphabetical Order
Rather than randomly calling out letters. Players could have to build the letters alphabetical order. They can alternate as to who is building a letter. If they need to sing the ABC song to remember what letter comes next, that would fine. Singing the alphabet is a great way to work on letters.
Build the Letters in Your Name
Children can work on building uppercase and lowercase letters as they spell their name. They can work on spelling one letter at a time and then clearing the work space. If they have short name, they can try building their whole name on the work space.
Build the Next Letter
This is one of those ABC games that needs two players. One player calls out a letter and the other player has to build the next letter in the alphabet. If your children are just learning the letters of the alphabet, you may want to have an alphabet chart out that they can refer to if they need to.


See what other awesome ideas are being featured for Star Wars Day!
Free Play Dough Printable Set for Pretend Play – Life Over C's

Here are some other LEGO themed learning activities:
Over in the Meadow LEGO Creations and Book
How long will your boat float?
Geometry Riddles Solved with LEGO

Valentine Ideas – Graphing with Candy Hearts and LEGO
If you try these ABC games , please leave me a comment below telling me about how your experiments went  or share a picture of it on my Facebook page. If you are looking for more early learning games, you will find a number of them on my Early Learning Pinterest board.
(Visited 3,399 times, 1 visits today)