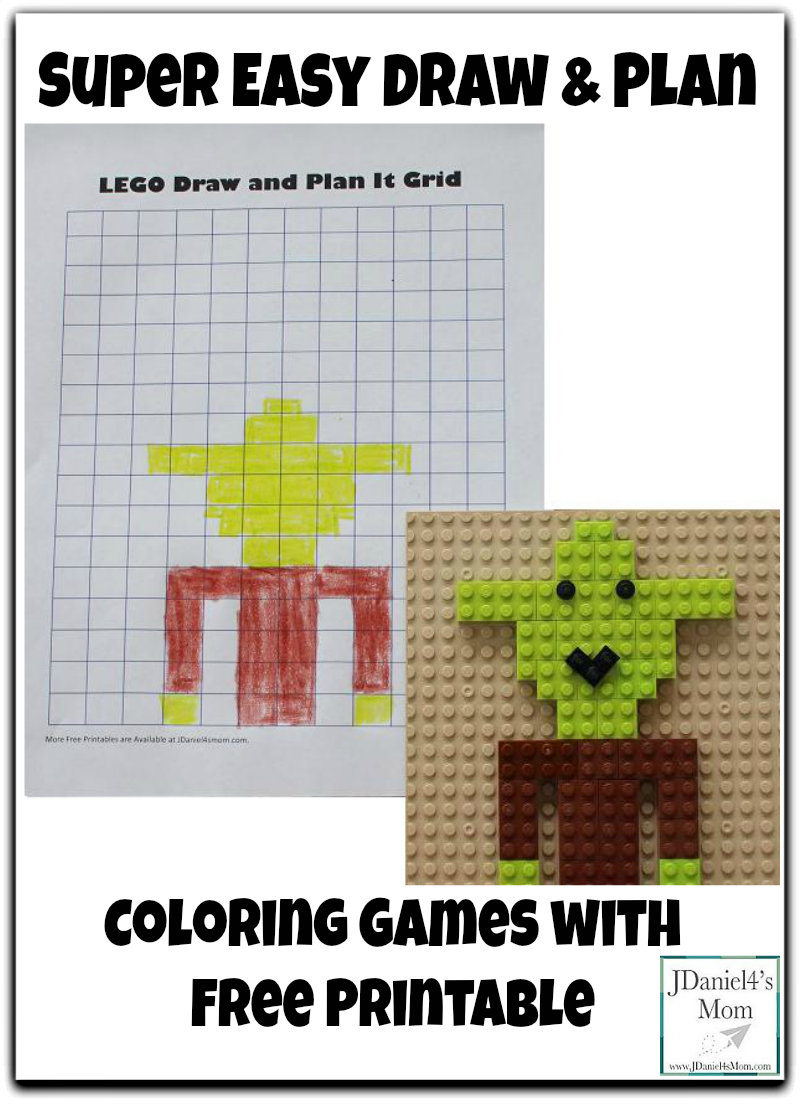 Sometimes it is hard to take the idea you have pictured in your mind and create or build it. We have had that trouble with LEGO ideas. They look great in our minds, but just don't work out. We don't have the right colors or the pieces can be displayed on a base plate the way you thought they would. It can be frustrating. This is one of those color games that allows kids to create a picture and then build it.
Recently we have started creating pictures using the squares on a piece of graph paper.  When the picture is completed, we look for the LEGOS that will fit on top of your pictures.  The LEGOs don't have to be just squares. Two 1×2's can be place in a square to create a square shape. Wider and longer LEGOS can be used to cover several squares.
How We Have Done These Coloring Games or Activities
Before we start drawing we have found that it is easier to know that colors to  we will be using on the graph paper or draw and plan it grid. By placing some of colors were have a lot of on in a bowl beside our box of crayons we have been able to easily remember what we will have on hand to build with.
It can be frustrating to complete a building plan and not have the colors you need. In many cases we have been able to substitute another color brick for the color we don't have. Coloring games or activities that focus on what you will need to build and draw are fun for kids.
The link below is an affiliate link.
Set Up Hints:
If you have child that will be devastated about not find just the right LEGO, you may want to sort out your LEGO Brick Box

LEGOS by color to have on display.
You may want to only put out colors of crayons that you have LEGOS to match.
Your children may want to stop with the laying of LEGOS on their section of their creation. Others will be ready and interested in placing their creation on a baseplate.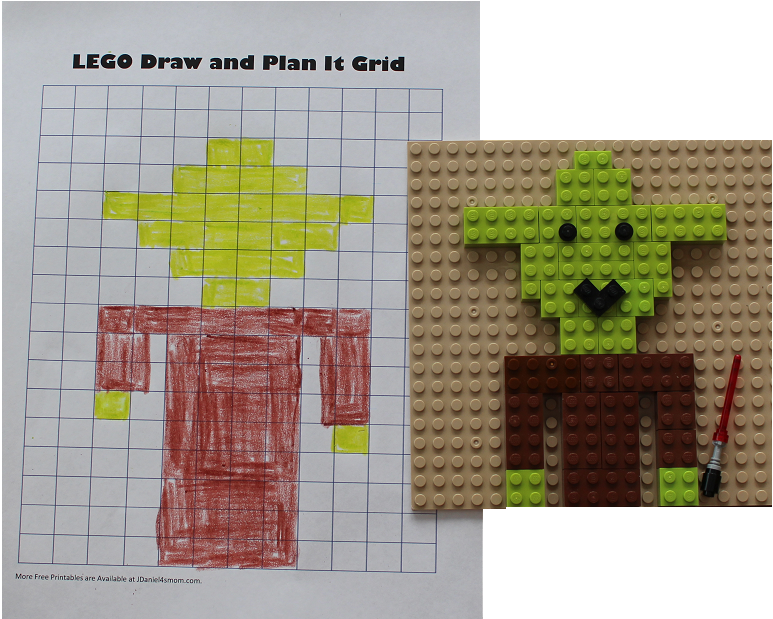 Transferring a creation for the graph paper to the basenplate will have your children working on a number of higher level thinking  skills and eye hand coordination.
If transferring onto a base plate will be to challenging or frustrating for your children, you can just have them place the LEGO right on top of the squares they match on the draw and plan it grid.
Here are some other LEGO activities we have done:
Five Days of LEGO Learning Activities
Geometry Riddles Solved with LEGO

Valentine Ideas – Graphing with Candy Hearts and LEGO
Math with LEGO- Activity for Improving Word Problem Skills
How long will your boat float?
Counting Syllables with LEGO Bricks
Over in the Meadow LEGO Creations and Book
LEGO Count and Move ( Free Printable)
Three Billy Goats Gruff Retelling with LEGO
LEGO Week
Make sure to head over to see all the super awesome ideas shared as part of Toddler Approved's LEGO Week!
Here are the other Wednesday Ideas!
LEGO Printed Mother's Day Card
LEGO Plan and Draw Activity with Printable
Learning to Read Simple Sentences with LEGO
If you do try any of the above LEGO learning activities or coloring games, please leave me a comment below telling me about it or share a picture of it on my Facebook page.

(Visited 1,836 times, 1 visits today)