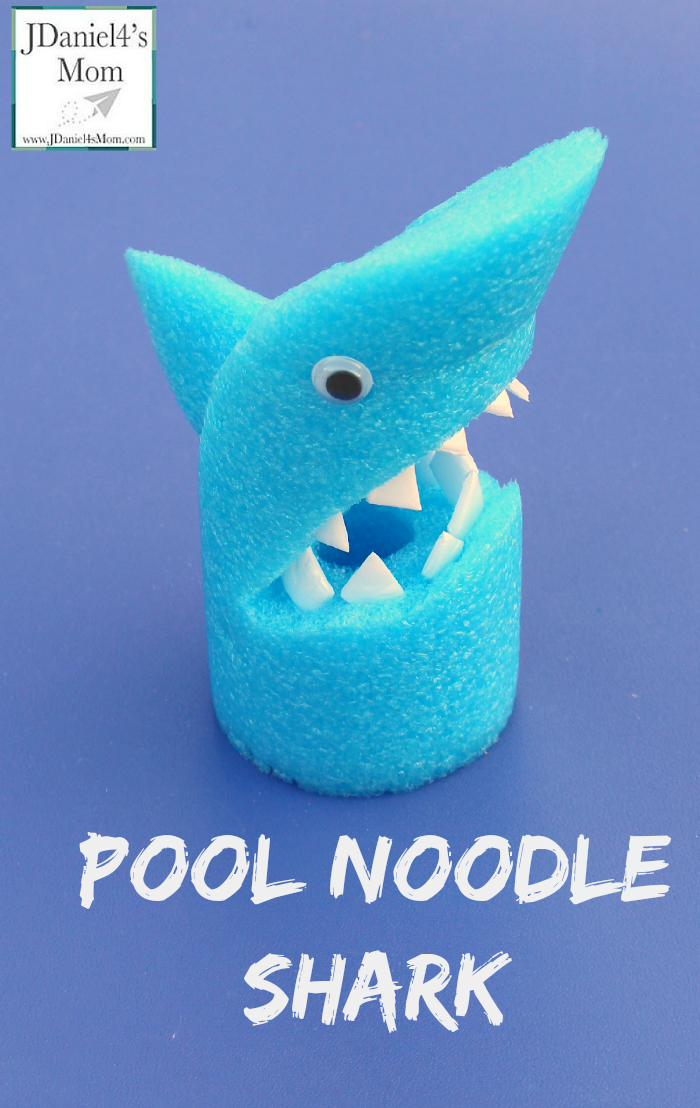 We are still coming up with ways to use sections of a pool noodle we had leftover from making a game called Counting to Ten. Last week I shared with you how we experimented with pool noodle airplanes. This week I have pool noodle shark craft to share. We love doing arts and crafts with leftover or recycled items. This shark qualifies as recycled craft because two recycled items were used to make it. The pool noodle section is one and the egg carton that was used for the teeth is the second.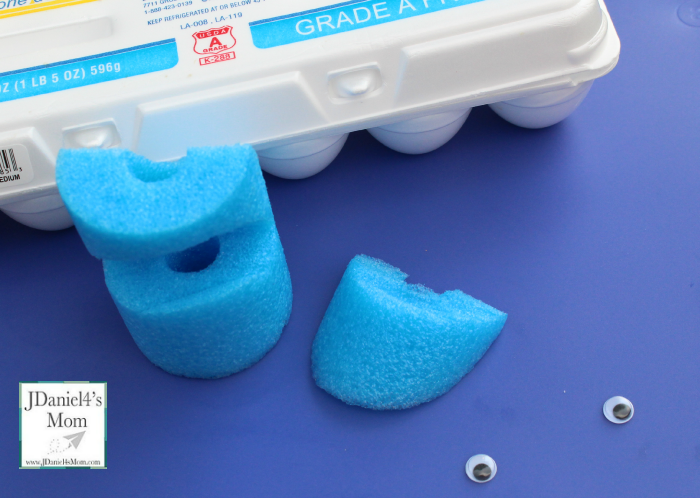 As you can see in the picture above two pieces of pool noodle were used to build the shark's body. The smaller piece was cut out of the larger piece by cutting a diagonal wedge out of the larger one with a bread knife. (I did the cutting for this project.) The flat side of the smaller piece was glued to the top of the larger section with  an Elmer's Xtreme glue stick.
Wiggly eyes were glued on either side of the shark's  head with the same glue stick. We glued them right on the seam connecting the top and bottom noodle sections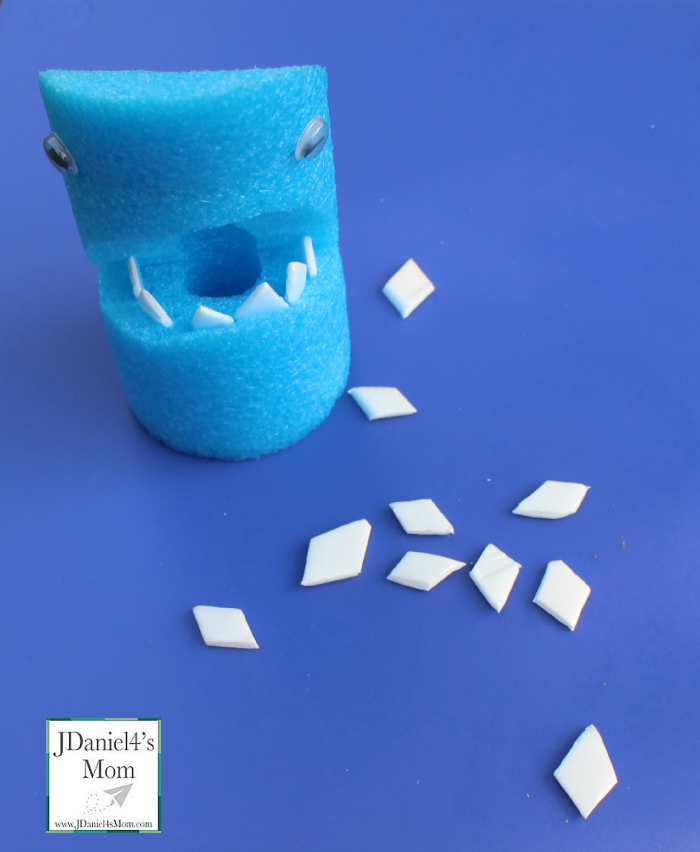 Then it was time to cut the teeth of the egg carton. We cut out twelve small diamond shapes out of styrofoam egg carton. (If you don't have styrofoam egg cartons available, you could use craft foam.) Each diamond was cut individually so each tooth would be unique.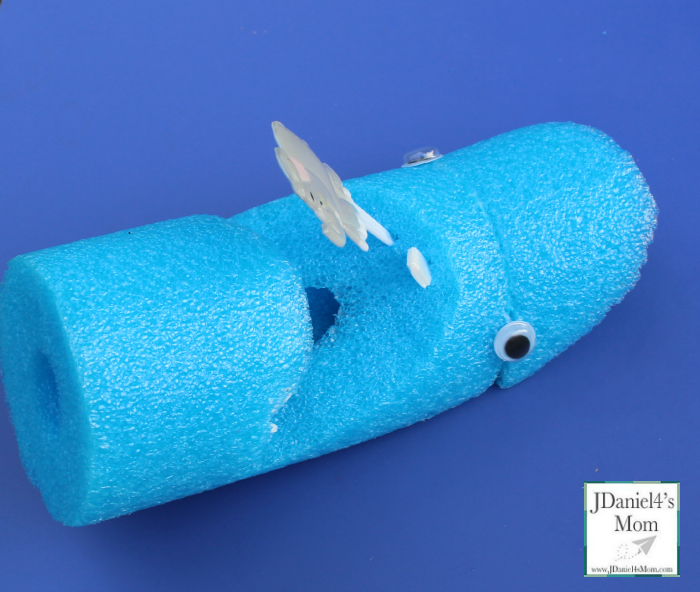 To get the teeth to stick into the pool noodle a cupcake topper with a sharp end was used to carve out space for each tooth. (If you don't have one, you can use a toothpick instead.) We pushed in the cupcake topper and turned it in a circle to make a space large enough for each tooth. A little dab of glue from the glue stick was placed on the end of each tooth as it was planted in the shark's mouth to hold it in place.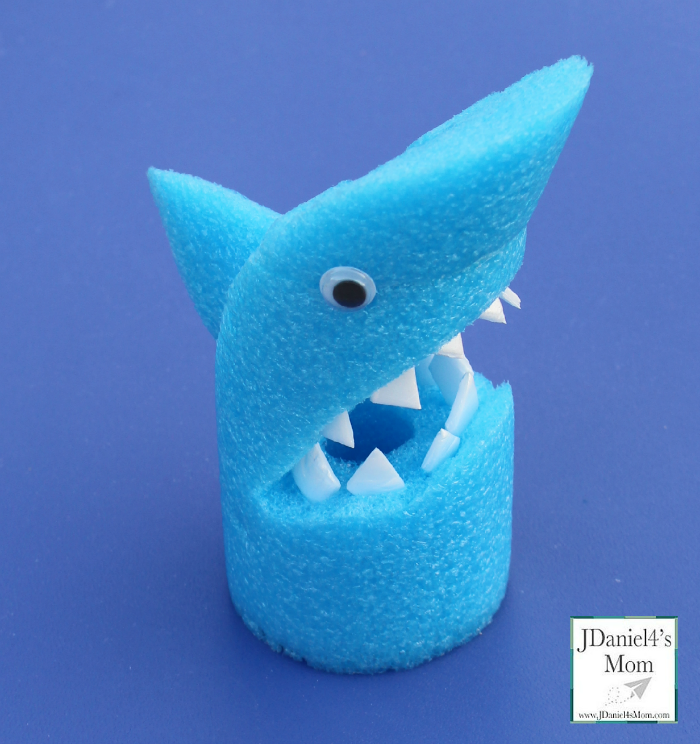 Finally a fin was cut out of a pool noodle section. One end of  two toothpicks were poked into the fin. The other end was pushed in the back of the shark's head. We could have glued the fin on, but decided to make extra sure that the fin would stay in place.
While I was thinking about end product of this being a craft to display, JDaniel pointed out the this would be a great puppet. Maybe we will have to come up with shark songs or rhymes for the shark to perform.
If you decide to try this arts and crafts project at home,  please share a picture of it with me on Instagram or Facebook.

(Visited 8,097 times, 1 visits today)