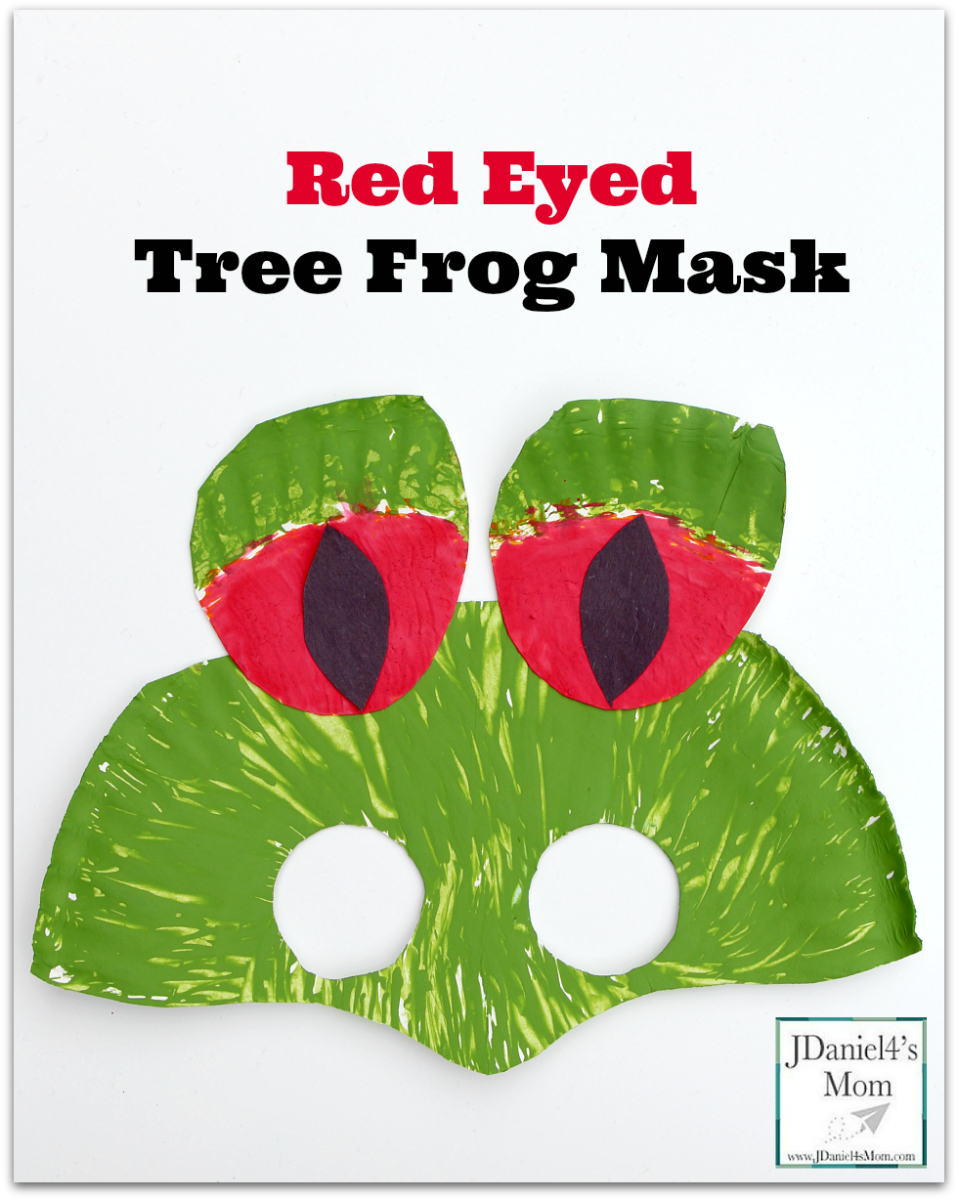 The red eyed tree frog is one of the coolest rain forest creatures. It bulging red eyes makes it look like it can take in the world.Last summer I shared with you anteater and morph butterfly crafts. They were part of a week long series on hosting a rain forest summer camp. Today's red eyed tree frog paper plate mask and last Wednesday's jaguar paper plate mask were created as bonus crafts. They can be used to supplement the crafts shared in rain forest camp round up or done on their own.
The red eyed tree frog mask has only five parts to it. There is the facial section that is made of half of a paper plate. The eye sections are made of the second half of the paper plate. There are also two black pieces of construction paper that are attached to the eyes.
Let me walk you through how we made our red eyed tree frog mask:
Supplies:
Paper plate
Red paint
Green paint
Plastic fork
Black construction paper
Scissors
Glue stick
Bottle cap
Pencil
How we put our red eyed tree frog together:
The eye holes need to be traced onto the paper plate half. We used a pencil to trace around the outside edge of a milk bottle cap to make the eyes.
Then the eyes holes need to be cut out. We have found it easier to cut the eye holes out before painting.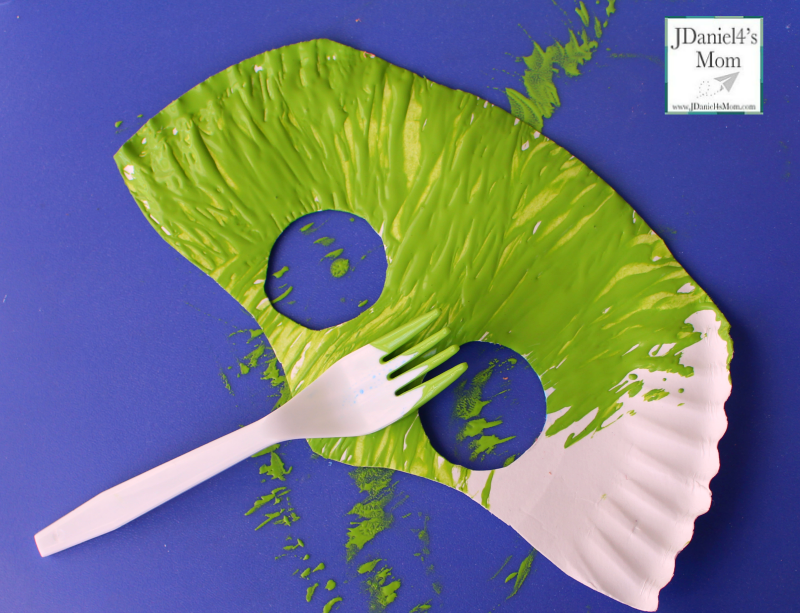 The bottom area of the eyes sections and the whole paper plate half are painted green with the top area of a plastic fork.  We painted the back of the paper plate half and the front areas of the eye sections. (By using the front section of the plate for the eyes the eyes had a curved eye at the top of them.)
When the green paint had dried, we paint the bottom eye section red. We were able to get really close to the green section with the red paint by using the outside edge of the fork.
After the red paint had dried, the black almond shaped pieces of construction paper we had cut out were glued on the eyes.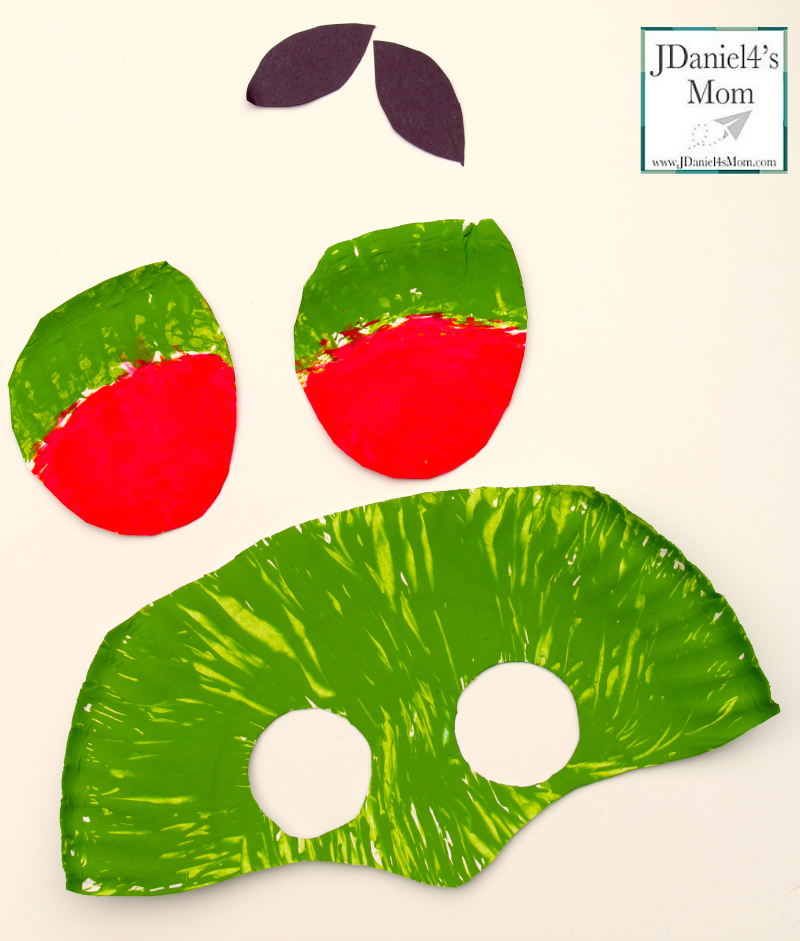 Finally the eyes were glued onto the head of the red eyed tree frog.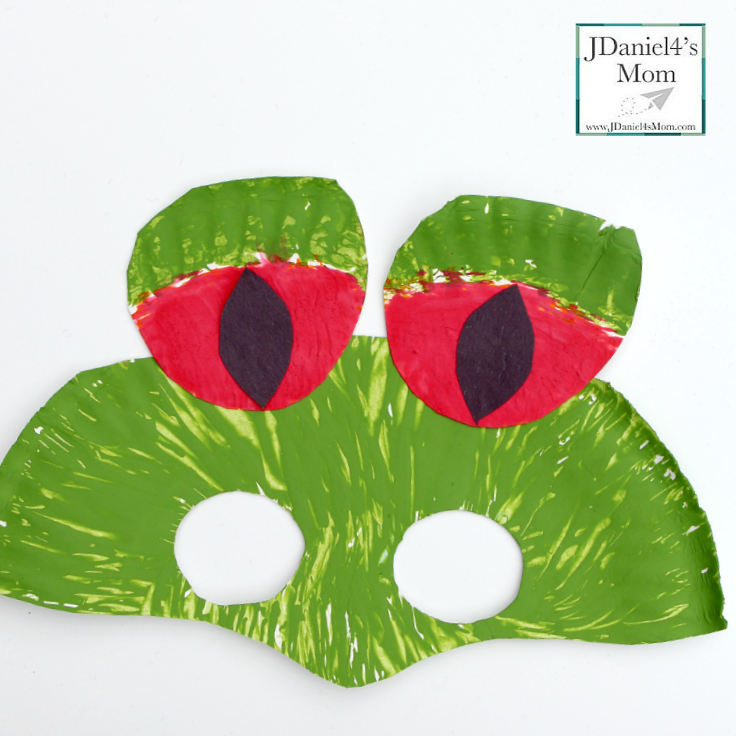 There are a number of ways you can attach yarn or pipe cleaners to the mask so your children can were it. We punched holes on the two sides of our mask and tied yarn through them. We knotted the end of the yarn going through the holes before wearing the mask. The two ends of the yarn were tied together once the mask was ready to be worn.
Here are some wonderful children's books that feature a red eyed tree frog:
Red-eyed Tree Frog (Scholastic Bookshelf)
The Little Red-Eyed Tree Frog
Rain Forests (Magic Tree House Research Guide)
You will find more rainforest crafts on my Crafts for Kids board on Pinterest.

(Visited 701 times, 1 visits today)