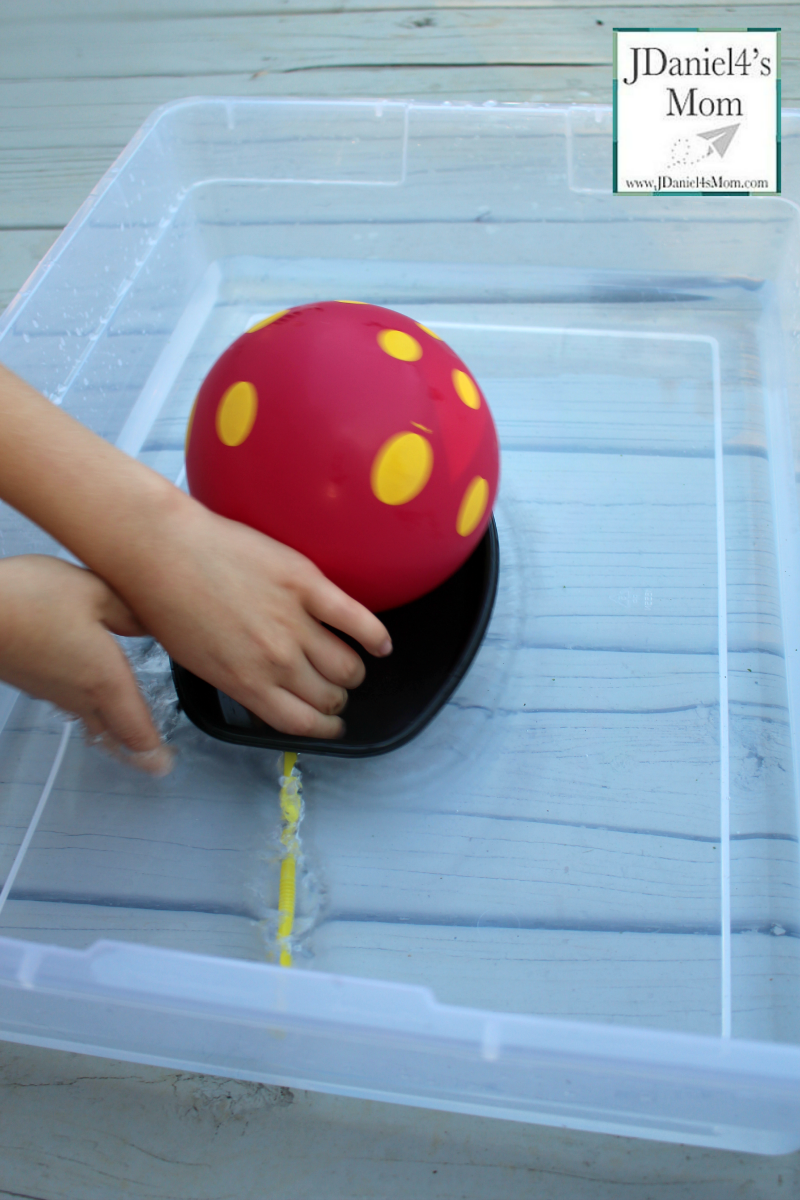 It's a balloon! It's a boat! It is STEM activities that look at balloons moving boats! Well, I guess I should say the balloon help the boat move. This summer I have shared with you a number STEM activities and science experiments with water. There was the LEGO man sink and float experiment and the learning how to make a wave. This experiment was probably the trickiest to conduct.
What made it tricky? The hard part is air containment. Just trying to keep the air in the balloon made this experiment a STEM experiment at my house.
STEM Activities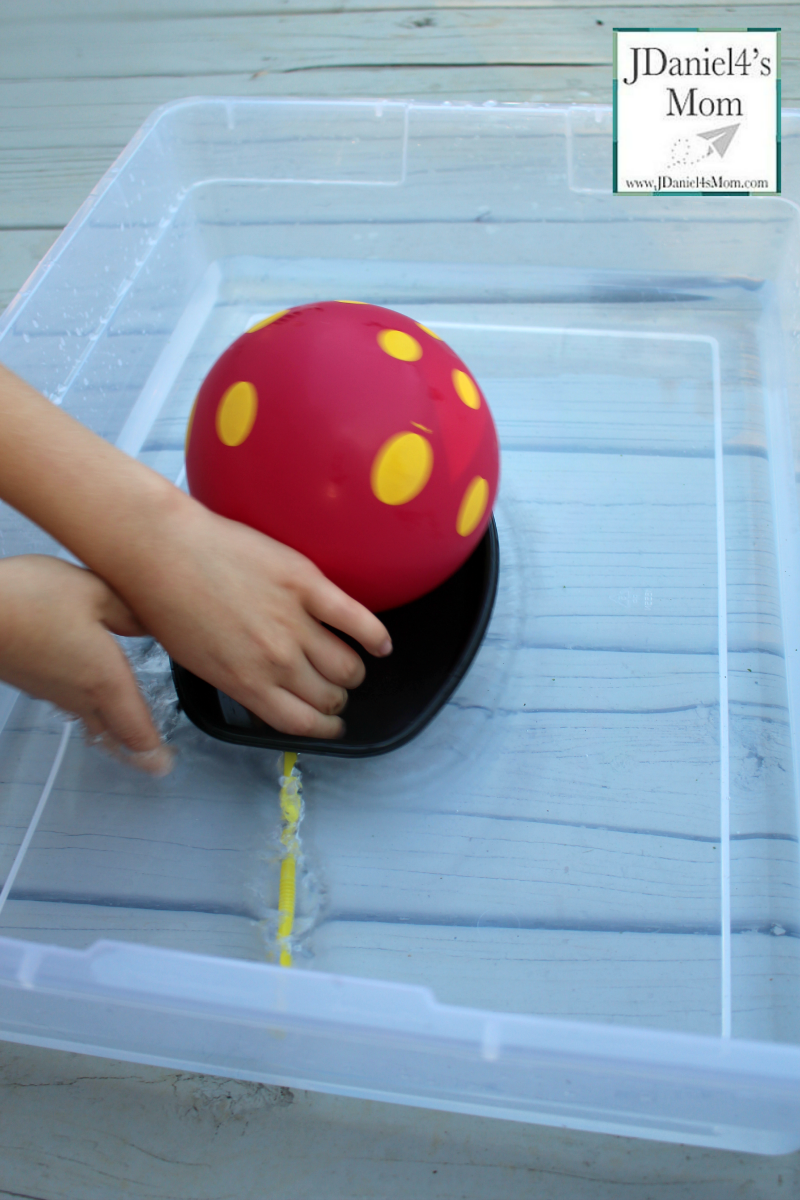 Creating Our Boat
The links below are affiliate links.
We created our boat by using a hole punch to create a hole in the side of a plastic frozen dinner container. It was a challenge getting the punch to slip over the lip, but we finally got it done.
Then we placed a straw in a  fun balloon with polka dots that had been inflated a few times. (Pre-stretching the balloon made it easier to inflated during the experiment.)
The straw was attached to the balloon with electrical tape. (I think any type of tape that is waterproof would do.)
The end of the straw not attached to the balloon was placed through the hole in the dinner container.
Preparing the STEM Activities
The experiment space we used for our experiment was an under the bed plastic box with water. If you have baby pool or even a larger pool, your boat will travel much farther than our boat did.
We conducted our experiment outside. If you choose to do your STEM activities inside you will want to place plastic tablecloth under your plastic experiment container.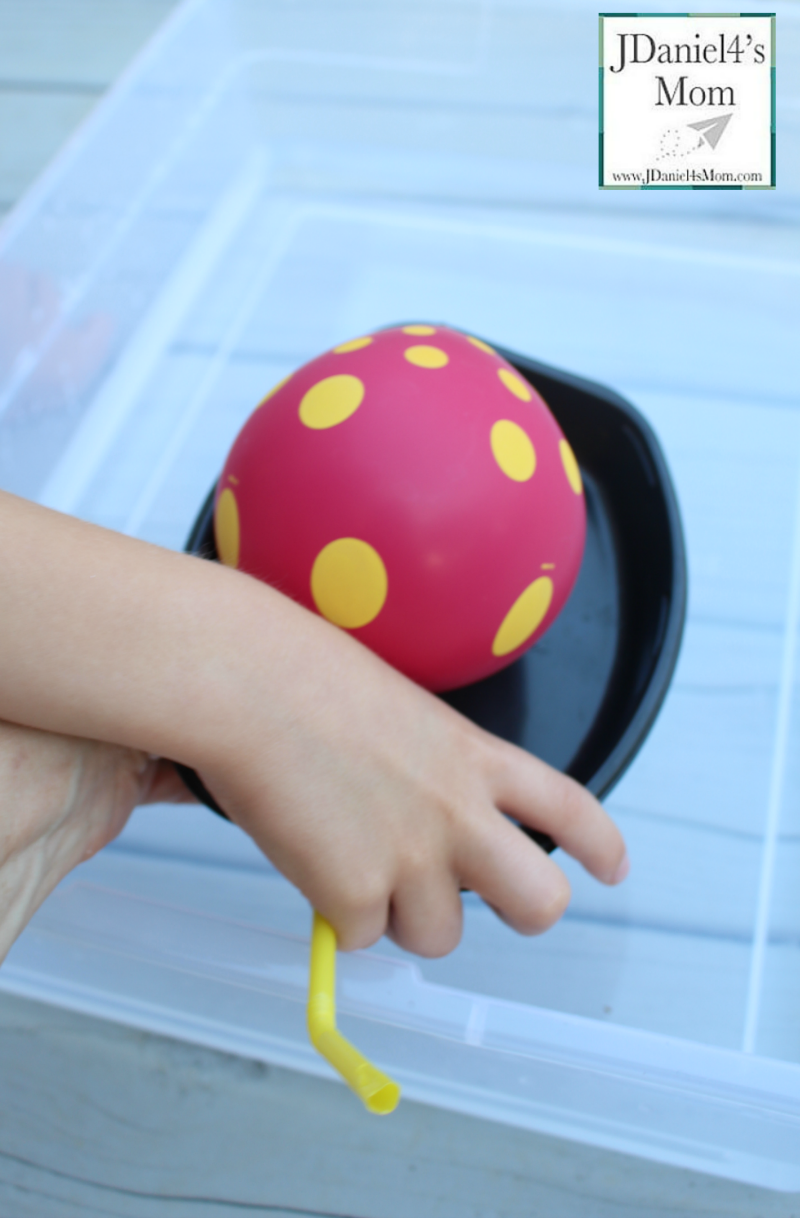 We filled the plastic box about half with water. (I wanted it to be light enough for me to dump the water out of the box when we were finished.)
Ready for the Tricky Part
The end of the balloon was pinched shut after it was inflated. Despite pinching the end, air did start to slip out of the balloon.
Here are some ways we tried to keep the air in the balloon:
Hold a finger over the end of the straw.
Place tape over the end of the straw.
Bend the straw to create a kink in it.
Pinch the balloon above where the balloon meets the straw.
We ultimately decide the pinching above the straw worked best for us. You may decide one of these other ways works best for you.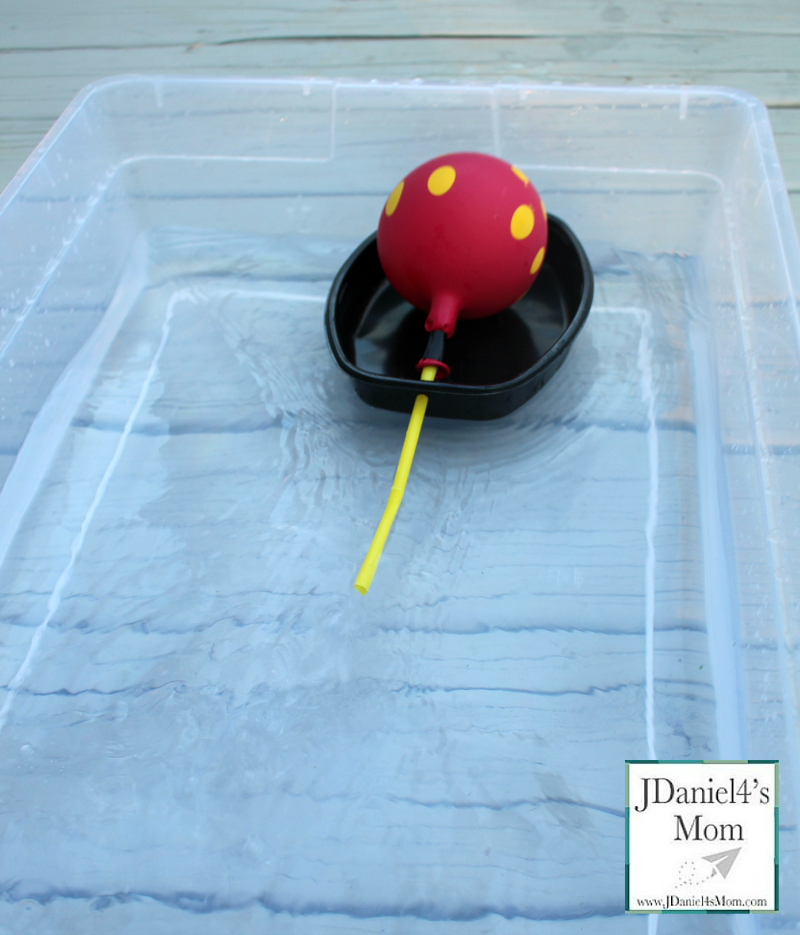 Going Forwards and Backwards
It was really fun to learn that the boat will go forwards if you place boat down with the straw in the back. When you turn the boat around, it will travel backwards.
Watching the boat being propelled by air either way is really fun!
Here are some more STEM activities:
Creating Plastic Egg Parachutes

(Visited 2,491 times, 1 visits today)