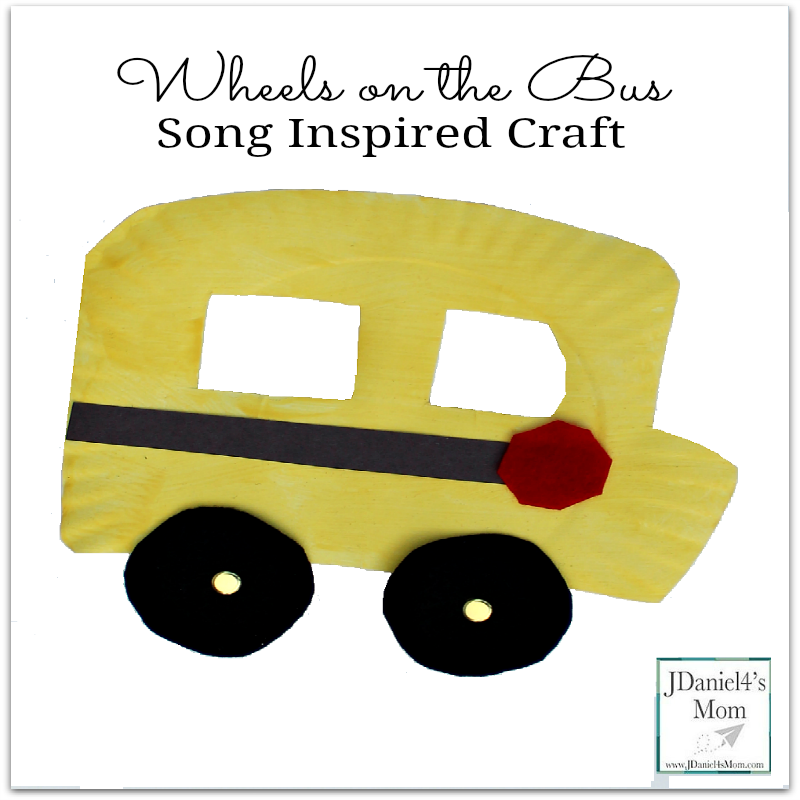 The Wheels on the Bus song was taught to me by my Aunt Yvonne when I was a little girl. I thought we were singing about a city bus back then. By the time I sang it to my son I knew it could refer to a school bus too. With school starting here soon JDaniel and I created a craft based on the Wheels on the Bus Song.  We made a paper plate school bus.
The links below are affiliate links.
This Wheels on the Bus Song inspired craft was a true collaboration. JDaniel consulted with me on the look of the craft. Researched school bus crafts. (I love that he found a school bus round up we have craft in. ) He also found a fun children's book based on the Wheels On The Bus song.  When bus was put together, he had input there too. A key element  for him was having the wheels move.
Creating the Wheels on the Bus Song Craft
Supplies
Paper Plate
Scissors
Yellow Paint
Red and Black Felt
Black Construction Paper
Brass Fasteners
Putting the Bus Together
You will need to start by cutting the outline of a bus out of the paper plate. Your outline will need to include two wheels. We have two windows on our bus, but you can have more windows on your bus if you like.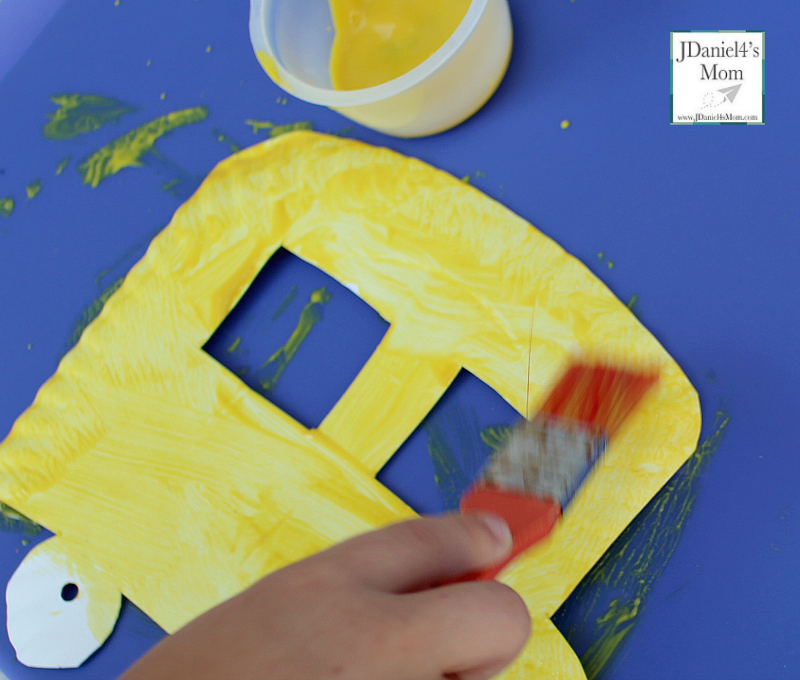 Next you will paint paper plate yellow. We used yellow tempera paint to paint ours. Your children can paint the wheels. We left our wheel unpainted.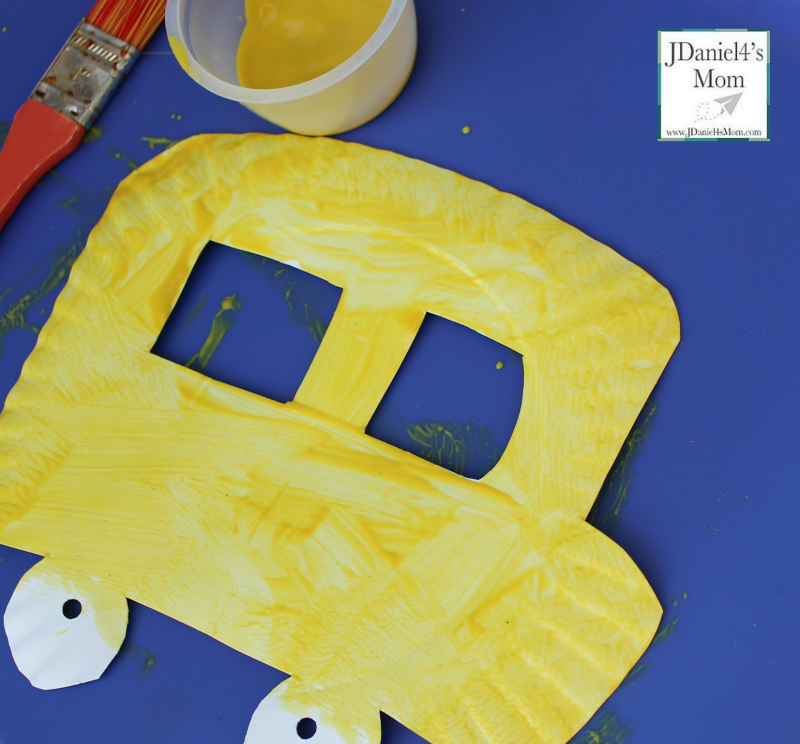 Adding the Wheels to the Bus
You will need to cut out two wheels out of black felt for the bus. We traced a small lid onto the black felt with pencil and then cut the wheels out. You can have your children trace wheels, have the cut them out freehand or have the cut out for them.
Next you or your kids will need to punch holes in the middle of the wheels on the bus. Then they will punch holes in the middle of the felt wheels. You can do this for them ahead of time if you like!
Finally you will attach the wheels to the bus with brass fasteners. By punching holes in the plate and the felt wheels you will find that the wheels will spin. Your kids will love that they can go round and round!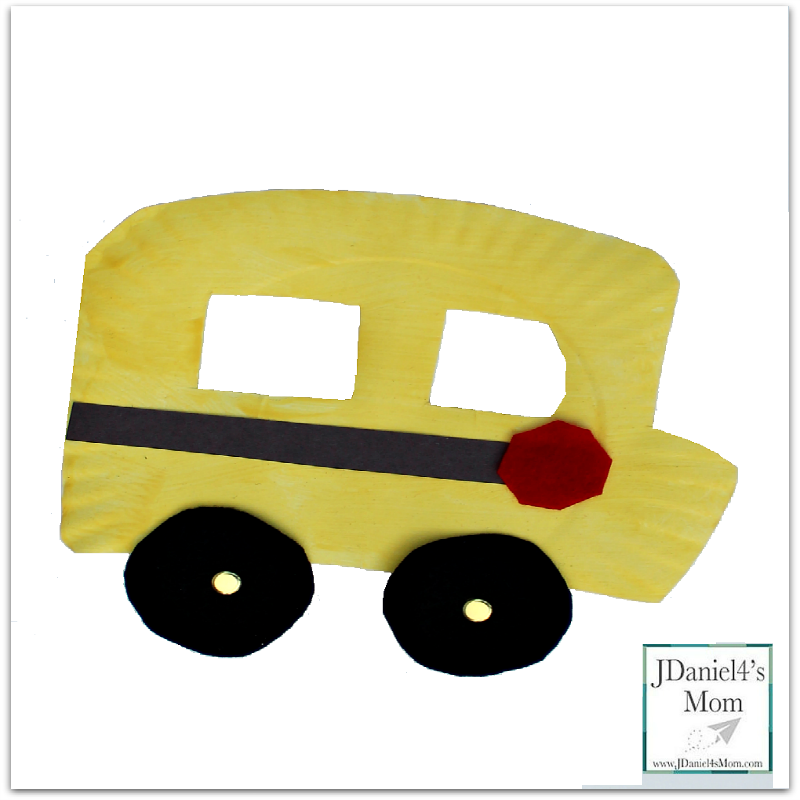 Final Bus Details
In his research JDaniel determined that our Wheel on the Bus song inspired craft was going to need a black stripe and a stop sign. It just had to have them. I bet your children will want them added too.
We cut a long strip out of black construction paper for the stripe. I cut a square out of red felt. Then diagonally cut out the corners of the square to make an octagon.
More  Back to School Crafts
If You Take a Mouse to School Mask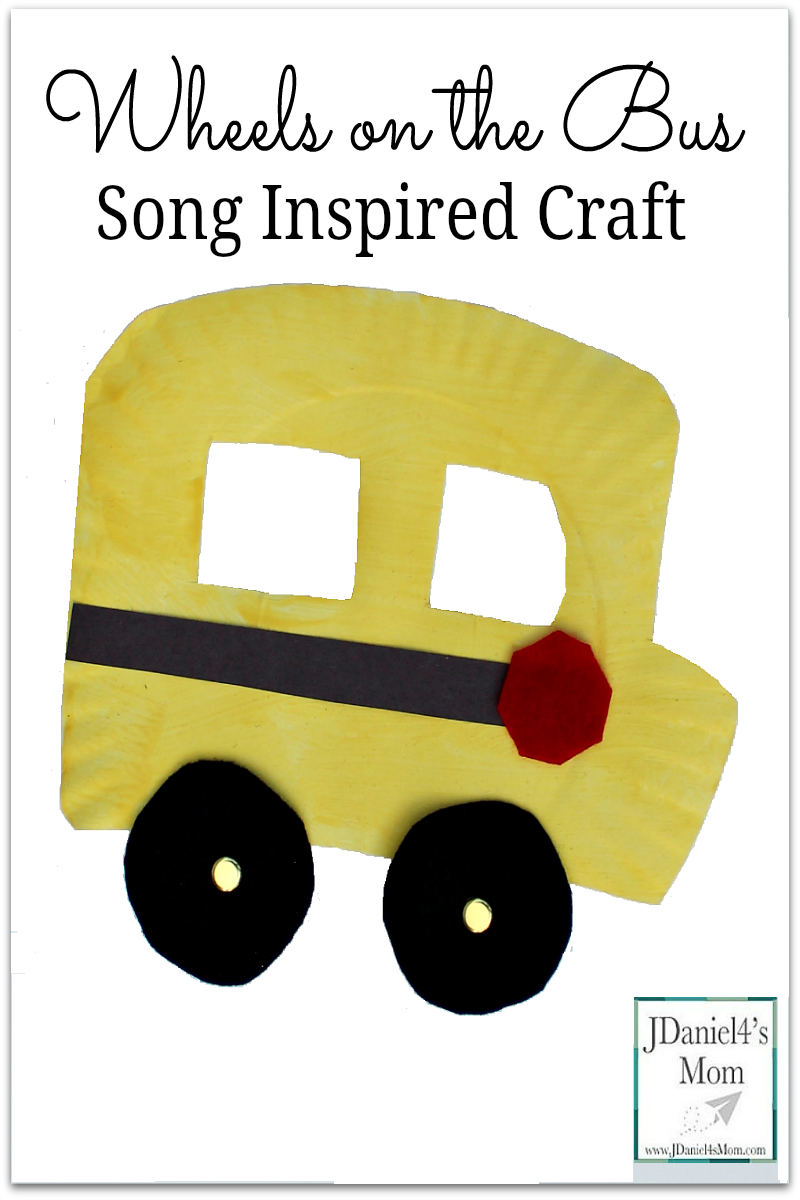 (Visited 568 times, 1 visits today)