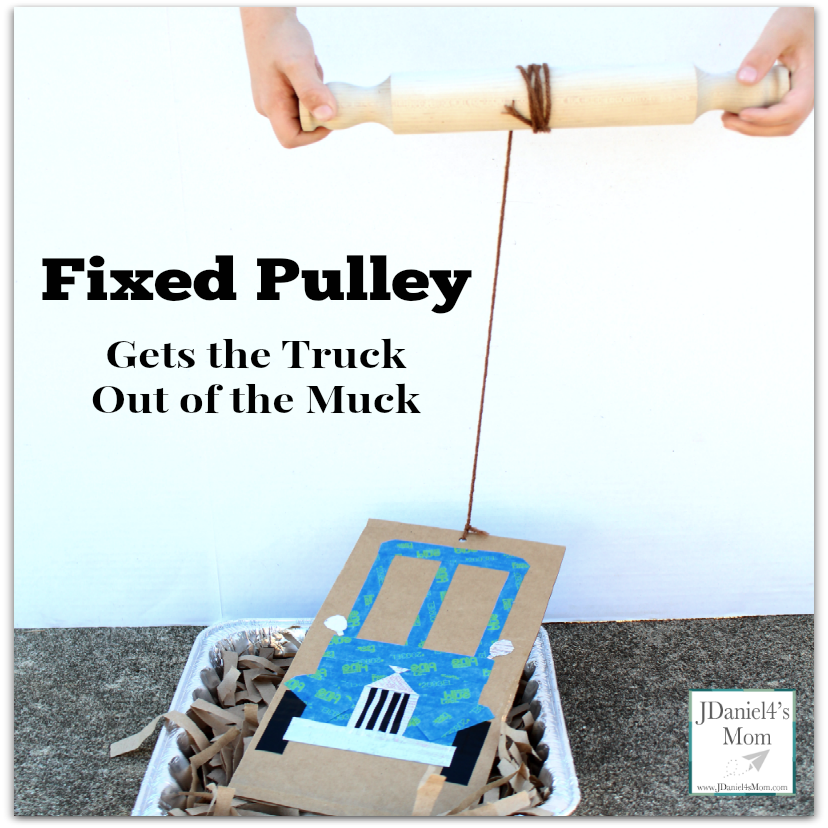 The Virtual Book Club book of the week is Little Blue Truck. My son and I are exploring pulleys as a Scout enrichment project. I decided to combine an event from the book with the creation of a fixed pulley.
Younger children will find the turning of the rolling pin a challenge. They will have to get both of their hands to turn the rolling pin at the same speed to get the truck to rise.  Older children will need to work on the correct speed to raise the truck out of the muck facing forwards. If they go too fast, the truck will start spinning. They will then have to slow down to get the truck to face front again.
Once your children have used the simple pulley to lift the truck out of the muck. They can then decide where to lower the truck to return it safety to the ground.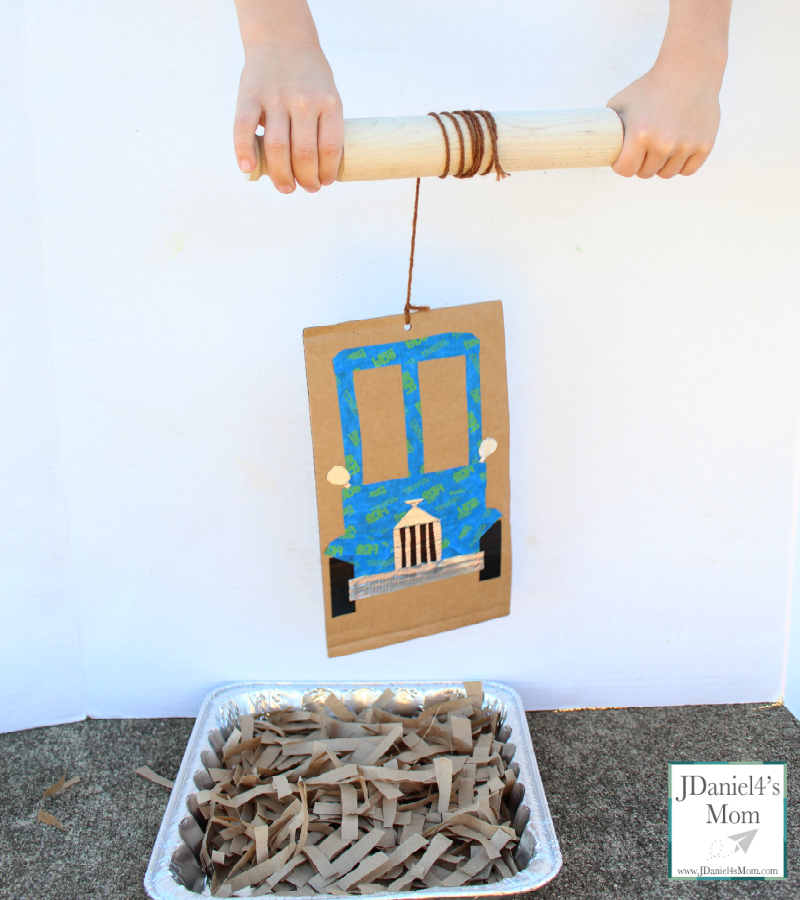 Supplies for Creating the Fixed Pulley
Some of the links below are affiliate links.
Below you will find two lists of building supplies. Along with the supplies you may also want to read the book Little Blue Truck to your children.
Supplies for Pulley and Truck
Blue Painter's Tape
Silver Duct Tape
Black Electrical Tape
Flap from a Cardboard Box
Brown Yarn
Scissors
Rolling Pin
Hole Punch
Supplies for the Muck
Paper Lunch Bags Cut into Strips
Metal Lasagna Tray
Scissors
Creating the Truck for the Fixed Pulley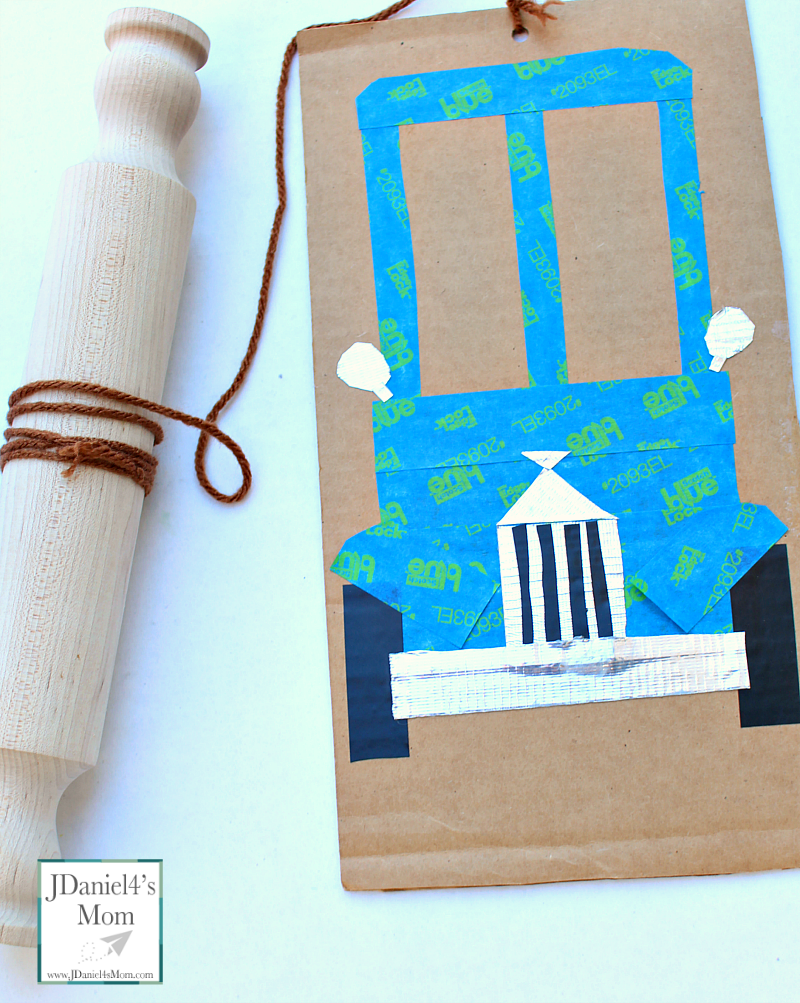 Start by creating the body of the Little Blue Truck with blue tape. We had blue painter's tape at our house so that is what I used. You can use any kind of blue trap you like.
Then cut two three inch pieces electrical tape or another type of black tape. You will place them on either side of the bottom of the truck. They will be your wheels.
Next place a narrow strip of the silver duct tape across the bottom of the truck. It will be the truck's bumper. Then place a rectangular piece of tape above the bumper for the grill. You can add details to the top of the grill and create mirrors using silver tape scraps.
Finally you will place small strips of the black tape on the silver rectangle to complete the grill. We used four strips of black tape on ours.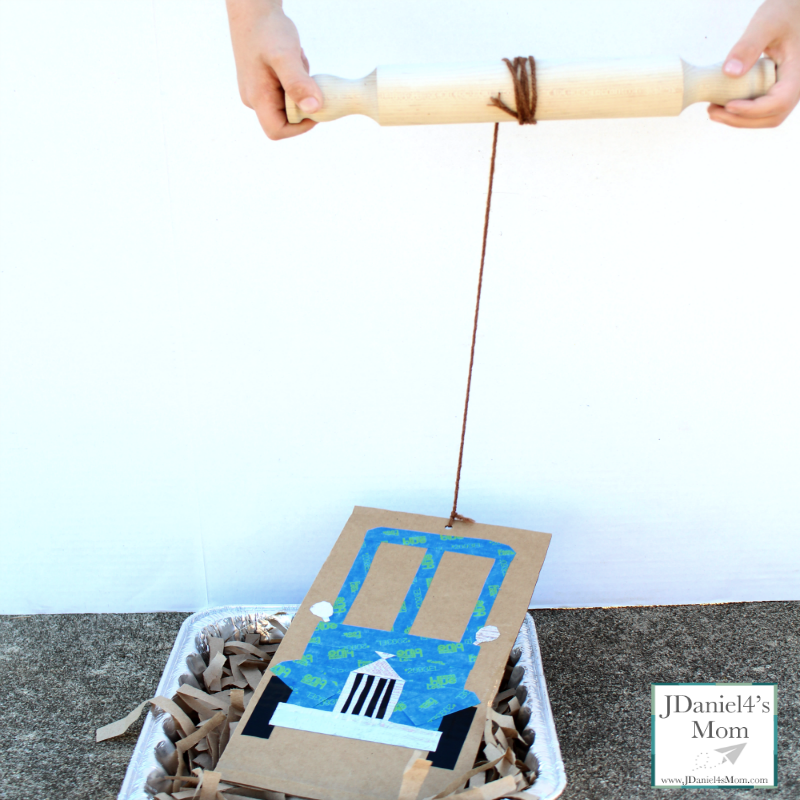 Creating the Fixed Pulley
Once you have created your truck, you will use a hole punch to create a hole near the top of the cardboard. Then you will tie one end of a length of brown yard to hole in the box. Next you will tie the other end of the yard to the center of a rolling pin.
More Fun Science Experiments
Do Pumpkins Float? Do Other Fruits and Veggies Float?
How to Make an Ice Cream Scoop Catapult
STEM Activities with #2 Pencils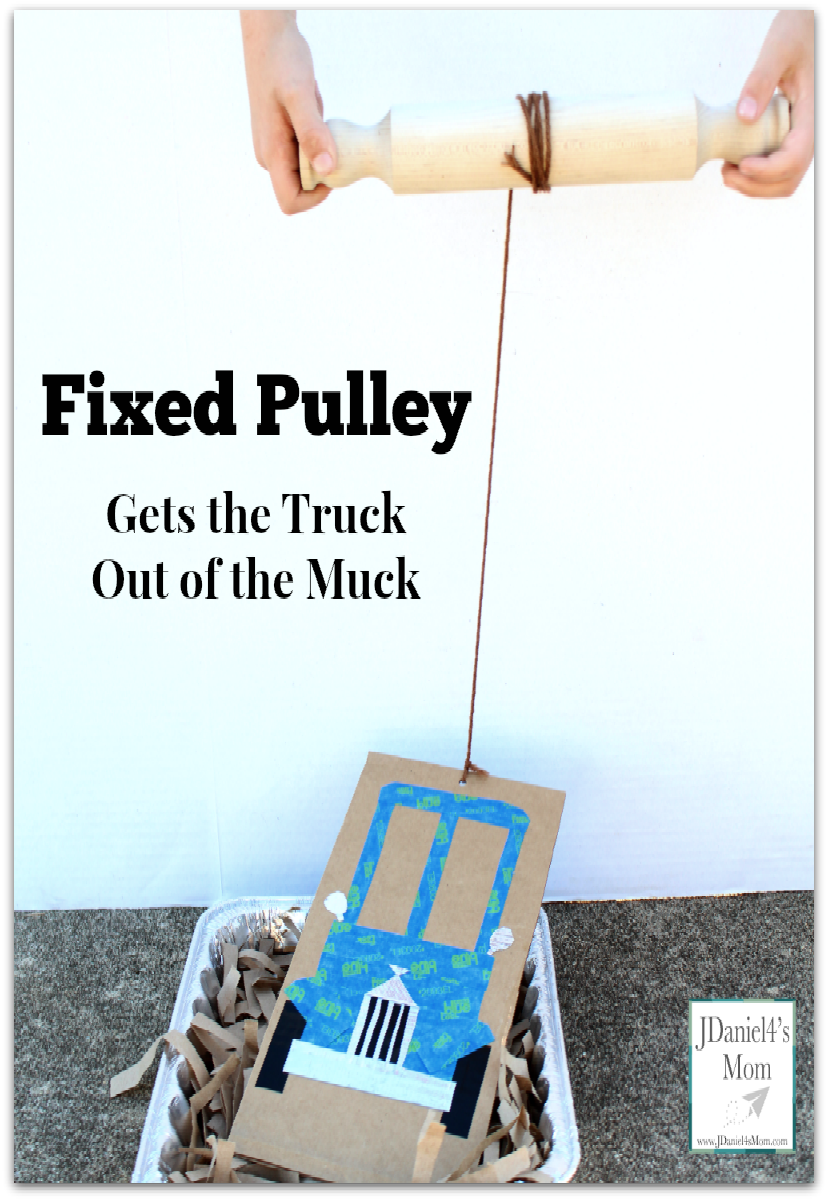 (Visited 697 times, 1 visits today)