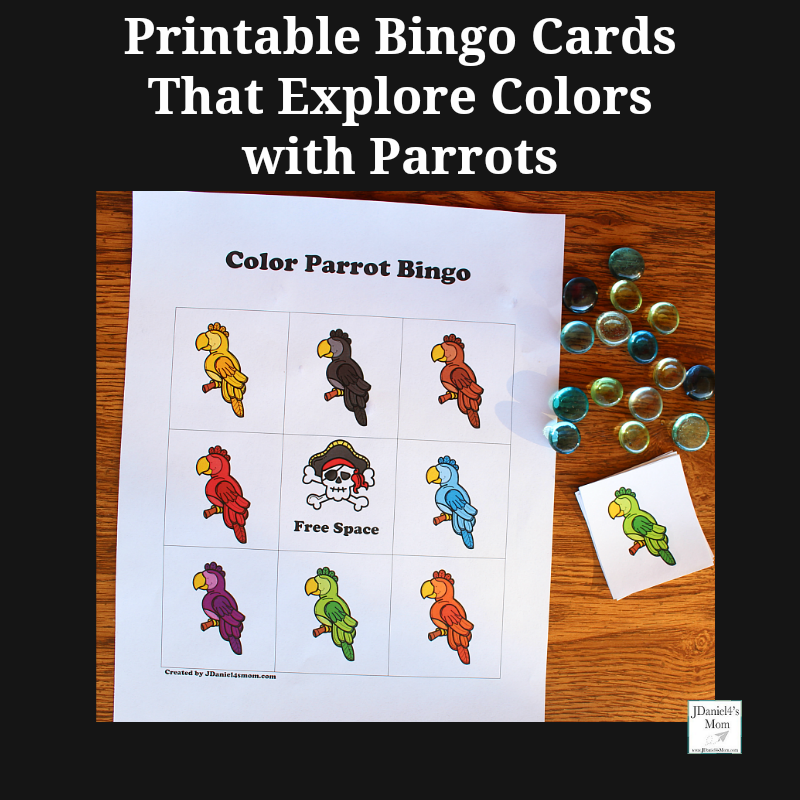 It is day three of Pirate Printable Week! Today I have a set of printable bingo cards that explore colors. Each of the printable bingo cards for kids displays eight parrots. Each one features a single color. These would be a great part of a pirate unit or after reading a fun pirate themed book. (You will find a list of fun pirate books for kids a the end of this post.)
Printable Bingo Cards for Kids with Parrots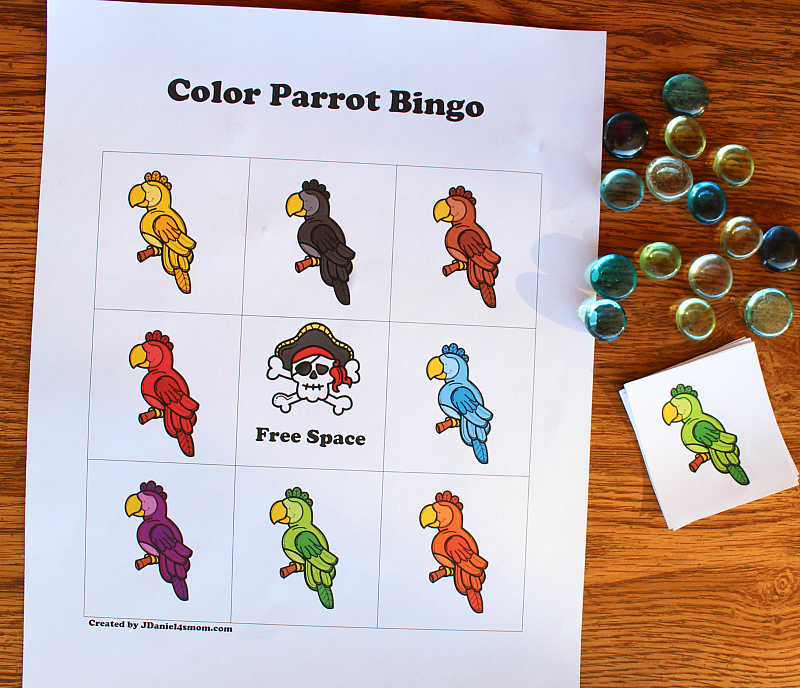 Before you get started you will need to download and print the Printable Bingo Cards that Explore Color with Parrots. The parrots and the skull in the free space are all colored clip art as well as the parrot color cards.You will need to print out the cards on a color printer.
The links below are affiliate links.
The only other supply you will need for the bingo game is something for your children to place on top of the color parrots. We used gems as our bingo markers.  It might be fun to use gold coins plastic gold coins or wooden parrot buttons
 a bingo covers.
One Player Bingo
You can give a pile of the parrot color cards and a bingo card to your child. They can take one color card of the pile at a time. After they say the name of the color,  they can place on bingo marker on the parrot that is the same color on the card. When they have three markers in a row or column, they can say BINGO or ARRR!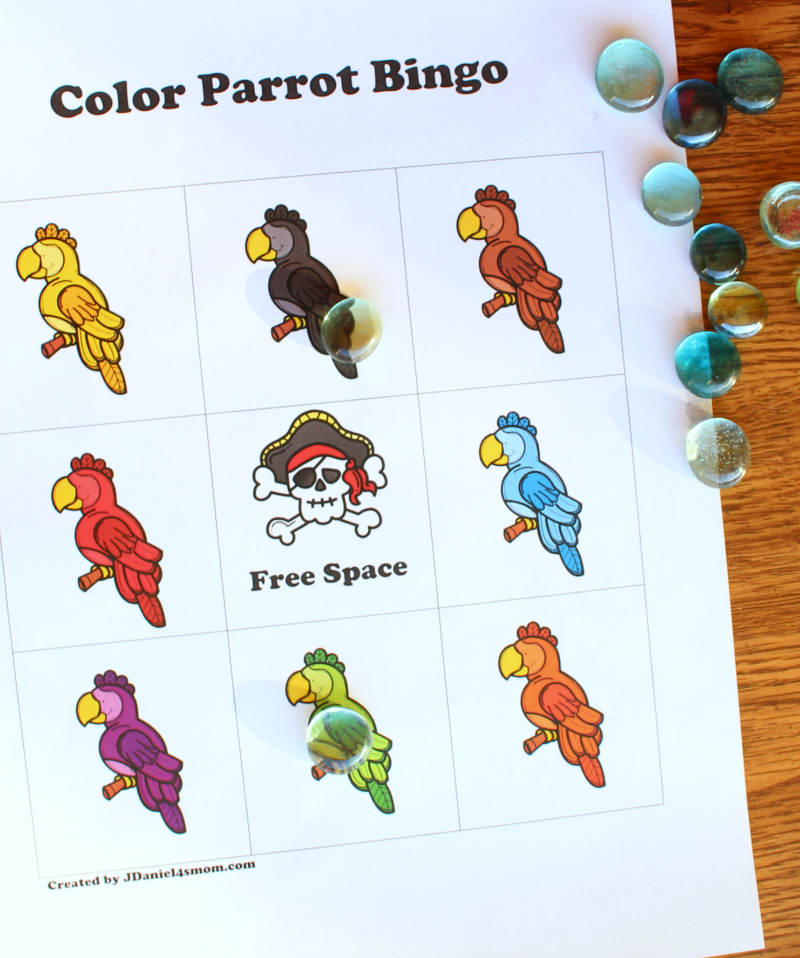 Multiplayer Bingo
You will need to give each of your children one of the printable bingo cards and some bingo markers.  Then your children can take turns picking up a card from the stack and calling out the color of the parrot on the card. Anyone with that colored parrot will cover it with a bingo marker. When one of the children has three markers in a row or column, they can say BINGO or ARRR!
Pirate Themed Books for Kids
I love tying activities I create for kids to children's books with a similar theme. Two of my favorite pirate books are How I Became a Pirate
and Pirate Nap: A Book of Colors
. They both have fun illustrations and are great fun to read aloud.  I bet your children will love them.
Other Pirate Themed Activities
Five Little Pirates Puppet and Rhyme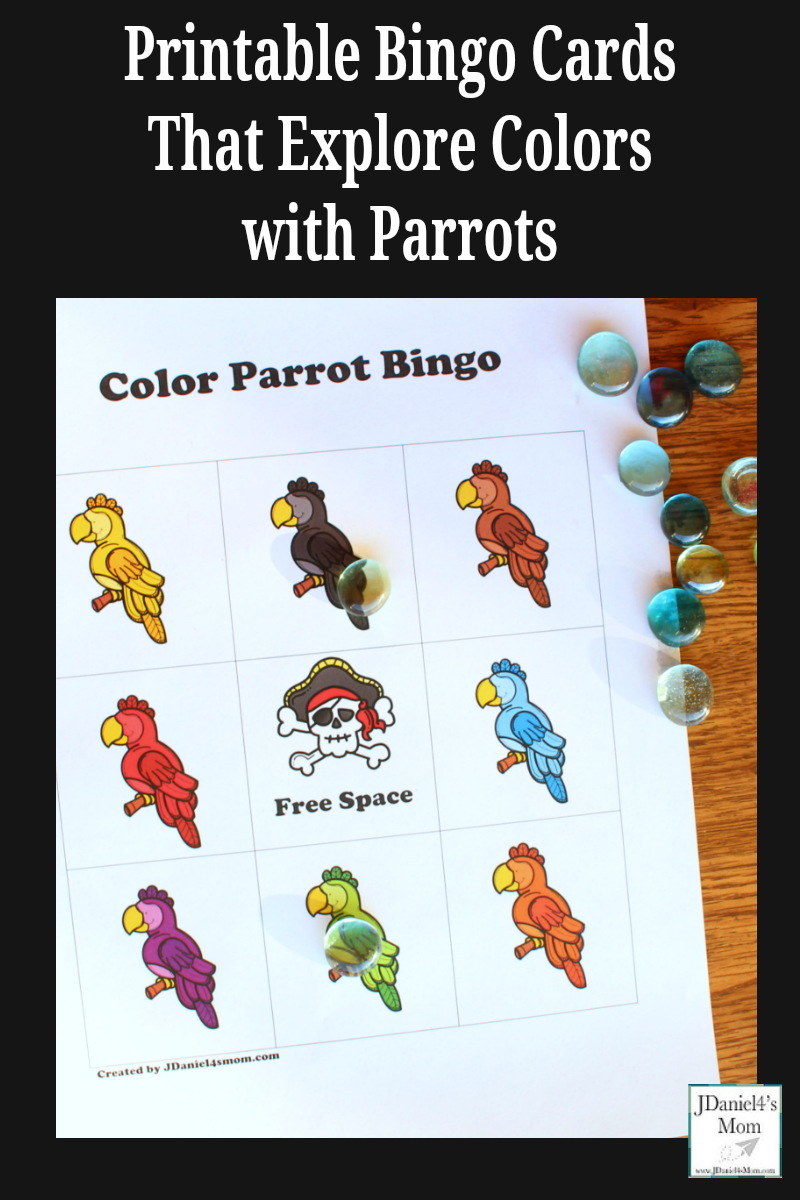 (Visited 138 times, 1 visits today)