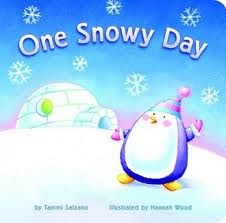 Welcome to Read. Explore. Learn! This meme was designed to be a place for you to share the learning opportunities, crafts, field trips, and other activities you have done this week that tie-in to children's books. I look forward to seeing ways you have learned with and explored books.
Steps:
Link your activity below.
Please place the Read.Explore.Learn. badge on your post or create a link back to this meme.
Please try to visit at  least three of the other people that have placed links below and leave a comment. I will visit each of you and leave a kind comment and Stumble your post.
If you are not linking up an activity and are just visiting, please try to stop by a few of the links below.
My Book Tie-Ins of the Week:
One Snowy Day
by Tammi Salzano is a wonderful padded counting book about a penguin and the wintry objects he encounters. He has one hat and two mittens. There are three penguin friends who join him in riding four sleds. The book continues with the penguins creating a snowman, eating snowflakes, making snow angels, and throwing snowballs. After a day of play the penguin takes nine steps home to have a cup of chocolate with ten marshmallows.
I love counting books and JDaniel does too. One Snowy Day has been a fun counting book for JDaniel and me to read together. With all the snow we have had recently JDaniel has been able to do alll the  fun things penguins got to do in the snow. It has been fun to have him point to a page and say, "I did that too." The illustrations by Hannah Wood are perfect for the book. The muted colors fit so well into the winter scenes she has painted for each page. The silvery snowflakes that reflect light give a 3-D effect to the pictures.
What did we do?
Number Practice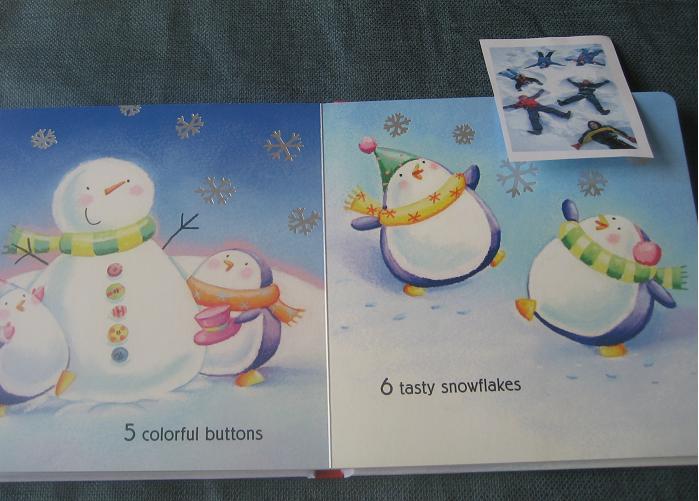 I found pictures online that matched each of the objects counted in the book. I had JDaniel match the pictures I printed to the pictures in the book.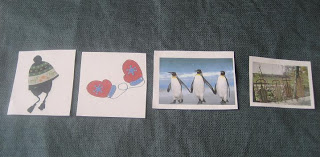 Then we arranged the pictures by the number of objects in the pictures.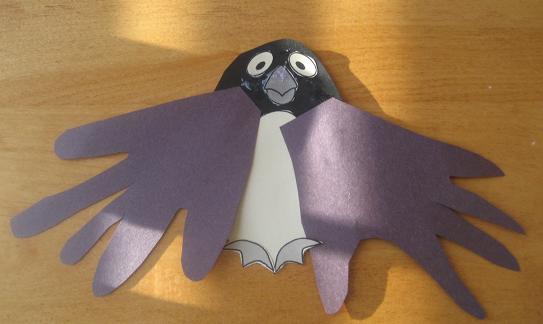 I found a really cute penguin craft on
DLTK
. We printed out the pieces and then JDaniel tried to trace my hands. We used the hand prints to make the penguin's wings.

Disclaimer: I was sent a copy of this book to review by Tiger Tales Books. I was sent a box of all their fall releases to review. The opinions of this book are my own.
(Visited 629 times, 1 visits today)