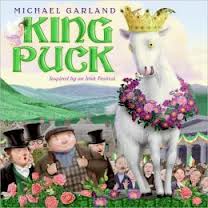 I had never heard of the King Puck Festival in Killorglin before. JDaniel and I learned about it together when we read the book King Puck
. The festival takes place every year in August. One of the highlights of the festival is picking a local goat to be King Puck for the year. 
In this Irish tale a lonely farmer has no one to talk to but his goat. He not only talks to his goat, but he reads to it as well. He reads the same books over and over again. He soon tires of the tale as do the fairies that gather to listen to him read at night.
The fairies decide to do something to help the farmer and they cast a spell on the goat. The spell allows the goat to talk. The farmer is so happy to have someone to talk to.
Later he finds a flier about the King Puck Festival and decides to enter his goat in the contest. You will have to read the book to find out who wins and what the winner selects. I will give you a clue. The winner picks something that will help him read, explore, and learn.
What did we do to explore King Puck?
Sock Puppet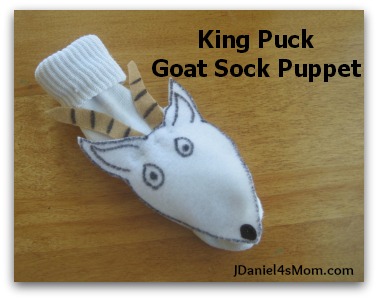 Puppets are a great retelling tool. I decided to make JDaniel a  King Puck sock puppet much like the
Fox in Socks
puppet I made for him last year. We used it for retelling and acting out the story.
Number Sequencing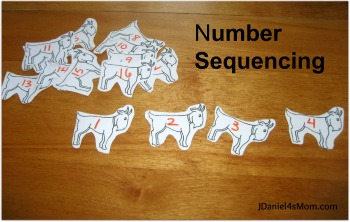 The goats line up to be judged in the King Puck contest. We lined up goats in number order. I am not sure that there were eighteen goats in the contest. We  decided we need to have eighteen goats lines up on our kitchen table.
If JDaniel were older or had a better grasp on numbers, here are some other ways we could have explored number concepts with the goats.
Sorted  by even and odd numbers.
Used the goats to make number sentences.
Place the correct numbers before and after the number placed on the table
Created word problems based on the goats



If you like this King Puck activity, here are some more book inspired learning activities:
Sparky the Fire Dog Book Activities

(Visited 161 times, 1 visits today)