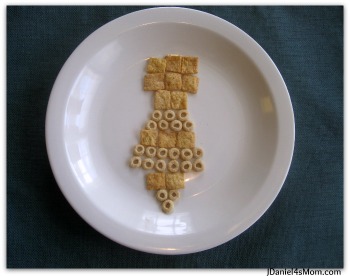 I know it was just Mother's Day yesterday and Father's Day isn't for awhile, but I have been trying to come up with a special Father's Day breakfast.  Last year JDaniel was taught how to make me a special breakfast fruit sundae. (Yes, we practice making it ahead of time.) I thought dad would like to have a special breakfast too. My husband gravitates to just cereal and coffee in the morning. JDaniel and I made his a fun cereal creation.

When I think of Father's Day, I think of neckties. I am not sure why. My husband only wears one to church every now and then. I tried to put together breakfast cereal so it would like a tie in a shallow bowl. I thought he could just add a little milk to the bowl and have cereal for breakfast.
After putting it together, I asked my husband what he thought and he said I needed to tell him what it was first. It looked obviously to me. Apparently, my husband didn't. When I asked him why he didn't see a tie, he said it was because the tie wasn't long enough.
Well, I don't think I can make a long tie in a shallow bowl. Maybe a platter would work, but then milk couldn't be added to it. 
Here are some other wonderful Father's Day ideas:
Amazing Out of This World Father's Day Card
 DayDad's Day Recipe – Dutch Apple Dessert
Here are some other Father's Day Ideas
Out of this world Father's Day Card
Father's Day Treat- Dutch Apple Dessert
What do you think? When you look at the image on the plate above,  do you see a tie?
If you don't see a tie, what do you think I can to fix it?

(Visited 148 times, 1 visits today)