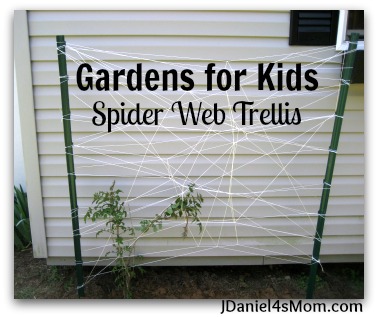 The idea for this spider web trellis came after reading about a spider web trellis in a book about gardening for kids. The book suggested using bamboo poles and twine to create a web. They went on to recommend that you plant a sweet pea plant to weave into the web.
JDaniel and I headed to Home Depot with the book in hand to see if we could find the materials and planst that we would need to create one for our backyard. We found out very quickly that they didn't carry bamboo poles and that the customer service lady wouldn't recommend using them. They will fall apart so quickly she said.
What did she recommend that we use instead? She pointed us to the metal poles that farmers used to make barbwire fences. "The poles have hooks built into them to attach the twine to," she said. They were perfect. The fence poles are solid, won't rot, and have those wonderful hooks.
The book then recommended a sweet pea plant, but they didn't have any pea plants for sale. We then looked for the next thing on the list twine. They had a gardening twine so, we grabbed a roll of that before heading to the register.
JDaniel and I must have visited three other nurseries and didn't find sweet pea plants. One recommended I buy seeds instead, but they didn't carry them. The second nursery suggested we try Martin's Nursery in the next town over so, we headed there.
They didn't have them, but I wonderful lady there suggested that we try the Trumpet Creeper. "It will grow up to thirty feet long and will be flexible enough to weave," she told us. When I told her about the twine I was going to use, she told us that was a bad idea. "It is going to rot," she said. She recommended that we use a heavy string.
It was decided that we stopped by to pick up the string later in the day. JDaniel was ready to stop looking for spider web trellis materials by then. This gardening for kids project would have to wait awhile before getting started.
When we did have everything we needed, we headed into the backyard with our fence poles, string, Trumpet Creeper, and a variety of gardening tools ( large shovels, small  hand shovels, scissors, a hammer and more)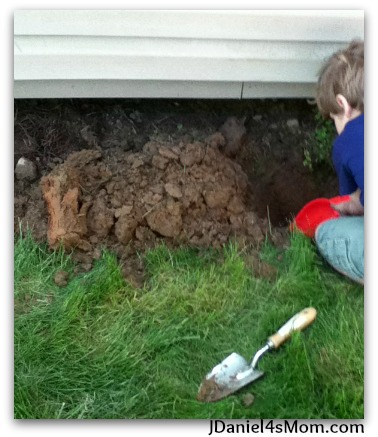 The first thing we did was to plant the poles. It was a little tricky. We found that after about eight inches of dirt  we have clay. Digging through the clay was a workout. JDaniel and I both took turns trying to dig through it.
Once we got the hole as deep as we could, I put a folded washcloth over the top of the pole and hammered it in. While I did that, JDaniel started the hole for the second post.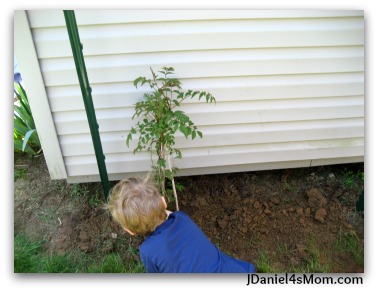 After I did a happy dance to celebrate the fact that poles were in place, we planted the Trumpet Creeper. Digging the hole for the plant was so much easier than it had been for the poles.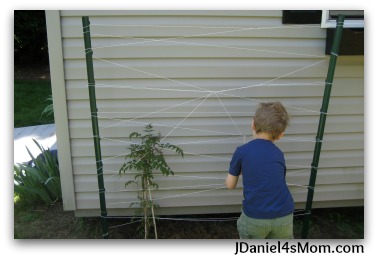 Creating the web was JDaniel's favorite part. I had to show him how to pull the string tightly around the poles and attach it to the hooks at the beginning. He got the hang of it very quickly. He took the string across around and down over and over again.
The web got bigger and more elaborate as he wove it. The string went over and across our plant a couple of times. When I felt like we had a enough string on the web, I tied it off tightly and we both stepped back to look at it. We were both very pleased with it.
Would you like to make one of your on?
Here is our gardening for kids web supply list:
two green metal fence posts
a roll of heavy white string or twine
a plant that will creep or spread like a vine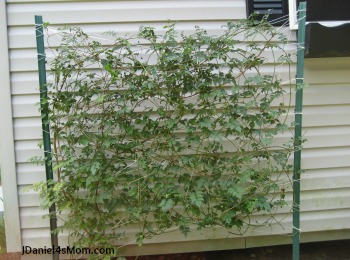 We created our spider web trellis a few weeks ago. The plant has grown and we have been able to weave it through the web both vertically and horizontally. It is fun to decide what direction to guide plant into next.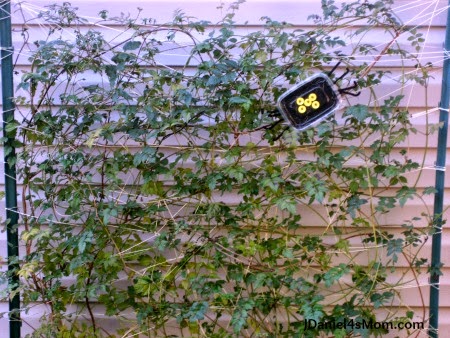 This is a wonderful garden for kids. I hope you will try to make a spider web trellis too.
>This post is link to Dig Into Gardening. ( A gardening link up for kids that I am co-hosting)
Here are some more gardens for kids projects:

(Visited 1,754 times, 1 visits today)