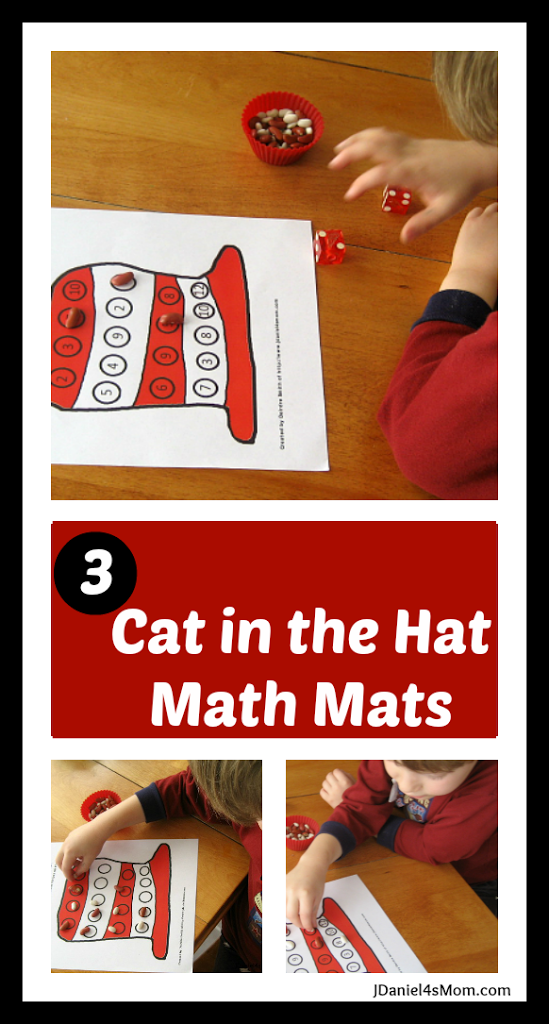 Roll and Cover and patterning Cat in the Hat, and 3 Dice Mat are fun to take out for Dr. Seuss birthday or anytime you are exploring his books. Making math fun and tying to a children's book is something I have always tried to do.
After creating the hat mat with circles on every stripe for a patterning activity, I just couldn't stop myself from creating a roll and cover math mat for young children. That led to creating one for slightly older children too. Finally I just had to stop creating, but that doesn't mean you have to. All of the Cat in the Hat math mats are free to download. I bet you will come up with dozens of ways that you can use them.
Cat in the Hat Dice Roll and Cover Mats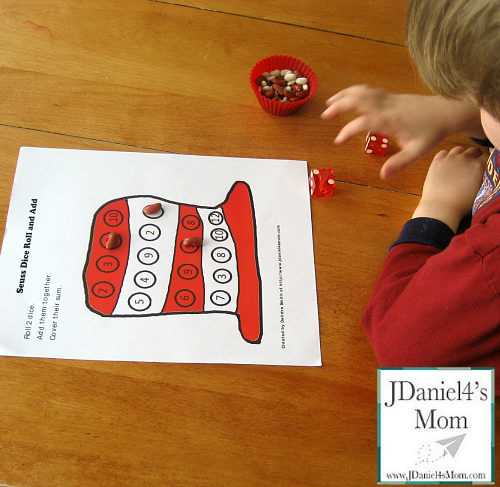 This mat asks children to roll two dice and cover the sum of them. There are so many ways that you could cover the sum.
Here are some that I came up with:
Color the circles with crayons, marks, or color pencils
Place a pom-pom over the sum
Cover the sum with a bean. Maybe a red bean for the red stripes and a white bean for the white stripes
Buttons would be great fun to cover the circles with
Construction paper squares would work
Bingo markers could be used to place dots on the dots
The early learning roll and cover math mat has children using two dice and the version for older children has them using three dice. Children that need to be able to count on the numbers might benefit from using dice with dots on them. Children that are ready to work more abstractly could use dice with numbers on them.
Cat in the Hat math activity mats can be used by children rolling and covering numbers on their own or they can do them with a friend. Each can take turns rolling and covering numbers.
Seuss Patterning Mat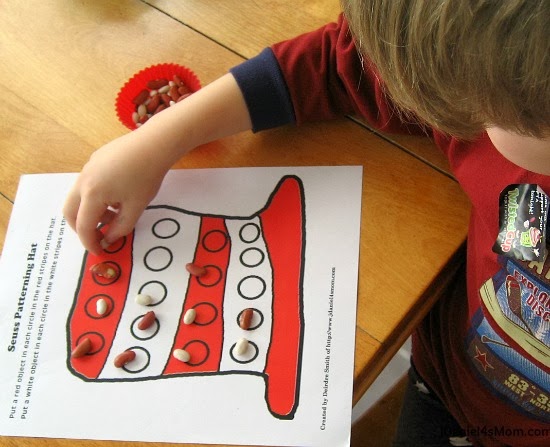 There are several ways that children can explore patterns with his mat. The directions on the mat sheet ask children to place a white object in the white row and a red object in the red row. You may choose to have a variety of white and red objects for children to use or stick to just one type. Red and white beans are what I chose to use for this activity.
Children could move the objects into the circles with a variety of tools or their fingers. My son likes to use his plastic children's chopsticks or two wooden chopsticks bundled together with a rubber band or his fingers. Clothes pins or tongs could be used to transfer objects too.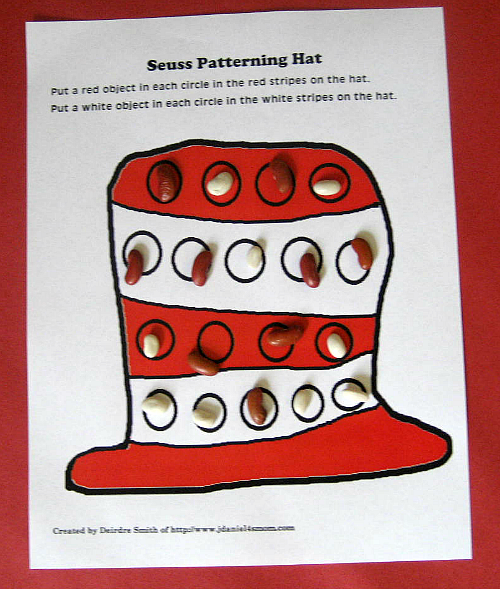 Another way to explore patterning with the Cat in the Hat math patterning mat is to have them create a different pattern in each row. A row could be an ABAB pattern or AABAAB pattern or any AB combination you chose. Children may enjoy coming up with their own AB patterns for the mats.
Using any of the Cat in the Hat math activity mats would be fun to do as part of a Dr Seuss birthday celebration or anytime during the school year.Would you like to print out the Seuss Cat in the Hat math activity mats? Click on the links below to download copies of the mats.
Deirdre Smith writes/owns JDaniel4's Mom. After twenty years as a elementary school and technology resource teacher in Northern Virginia, she became a stay at home mom in upstate South Carolina. Her blog features ways she and her 6year old are exploring learning, crafting, creating healthy meals and living life to its fullest. Deirdre can also be found on twitter as @jdaniel4smom and on her blog's FB page. You can also check her out on Google+.

(Visited 21,685 times, 111 visits today)