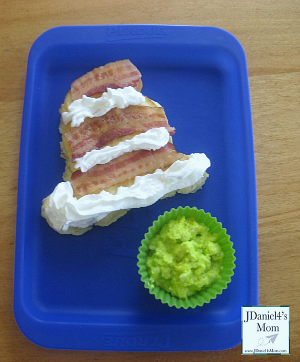 This year I decided to focus on the book Green Eggs and Ham for Dr. Seuss' Birthday. I love the rhymes and the message of this book. No matter what Sam says about trying new foods he ends up eating this new food combination. He not only tries it but he likes it.
Thankfully JDaniel loves to try new things! Well, most of the time he likes to try new things.
What did we do to explore this Green Eggs and Ham?
Green Eggs and a Fancy Pancake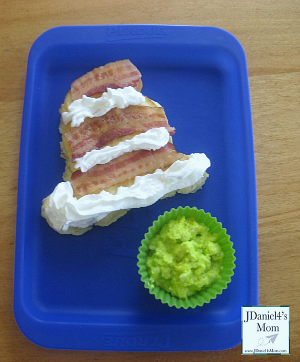 I made JDaniel a special hat shaped pancake and placed bacon and whipped cream on top of it.  He loved it. The pancake tasted like a birthday cake I was told. I think it was the vanilla flavoring that I added to the pancake batter that made it taste that way. It also may have been the dash of sugar that I added to the pancake mix.
I also made him a small cup of green scrambled eggs. He turned his nose up to them and won't even try them. That really surprised me. He is usually into scrambled eggs. I made a similar lunch for my husband. (He was home dealing with a heating issue on the day I made them.) He ate everything and went back for more eggs.
 Tic Tac Toe Game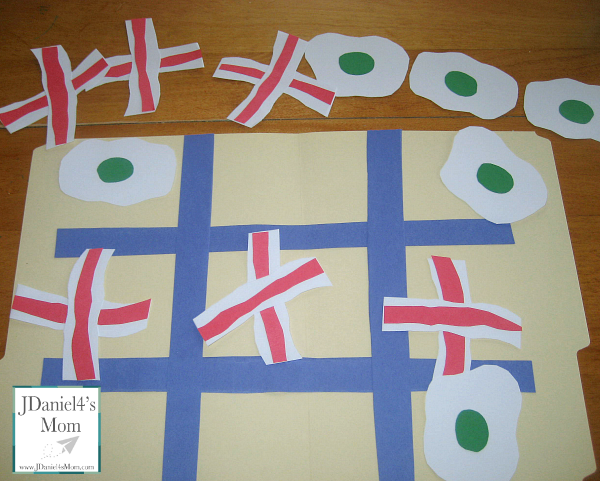 JDaniel loves to play tic tac toe on the iPad so, I made him a Green Eggs and Ham versions of the game. I guess it should be called Green Eggs and Bacon. Bacon strips made a better  "x" than ham slices would so, I decided to make bacon.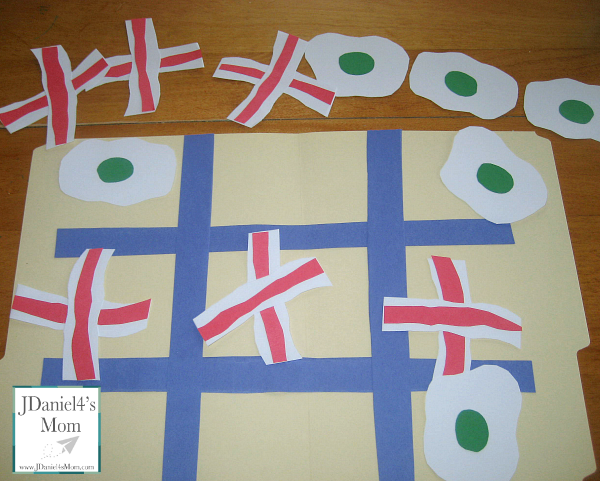 He has gotten really good at the game by playing it on the game iPag application  Bugs and Buttons. I was the green eggs when we played and I don't think I won once. Maybe it was because I left JDaniel to go first.  Maybe it is because he went to the center space everytime.
Here is some other Doctor Seuss Learning Activities Beyond These Green Eggs and Ham We Have Done:
Doctor Seuss Thing One and Thing Two Shape Craft
Cat in the Hat Math Mat (Free Printable)
If you do try any of the above Dr. Seuss character activities, please leave me a comment below telling me about it or share a picture of it on my Facebook page. You may also want to check out my Dr. Seuss board on Pinterest. It is filled with wonderful activities that feature Dr. Seuss Characters.

How have you explored books this week?
(Visited 10,389 times, 43 visits today)