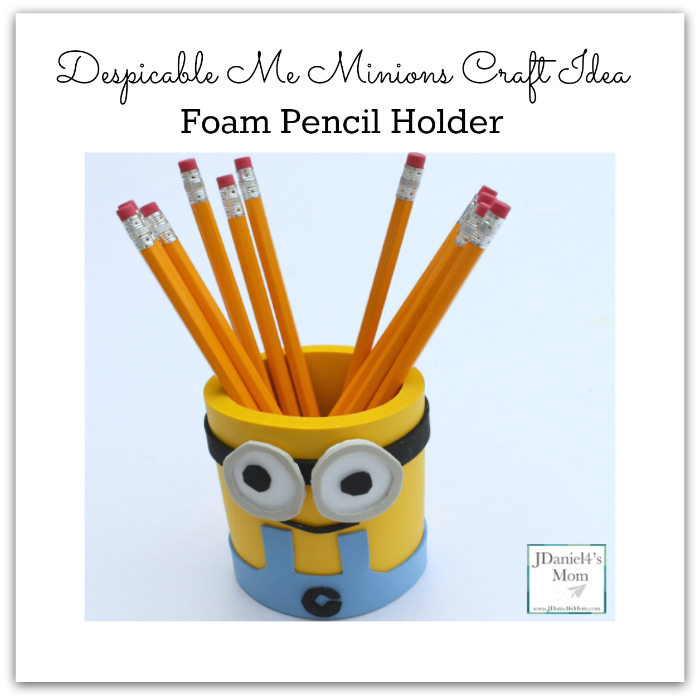 I thought it would be fun to make my son a Despicable Me Minions pencil holder for his homework pencils. He has loved the Minions since he saw them in their first movie. Since seeing the movie we have made a Minion craft stick puzzle, printable "You're One in a Minion" cards, and a Minion costume. This cute pencil holder will be a great addition to our Minion collection.
Supplies for the Despicable Me Minions Craft
Yellow foam cup holder
Gray, black, white, and blue craft foam
Elmer's Extreme School Glue
Directions for Making the Minion Cup Holder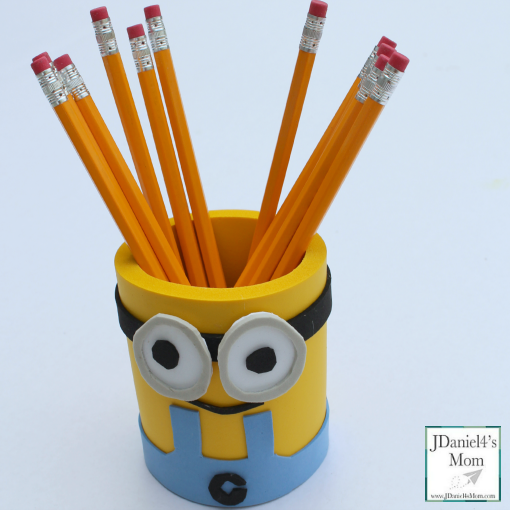 I started by cutting out a long piece of blue foam. The blue foam was cut into narrow band at the bottom and two straps for the overalls. The band was about 2 inches wide before it was cut down. The blue foam had a sticky back so it went easily onto the cup holder.
Then a half inch wide strip of black foam was cut out  and glued near the top of the cup holder. It would become the band for the goggles.
The eyes and goggles were built on top of round pieces of white foam. The medium sized bottle cap was used to trace the circles for the goggles. A small bottle cap was used to trace the inside edge of the goggles. An X-acto knife was used to cut the inside and outside of the goggles. (It was much easier to use then scissors would have been.) The outside edge of goggle circles were traced onto white foam and then cut out. Each frame was a little different so, I needed individual eyes that would fit under each one.
With the white circles cut out it was time to cut out little black pupils. Then the pupils and the goggles were glued onto the white circles. When the glue had dried, the completed eyes were glued to the black band.
A little grin was cut out of a piece of black foam. At the same time the symbol on the Minions overalls was also cut out. Both of them were glued onto their spots on the Minion.
To keep pencils from fall through the hole in the foam cup a foam circle was place inside. The circle was just a little smaller than the base of the foam cup holder.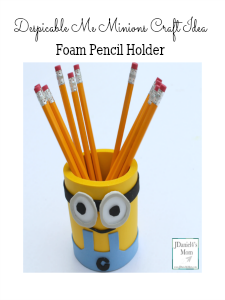 If your create a Despicable Me Minions pencil holder, please share a picture of it with me on Instagram or Facebook.

(Visited 1,055 times, 1 visits today)