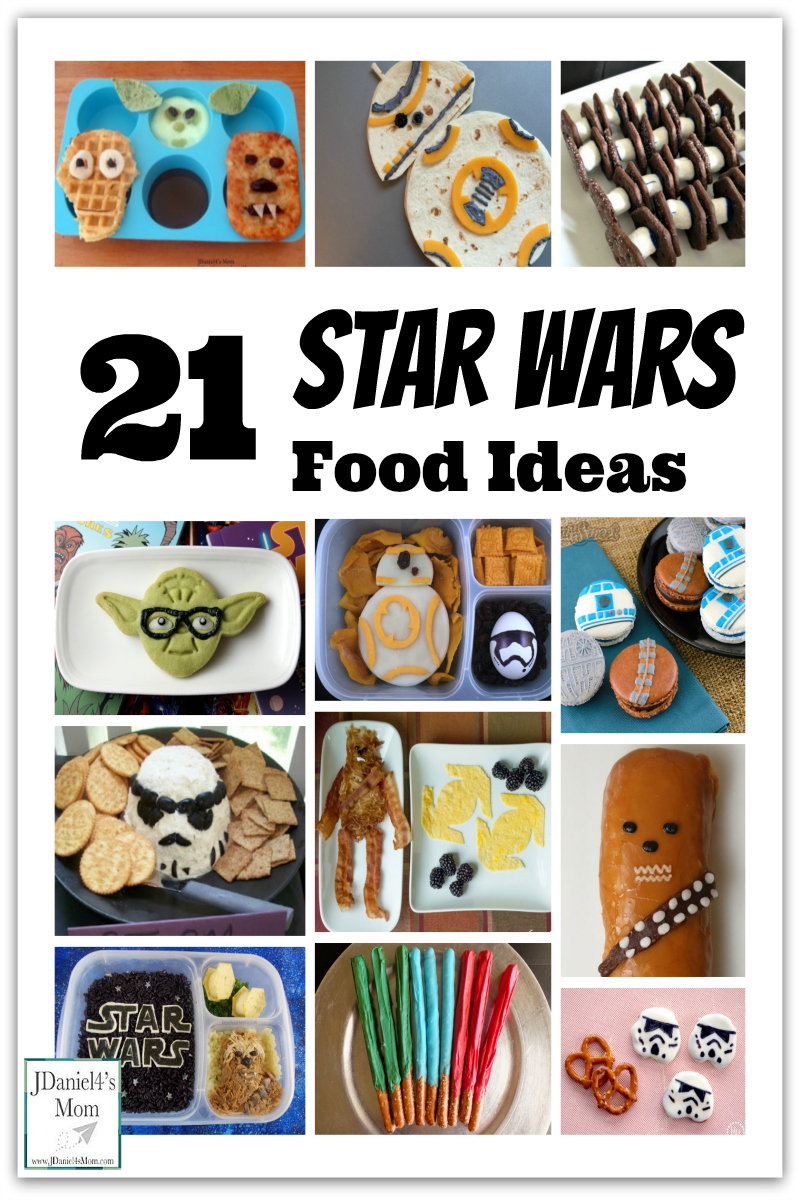 These Star Wars food creations are sure inspire you make them for the Star Wars fans in your life.  I have included bento inspired lunches and snacks that feature Star Wars food.
Some of these will be easy to replicate. Others were just too amazing not to share with you. They will be harder to replicate.
Star Wars Food Creations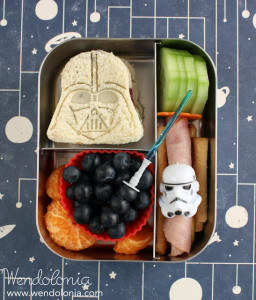 Bento featuring Darth Vader from Wendolonia– What fun it would be to open your lunch box and find a Darth Vader sandwich.
Chewbacca in Soba Noodles from Disposable Aardvarks– This would be tricky to replicate. I am in awe of the way the noodles look like fun.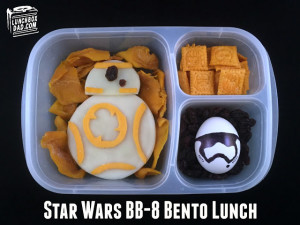 The Force Awakens Bento from Lunchbox Dad– What an amazing meat and cheese sandwich! The BB-8 in this bento is so cool!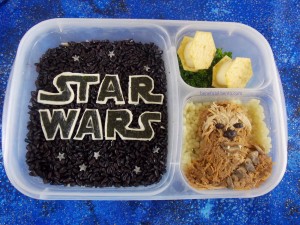 May the 4th Be with You Bento from Bentificial Bento– The Chewbacca in this lunch is amazing!  It even has a meat sash!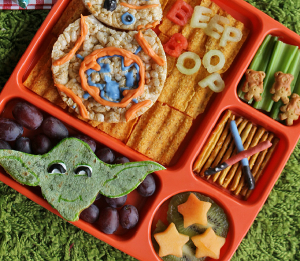 Star Wars Bento with BB-8 Rice Cakes from Mama Told Me– The BB-8 and Yoda in this lunch will make your Star Wars fans at your house smile.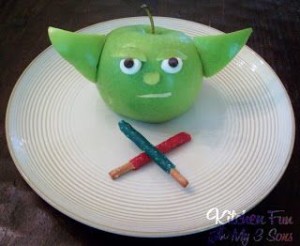 Yodalicious Apple Snack from Kitchen Fun with My 3 Sons – What a fun way to serve a apple! It would make a great afternoon snack.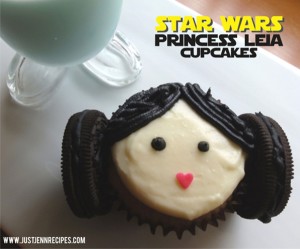 Star Wars Character Cupcakes from Just Jane Recipes– I just love how they created Leia's hair.
Chewbacca Cupcakes from Arts Crackers – This post walks you step by step through creating frosting fur.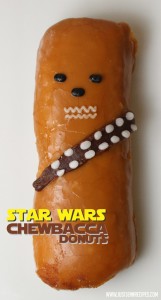 Chewbacca Doughnut from Laughing Squid – I love the simplicity in this cute snack.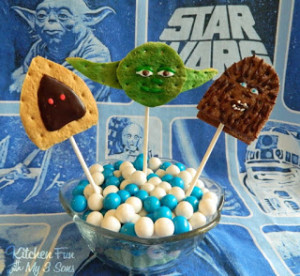 Star Wars S'more Pops from Kitchen Fun with My 3 Sons – Kids will have trouble deciding which one to try first.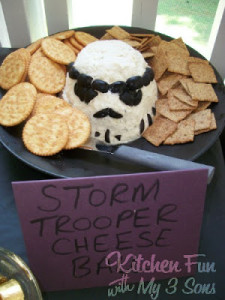 Storm Trooper Cheese Ball from Kitchen Fun with My 3 Sons – This is part of a Star Wars birthday party idea post. You will love all the Star Wars food ideas in it.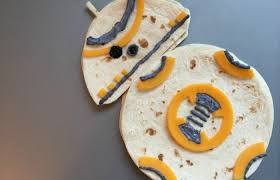 BB-8 Droid from Totally the Bomb – This is a very cool way to create a quesadilla.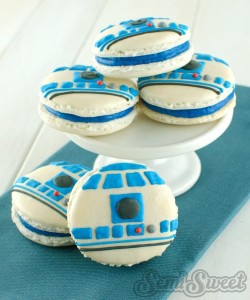 Star Wars Macaroons from Semisweet Designs–  These would be fun to make for a Star Wars movie night.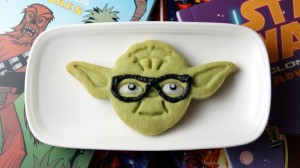 Green Tea Yoda Cookies from Nerdist – This was made for Star Wars Reads Day. I love the addition of glasses to Yoda.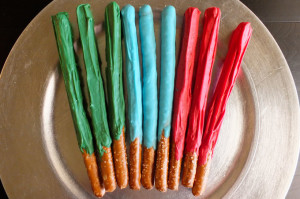 Light Saber Pretzels from Two Sister Crafting – Sweet and salty are combined to make this fun Star Wars food idea.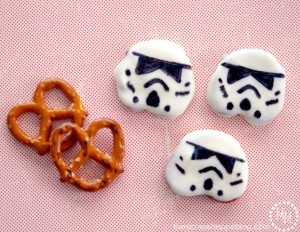 Storm Trooper Pretzel Snacks from The Scrap Shoppe Bag – Pretzels were the perfect shape for these storm trooper snacks.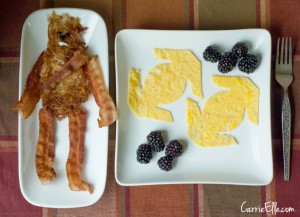 Star Wars Breakfast Platter from Carrie Elle – A bacon shaped Chewbacca is just the coolest idea.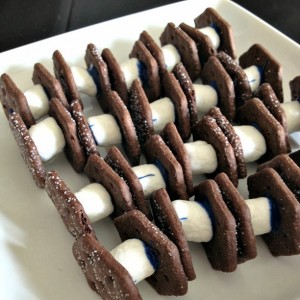 Tie Wing Fighters  S'Mores from Mary Coate – What a fun way to serve a family favorite.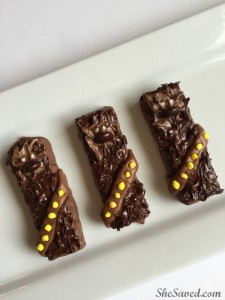 Chewbacca Granola Bars from She Saved– Chocolate lovers will love this Star Wars food idea.
Star Wars Food Ideas from JDaniel4's Mom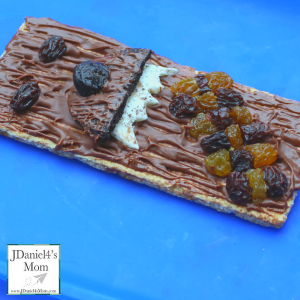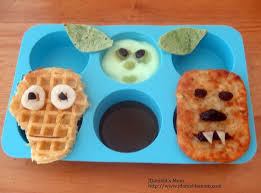 You may also want to check out our collection of Star Wars Creations Kids Can Make!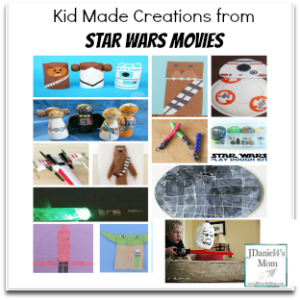 If you make any of these Star Wars food ideas with your children, please leave me a comment below or on my Facebook page and tell me how it went.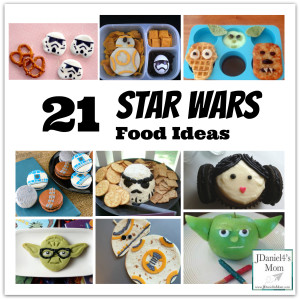 (Visited 11,985 times, 1 visits today)