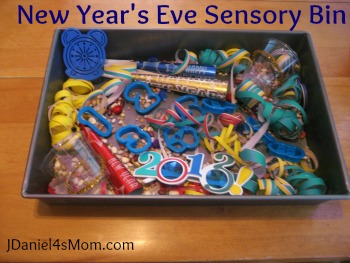 With New Year's Eve coming up next week I thought JDaniel would enjoy exploring some of the elements of a New Year's Eve celebration. A quick visit to our local five and dime and a  rummage through cabinets provided a variety of objects for JDaniel to explore.
I filled a turkey roasting pan with some of the following New Year's Eve sensory bin objects:
paper horns
plastic cups wrapped in sparkly pipe cleaners
streamers
black eyed peas and various beans
red plastic spoon
funny glasses
a tracing tool in the shape of a clock
cookies cutters for the number 1-9
JDaniel had a grand time looking over each element in the New Year's Eve sensory bin. He sorted through everything to see exactly what was in the bin and how much of each item there was. Then he put in everything, but the glasses back in to play with.  JDaniel had too wear the glasses. I knew he would love them.
There isn't a right or wrong way to explore the New Year's Eve sensory bin. You can fill cups or horns with beans. You can make all kinds of noises with the horns. You can stretch, throw, or wrap the streamers!  The goal is too just have fun.
With this bin I sat with JDaniel and talked over each of the objects and why I had put them in the bin. With some bins I just let JDaniel dig in and play. He has a grand time playing and learning while he works with the various items in the bin.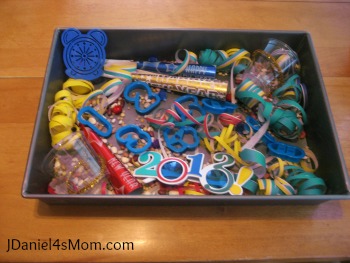 What kinds of learning can be explored using a this New Year's Eve sensory bin?


Language
Letter formation- The beans can be formed into letters as can the other objects in the bin.
Oral Communication- Children can talk about what they are doing as they explore.
Storytelling- Children can make up a story using objects in the bin as props.
Vocabulary Development- Parents can introduce holiday related words like celebration, countdown, etc..
Math
Number Sequence- Children can line up the cookie cutters in the correct order.
Measuring Volume- Children can measures how many spoonfuls of beans can fill a cup.
Measuring Length- Children can measure the length of the streamers.
Counting Objects- Children can count how many of each object there is.
Compare Numbers of Objects- Children can find object that there are more of than the horns.
Number Sentences- Children can add the number of cups to the number of cookie cutters.
Music
Homemade shaker- The beans can be put in the cup and a child can put the clock on the top of the cup and shake it.
Spoon Playing- Children can explore what objects make the loud or soft sounds when tapped with the spoon.
Horn Playing- Toot out songs and march around.
Fine Motor Skills
Clock Tracing– Children can use the clock tracing tool to create a clock as well as a specific time on a clock.
I bet you can come up with dozen of other ways to explore this bin. I bet your children can too.
If you are interested in learning more about sensory bins, you can check out the bins I have pinned on my Sensory Bin Pinterest board.

(Visited 1,870 times, 1 visits today)