This post contains affiliate links.
Books are a tremendous opportunity to learn and explore concepts and places that are new to us and our children. They also over a way to learn more about words, language, rhythm and so much more. The reading activities in the post share activities that start with the letters I-Q. You can check out reading activities that start with A-H and R-Z once your have explore these reading activities.

I truly believe that when we read a child a book we are open doors to the world around them and build connections in their minds. Why not use that new information to explore and learn about those concepts outside a book they have just read?
Read.Explore.Learn a link up I run on Fridays does just that. Other bloggers and I share ways we have extended the concepts we have just read about with our children. Many of the activities below come from my Read.Explore.Learn. posts.
Here are some reading activities we have done to explore concepts from children's books  that start with the letters I thru P:
I
Identify
We
created the parts of a robot 
by making our own cardboard robot after reading the book.
Investigate and Look for Letters or Words in a Story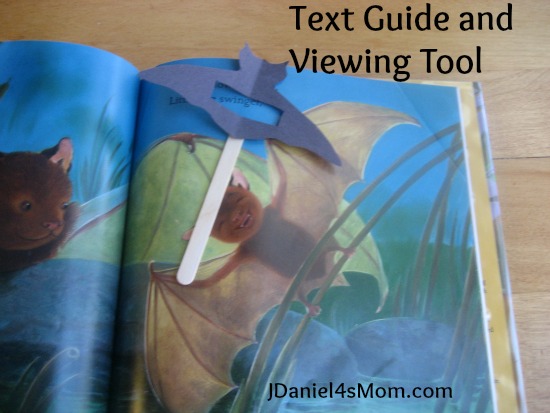 JDaniel and I explored a book on bats using a reading guide or viewer in the shape of a bat.
J
Just Pretend You Work in a Book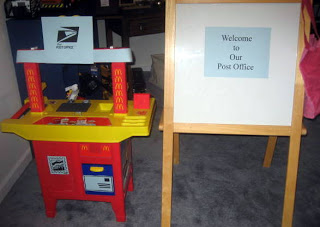 JDaniel's McDonald's was transformed into a post office so he could pretend to work there after reading the story If You'll Be My Valentine
.
K
Know How it Works
After reading a book about balance, JDaniel and I created an applesauce cup balance.
L
Learning Tool Creation
JDaniel helped me create
a flip chute learning tool
to review learning concepts.
Letter Recognition
We used rubber ducks to practice forming letters after reading a book with a duck theme.
M
Matching Activities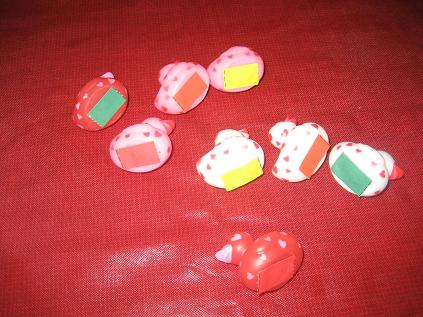 JDaniel had to match the color taped to the bottom of these ducks to the color in each section of an egg carton after reading One Rainy Day (Padded Board Books)
.
Make a Book Themed Snack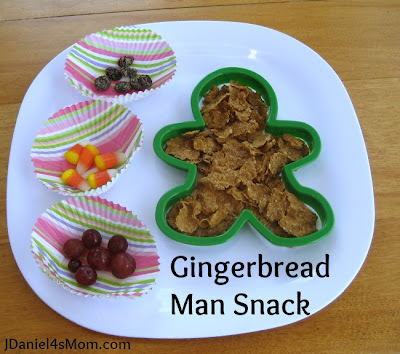 We read the story of a gingerbread man called The Gingerbread Man Loose in the School
and JDaniel created a gingerbread man snack with Raisin Bran, raisins, candy corn, and grapes.
Make Up a Game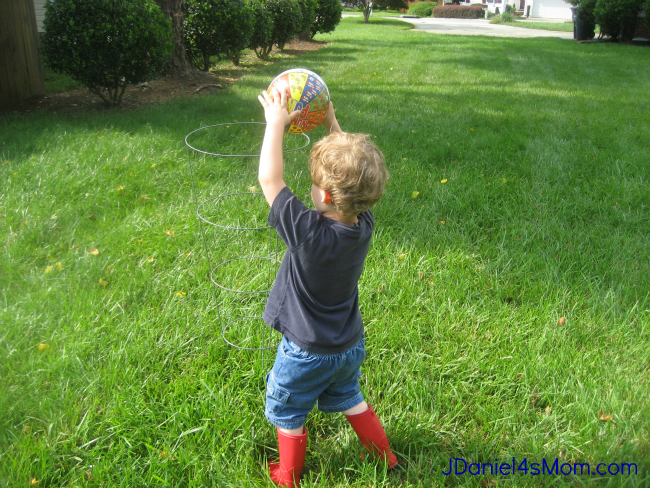 The book That's Not How to Play the Soccer, Daddy! inspired us to come up with our own game. I  set out tomato cages and ball. JDaniel taught me how to play a game using them.
Mobile Making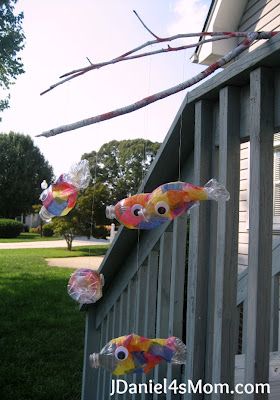 JDaniel has been asking for a mobile to hang in his room for a long time. After reading the book The Pout-Pout Fish
, we made a fish mobile using empty water bottles.
N
Number Counting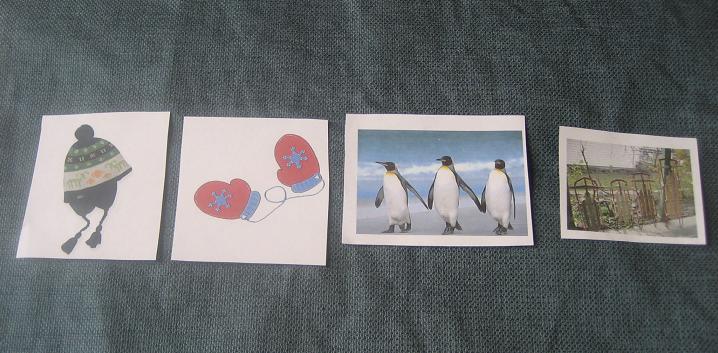 Counting books like One Snowy Day can inspire work pictures of objects grouped by numbers.
O
Outside Learning Spaces 
The books StickFiggy Makes a Friend and StickFiggy- Lott's Tea Party inspired us to create a play and learning space outside under a group of trees. 
P
Painting with Pudding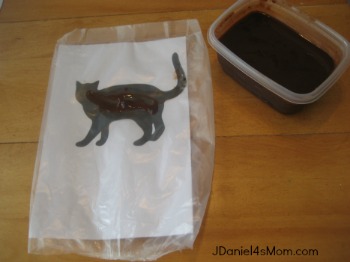 Lisa of Two Bears Farm shared a pudding finger painting project with me. We had such a great time that we did it again when we read the book Boris and the Wrong Shadow.
Puzzles (Homemade)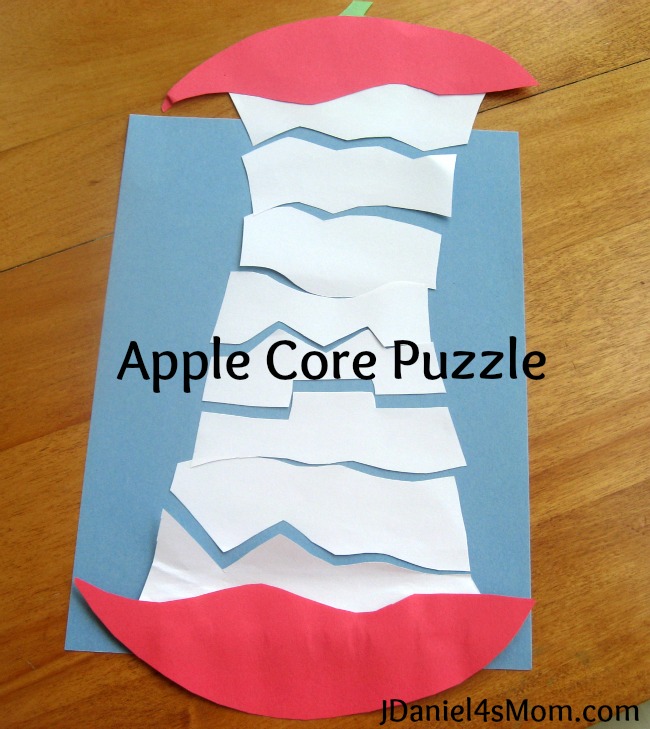 JDaniel and I made an apple puzzle by cutting the core of a construction paper apple core into pieces after reading Ten Apples Up on Top.
Printmaking with Your Arm
After reading a book on presidents, JDaniel created a tree craft with his arm to replicate the apple tree George Washington cut down.
Paper Bag Craft
A paper bag made the perfect turkey body. We made a paper bag turkey after reading the book Turkey Trouble.
Q
Quest for Related Words
JDaniel and I challenged each other to find foods in the kitchen that began with letters we took turns picking out of a bowl after reading a Bad Kitty book. I called it a quest.
Quilt a Story Sequence
After reading the story P.Bear's New Year's Eve Party, JDaniel and I created a quilt displaying the number of animals that arrived at the party and the number in each group.
I bet you have wonderful ways to explore books. If you have a post you would love for me to see, please place your link in the comment section below or stop by on Friday and link it up to Read.Explore.Learn.
This series will conclude on Friday by looking at ways to explore books that begin with letters R-Z.
Click on the badge below to see a list of all the Kid Blogger Network member participating in the ABCs event and the topics they focusing on.
For more literacy, ABC posts you may want to visit the wonderful blogs below.

(Visited 95 times, 1 visits today)