I have two great posts to share with you today. The one below is one I really worked hard on and the other is a guest post I am sharing about how JDaniel is growing up way too fast. It is being shared on
The Mommy Mess.
 It will go up at 4 a.m.
It is asking a lot I know, but I would love for you take a moment and read both.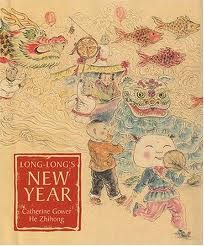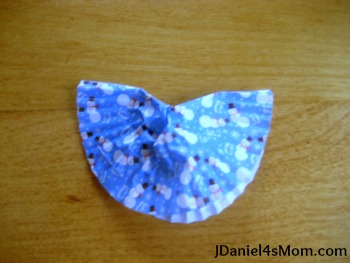 We had the best time reading Long- Long's New Year and doing Chinese New Year activities! JDaniel really enjoy the book Long- Long's New Year.  It is about a very special little boy that seeks to make his family's celebration. Despite having a coin that he is yearning to spend on himself while shopping with his grandfather, he waits and gets special things for his family.
The illustrations in this book are lovely and so is its message.
Chinese New Year Activities and Crafts 
Chop Stick Transfer Buffet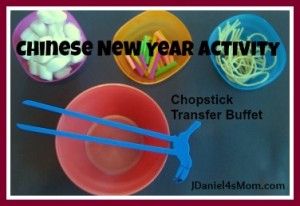 JDaniel loves to use this chopsticks so, I created a chopstick transfer buffet for him. He was able to move packing peanuts, color straw segments, and yarn to create a delicious bowl full of fun.
Cupcake Liner Fortune Cookies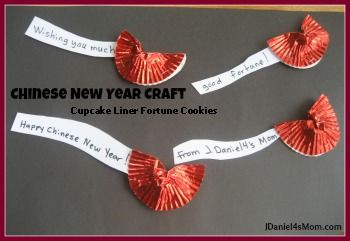 I found directions on how to make fortune cookies using cupcake liners on several sites online. Each used a wire down the middle to help bend and mold the fortune cookie. We didn't have any wire at our house so, we used foil cupcake liners instead.
When I tried to take a picture of the steps we took to make the fortune cookies, the glare off the foil was terrible. I quickly grabbed some snowman liners to show you what we did.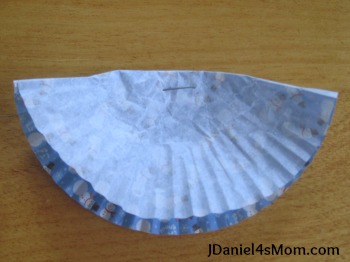 We folded the cupcake liner inside out and then placed a staple in the center on the liner about one half an inch in.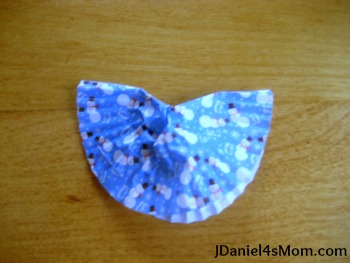 Then we turned the cupcake liner outside in and pushed in the center a little to make an indention. Finally we staple the outside edges. We left openings at the top of the sides to slip the messages in.
Chinese Snake Shape Craft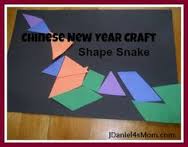 JDaniel had the best time creating a snake from a box filled with triangles, parallelograms, and squares I had cut out for him. He started with the tail and worked his way up to the head. I loved watching him create and think through this craft.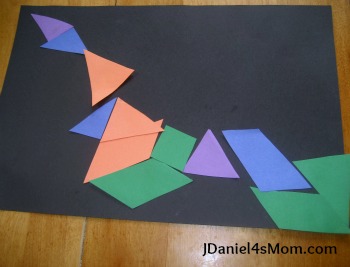 Chinese Zodiac Animal Hunt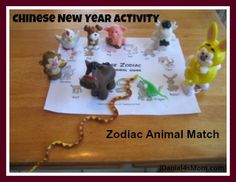 JDaniel has a wide variety of animals in his room. I printed out a
Chinese Zodiac page
for Activity Village and had him search his room for as many as them as he could find. He wasn't able to find a tiger, a goat, or a  rat. He really didn't find a dragon either, but he pointed out that dinosaurs and dragons might be related. We decided the dinosaur could count as a dragon.
It was really fun to see him search through all his things to find the ones he did find. Each time he came across one it was like he was finding a hidden treasure.
Snake Snack
We tried to follow a pattern for a snake pattern I found online, but it was really hard to cut the crescent rolls into the right shapes. I ended up trimming some of them with a knife after we cooked them to try and get close. Oval are not a tangram shape, but they really made great eyes for the snake.
JDaniel helped me brush the roll segments with a mixture of milk and green food coloring after they came our of the oven.
How have you explored books with children this week?

(Visited 4,782 times, 1 visits today)