A cheese and flour tortilla or a cheese taco as JDaniel calls it is what he wants for breakfast every morning. He strolls into the kitchen in the morning and makes it himself. Although he really loves it, I have been thinking about ways to add a little something to his breakfast food of choice.  A friend mentioned adding an egg to his cheese taco each morning when I was talking to them about it. An egg sounded like a great idea. JDaniel will eat scrambled eggs most of the time. My husband loves them too. When I was contacted by Eggland's Best about creating brunch items, I decided it was time to try creating some wonderful breakfast tortillas with eggs.. ( If I was going to add an egg, I thought maybe I should add something else too.
I decided to head over the Eggland's Best website and look for breakfast ideas featuring tortilla recipes. They have a wonderful recipe area on their site.  While there I found a breakfast burrito that sounded great for my husband, but I wasn't sure JDaniel would like the salsa and peppers in it.
Breakfast Ideas that Feature Tortillas
The breakfast burrito was a great inspiration for me. It got me thinking of foods I know JDaniel likes that I could put into a burrito or taco for him. After making a list of possible food combinations, I set out to test them out on him.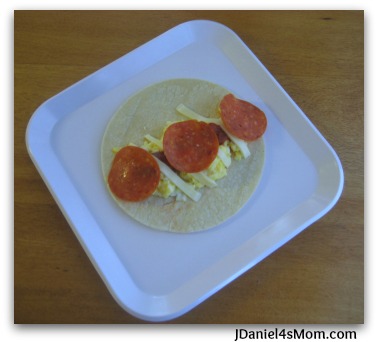 The first combination I tried was cheese, pepperoni, and a little tomato sauce layered with the scrambled eggs. I call it an Italian pizza breakfast tortilla. This turned out to be very messy to eat, but it was enjoyed. The pepperoni was a little spicy I was informed so if you decide to try this one you may need to have a large glass of milk handy.
The second combination I tried was barbecued chicken wrapped in bacon  (leftover from dinner the night before) sliced and placed on the scrambled eggs. It was really tasty and went over really well. Bacon is a favorite food and mixed with the sweet barbecue sauce it was really good I was told.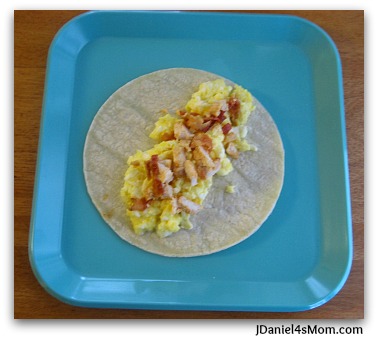 The final combination I tried was hash browns and small pieces ham with the scrambled. This was not JDaniel's favorite breakfast tortilla. He would probably have like to have bacon rather than ham in this one. He liked the hash browns so, we will have to try this one again with bacon with the hash browns.
I am so glad that we have some new breakfast tortilla options.  It is thrilling to know that he will have some variety in the morning. If you are looking for ways to add variety to your meals, you may want to check the
Eggland's recipe collection
too. It could inspire you the way it inspired me.
Disclaimer: I was provided with eggs by Eggland's Best to use for this breakfast challenge along with a gift pack of cooking tools. All thoughts about Eggland's in the post as my own.

(Visited 122 times, 1 visits today)