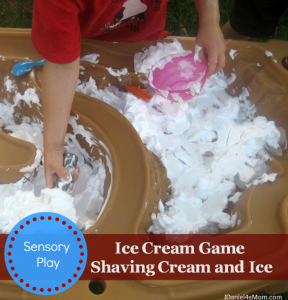 Playing an ice cream game with shaving cream and ice seemed like the perfect preschool sensory activity on a hot and sticky day last week. It was messy and wet. Those are two things my guy really likes. Pretend play is a third thing he enjoys and I planned to have us run a pretend ice cream shop one we got everything set up.
We started by dragging JDaniel's water table from under the deck where it is stored and carried it to a shady spot in the yard under some big beech trees. It seemed like a wonderful spot to open a ice cream shop.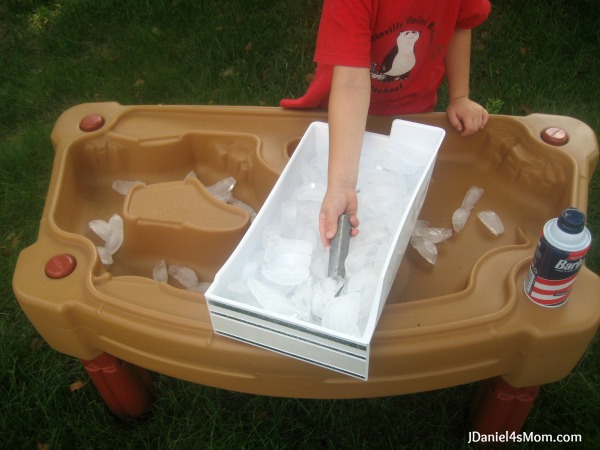 The water table was then filled with the entire contents on our ice cube tray. Since JDaniel's water table has two sections, I asked him to try to put half the ice on each side. I had brought out an ice cream scoop to use during pretend play, but JDaniel decided that it would be great to scooping ice. It was a little tricky. The ice cubes kept slipping out of the scoop and into the ice tray. Eventually he was able to get ice on one side of the water table. I suggested we just dump the rest of the ice in and he agreed.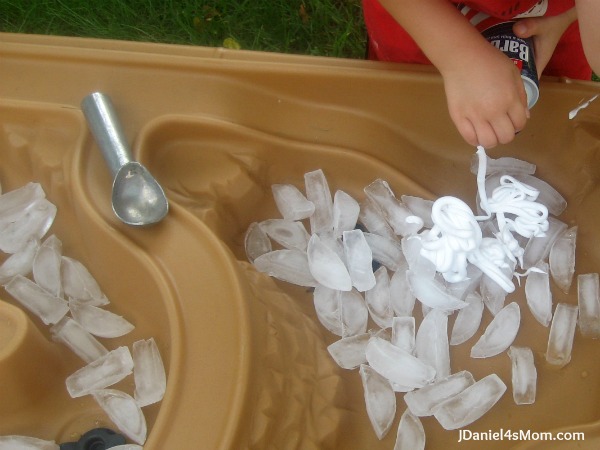 Then we added the contents of a can of shaving cream. I was very careful to buy shaving cream that wouldn't sting our hands while we played. It took a lot of shaking to get all of the shaving cream out of the can. When all the shaving cream was in the water table, we stirred up the mixture.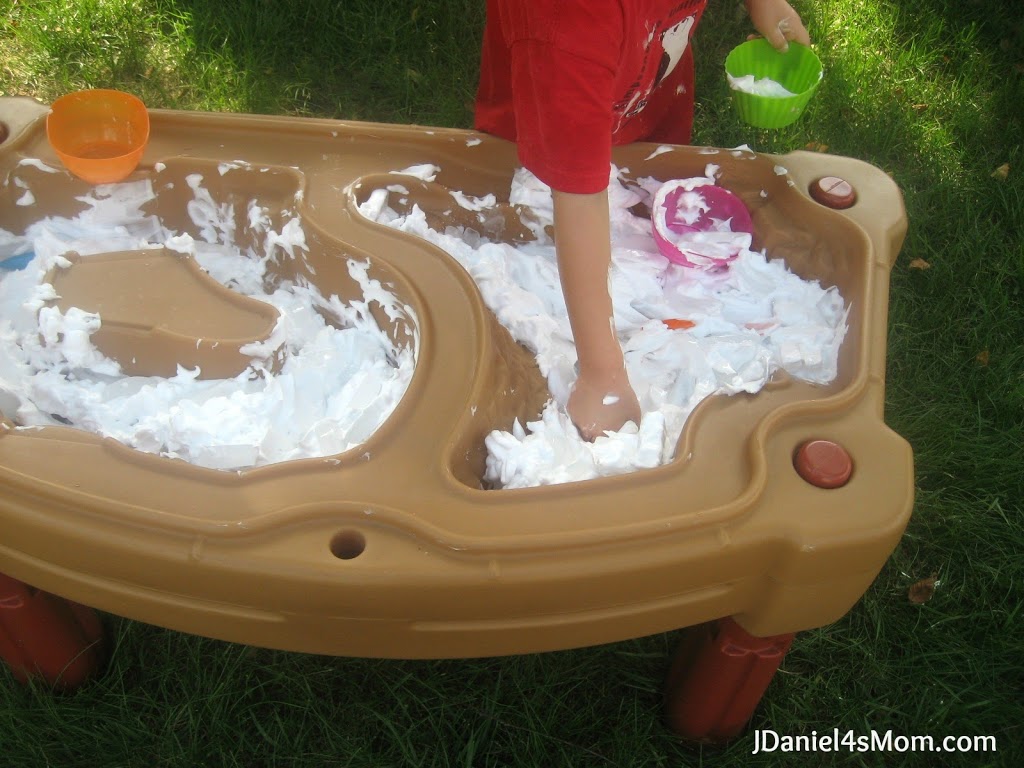 JDaniel got a little distracted when  the next neighbors arrive home and he left the activity for a few minutes to chat with them. That turned out to be just the right amount of  time for some the ice to melt a little.  The mixture was much easier to scoop when it was slightly melted.
We both had a great time scooping up the chilly mixture with a ice cream scoop and putting it into small colorful bowls. The mixture scooped up easily and looked a little like ice cream in the bowls.
This ice cream game was a lot of fun. Shaving cream coated JDaniel's arms after awhile and I was thankful the next door neighbor was out watering his plants. He washed JDaniel down every now and then. Once his arms were clean, he would run back into the yard and dig into ice cream game again.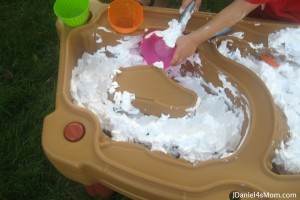 Apparently the ice cream parlor only serves great big bowl overflowing with ice cream. JDaniel served me a huge bowl of ice cream. I was afraid it would all topple back into the water table, but it made the short trip across the grass to my folding chair without even a large wobble.
When I bought the shaving cream for this project, I purchased two cans hoping JDaniel would like the activity. He loved this type of sensory play. I think we will be playing the ice cream game again.
Oh! I think children beyond preschool would love it too.
Here are some more  outdoor preschool play activities:
Creating an Outdoor Water Center
What type of outdoor play do your  preschool children enjoy?



(Visited 781 times, 1 visits today)