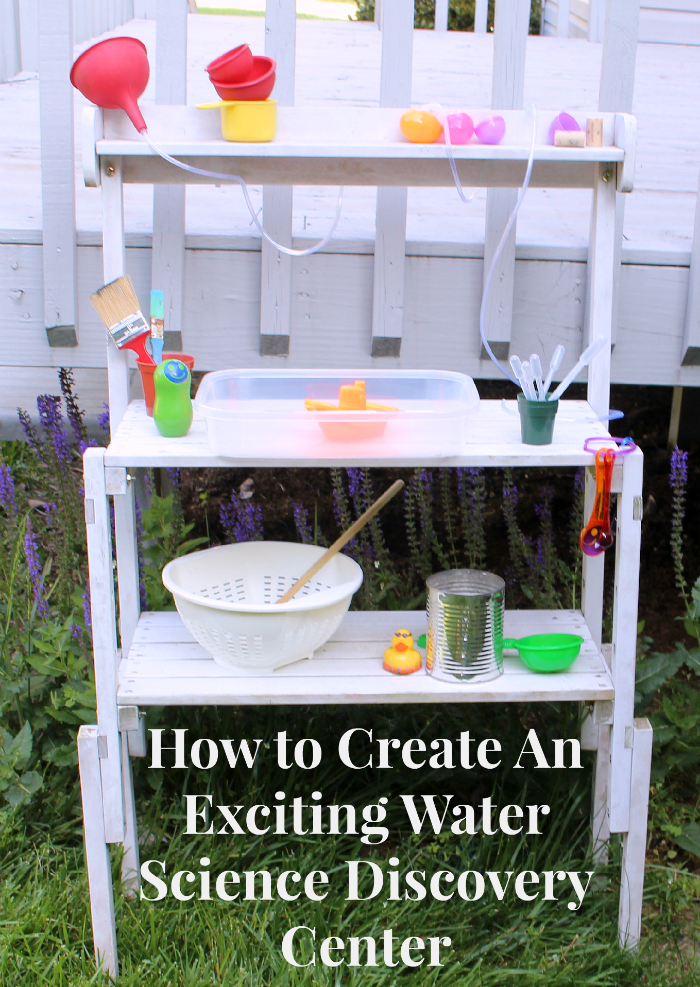 Much of the summer is spent outside at my house. We play, explore, and learn in our backyard. (Last year I shared with you a series of science experiments we did with water.) This year I have setup a science discovery center for my son on his gardening table. It has all kinds of kitchen tools and toys that can be used to explore water.
Today I am going to share with you just what I placed on the science discovery center. Over the next few days I will share with you a few of the experiments that can be done using these science tools.
As the experiments are shared I will add links for them at the bottom of this post.
Here is what you will find in the science discovery center:

Top Shelf
A set of funnels (One of the funnels has plastic tubing  coming out of it.)
Plastic Easter eggs
Corks
Bread Tags (Not visible in the picture)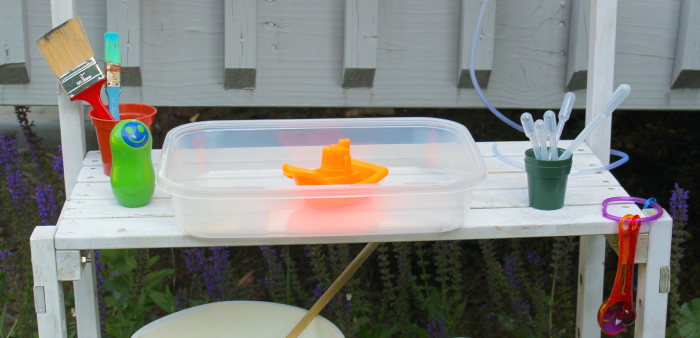 Middle Shelf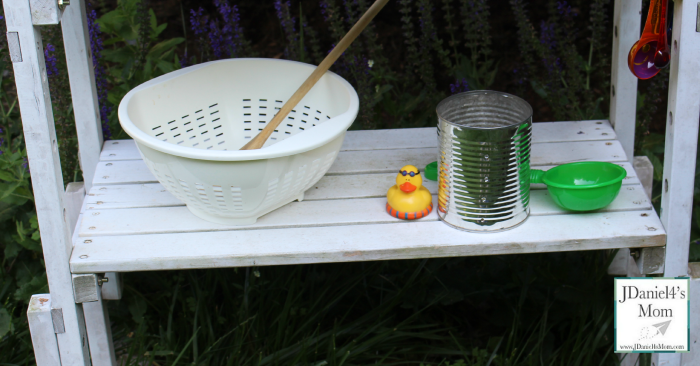 Bottom Shelf
Tin can with vertical column of holes
Plastic colander
Wooden spoon
Rocks (Not visible in the picture.)
You will that notice them at all of the items are durable and almost all of them are made with plastic. I wanted to select items that would do well if they were left outside.
Where did I get the science discovery center table?
I wasn't able to find the gardening table we have online. Below are a few gardening tables I thought would work if you want to have science discover center in your yard.
Workbench and Shelving Storage System
Merry Garden Potting Bench with Recessed Storage
Little Tikes Garden Table
During the week I will be sharing the following science discovery table experiments:
Cork Filled Easter Egg Experiments
Please stop by and see the experiments during the week. Information about them will also be share on Instagram, Facebook and Pinterest.

(Visited 2,067 times, 1 visits today)