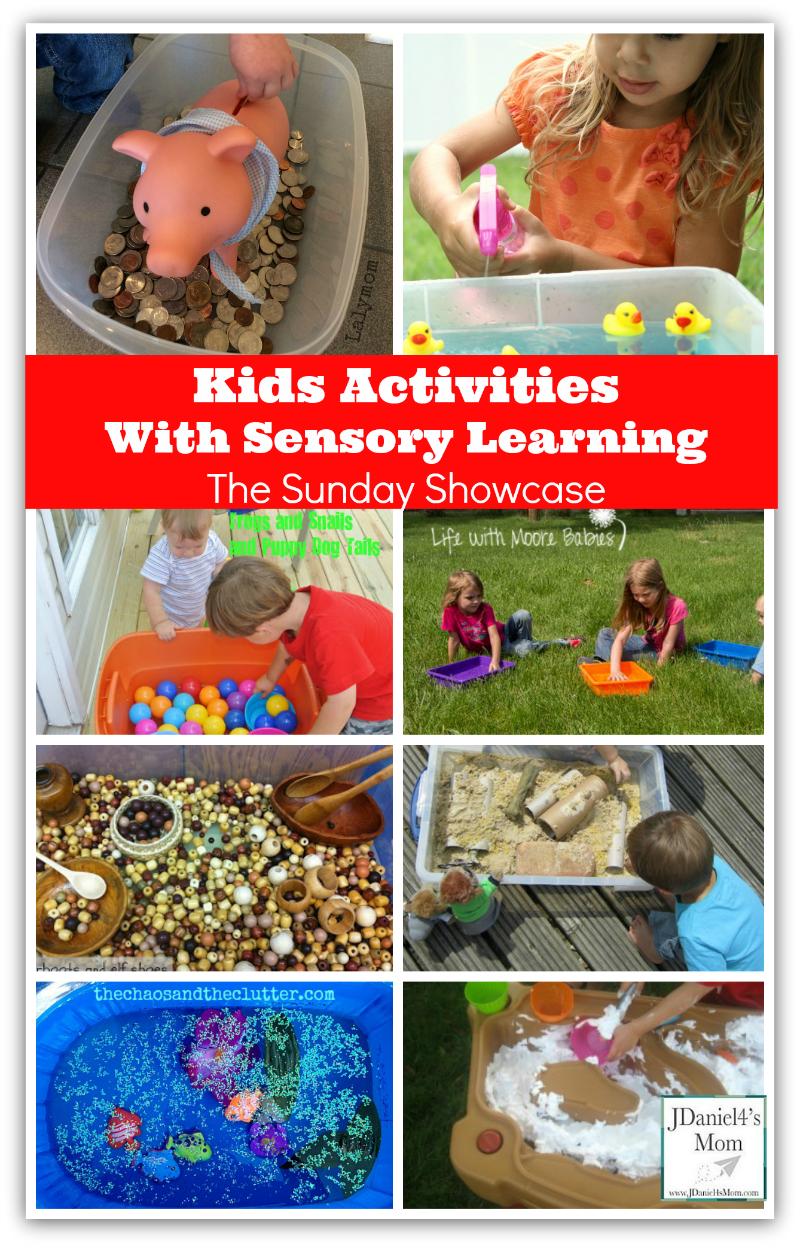 This round up shares kids activities that involve sensory bins that help children build on known concepts and explore learning some new ones too. Each of these posts share bin fillers that many of us may have at home already, are reasonable to purchase or could borrow from a friend.
My son loves to explore and learn through kids activities in sensory bins or his water table. I think you may have children in your life that will love learning in sensory bins too.
The kids activities in sensory bins share below were linked up to The Sunday Showcase last week. If you would like to share a wonderful post you have done this week or in the past, please add it to the link up below. Who knows it may show up in my round up of activities next week here on The Sunday Showcase.
Kids Activities With Sensory Learning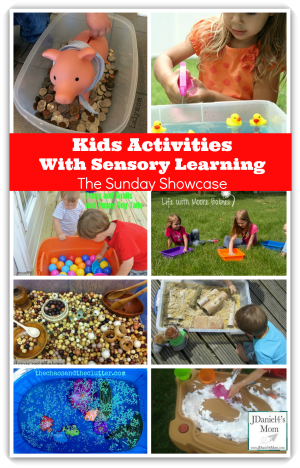 Playing the toys in individual tubs of water gave  kids a chance to pretend play and so much more in a post by Life With The Moore Babies.
Adventures of Adam's  tunnel sensory bin started out being a Meerkat Manor and ended up being a bin for cars traveling through tunnels. Both activities sound like fun to me!
If you squirt water out of a spray bottle, rubber ducks will move. Fantastic Fun and Learning's two girls took turns exploring that concept and learning several more.
Frog, Snail and Puppy Dog Tails' tub of balls and bowls explored a number of basic concepts. I love how she had two children working and learning together in this post.
The ocean was the themed of a wonderful tub shared last week by The Chaos and The Clutter.
Rubber Boots and Elf Shoes shared a bin filled with wooden beads, wooden utensils and bowls. This looks like a wonderful bin to explore.
Several sensory bin ideas along with tips for setting up sensory bins was shared in a post from Mama Smiles.
Lalymom sent up a really cool bin with coins and a piggy bank. I love the idea of exploring money in a bin.
Ice cream game with shaving cream and ice is one of my son's favorite summer kids activities in in his water table.
The Sunday Showcase is hosted on the following blogs:
Mom to 2 Posh Lil Divas
Here Come the Girls
Inspiration Laboratories
JDaniel4′s Mom

We each feature different posts that have linked up, so be sure to check everyone out!  We'll also be pinning our favorites to our Pinterest board.
If you are here for the first time, please read this informational post for the full details. Here's the short version – anything kid friendly and/or child centered is welcome!  You are welcome to share more than one post, but we don't accept links for giveaways, shops, or downloads for purchase, etc. 
If you're linking up, I encourage you to visit some of the other link-ups! Everyone appreciates comments, encouragement, feedback, etc.
*Please note that by linking up you are giving us permission to use a photo (with proper link to you!) in our featured section!  

(Visited 199 times, 1 visits today)