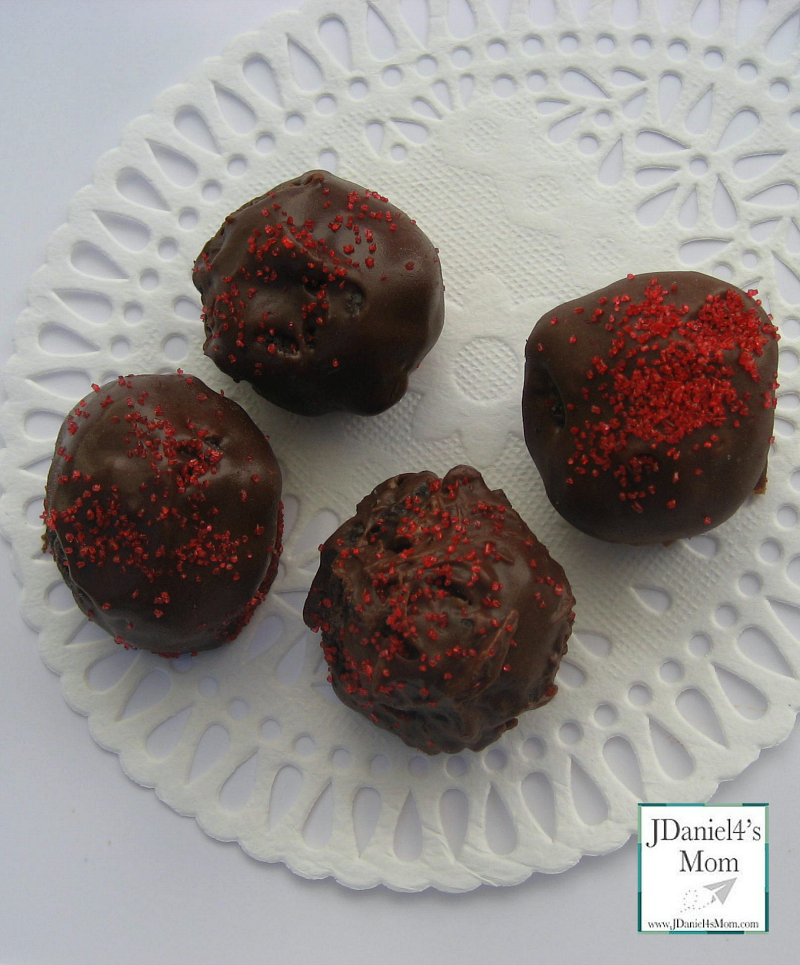 We wanted to make JDaniel's teacher something for Christmas. The Christmas cookie recipes for cookie balls seemed like a perfect gift after looking high and low for one. Why? I wanted a cookie that would fit in the egg carton holiday gift box we made. Cookie balls can be any size of rounded ball that you want them to be. That made them perfect for us to make as a teacher gift.
I loved to add a little JDaniel4's Mom twist to the recipes we try.  We started with the basic chocolate covered cookie ball recipe found on Snack Works and then created our own version of the recipe.
Here are its ingredients:
1 pkg. (8 oz.) of cream cheese that has been softened
36 OREO sandwich cookies that have been finely crushed
3 (4 oz.) packages of baking chocolate melted
Here is what our Christmas cookie recipe ingredients were:
1 pkg. of Neufchatel cheese that has been softened.
36 generic Oreo like sandwich cookies that have been crushed
¾ of a can of chocolate frosting
Why use Christmas cookie recipes alternative ingredients to make this recipe?
They were much cheaper. We love my son's teacher, but if I could come up with a cheaper ingredients that would make a yummy treat I decided to go for it.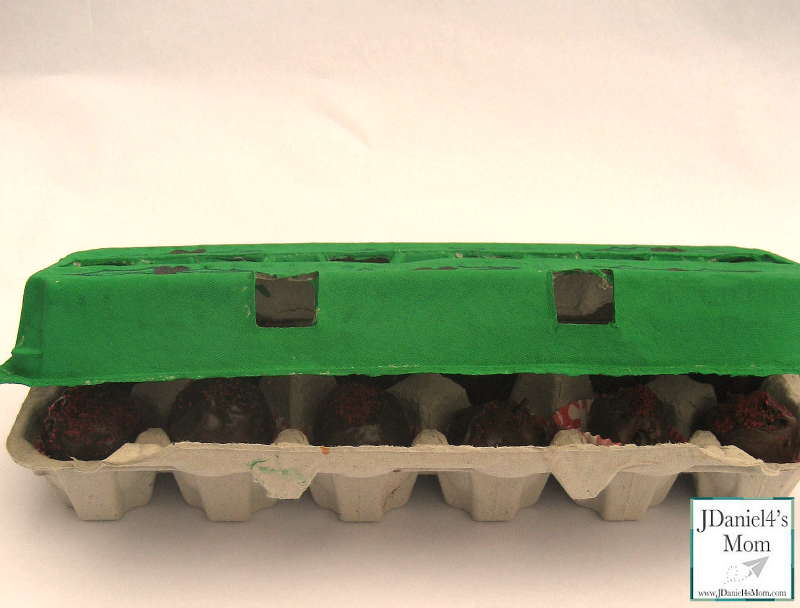 Directions for this Christmas Cookie Recipe
Combine the Neufchatel cheese and the cookie crumbs. We tried mixing them with our hands and found that a fork made a better mixing tool.
Roll the mixture into balls. All of the Christmas cookie recipe I looked at for Christmas balls said you would end up with about 48 one inch balls. We must have had some of the dough disappear. We ended up with closer to 40. (Hmmm! Who do you think sneaked some?)
Place the balls onto a tray covered with wax or parchment paper. (We used parchment paper.)
Place the tray covered in cookie balls into the freezer for about 10 minutes.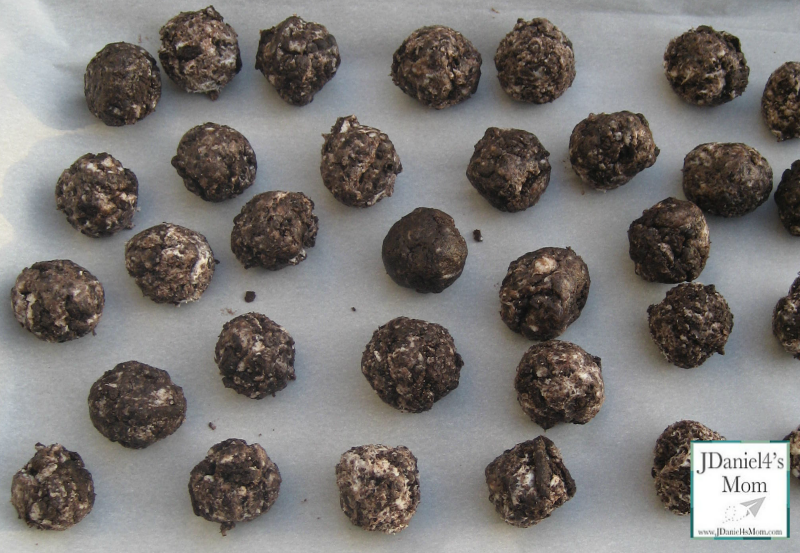 Melt about a ¼ of a can of chocolate frosting in the microwave for about 15 seconds.  Why not do the whole ¾ of a can a once? The frosting starts to harden quickly. We were able to have smooth and dripping chocolate to dip the cookies into by working with small batches of frosting.
We covered the slightly frozen cookie balls with chocolate by placing them into the small bowl we had melted the chocolate in. Then we spooned chocolate over each ball as we rolled in the bowl. Then we used a toothpick to lift up the cookie ball and move it to the tray. (The Christmas cookie recipes were explored really didn't tell us how to dip them.)
When all of the cookie balls were covered, they were placed back into the freezer.  I left them in the freezer overnight. Some Christmas cookie recipes called for them only be in the freezer for an hour.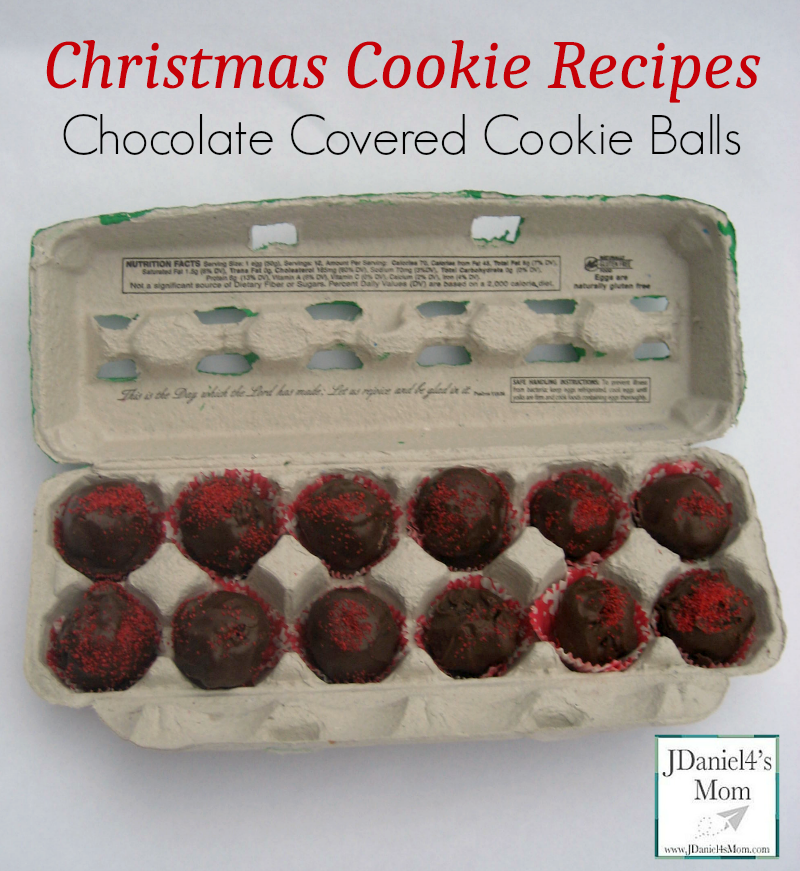 Here are some other Christmas cookie recipes  for activities we have done:
 Making Salt Dough Cookie Ornaments

(Visited 278 times, 1 visits today)