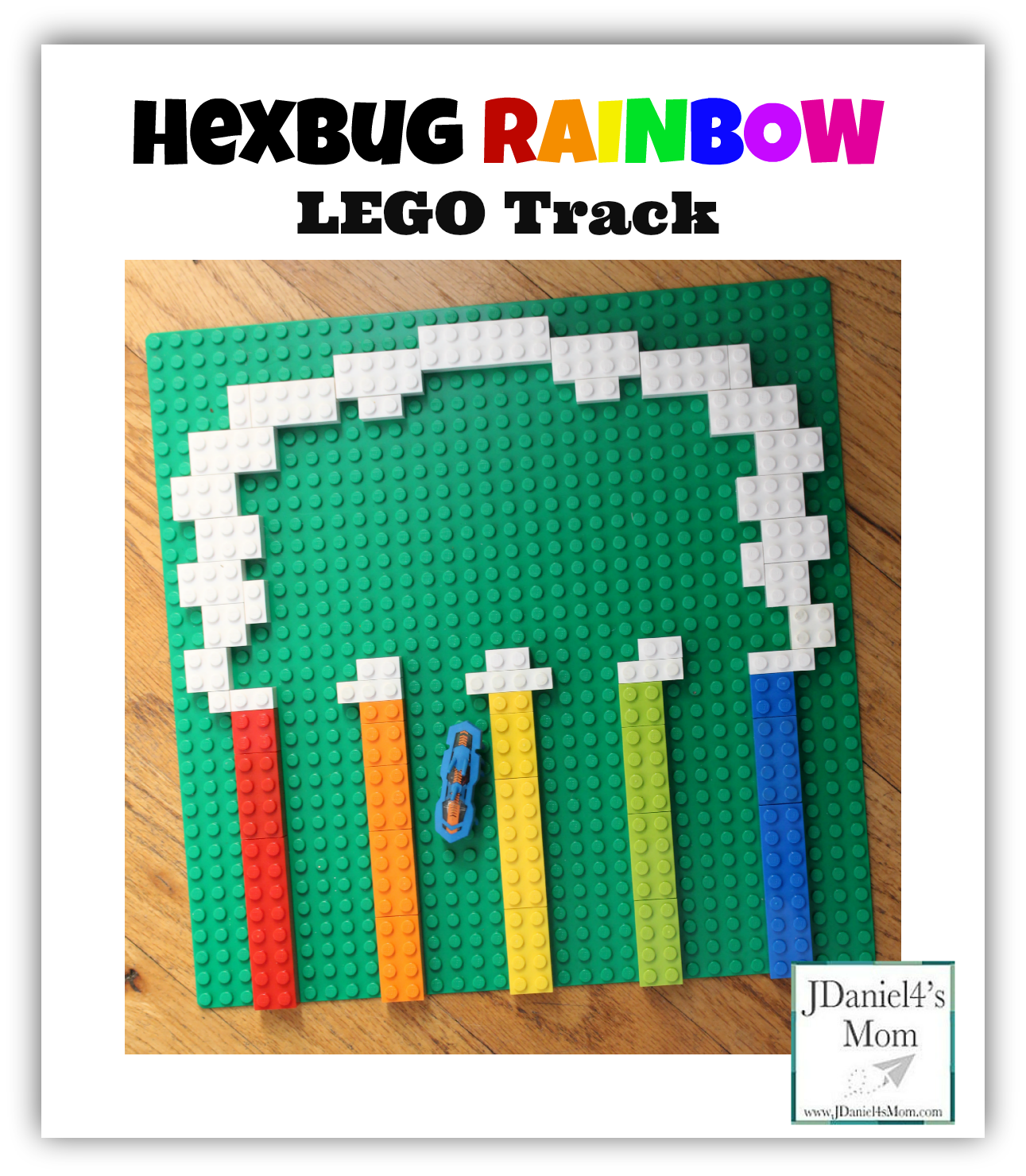 This past Christmas was the year of the LEGO  influxat my house. We have been  doing a lot of learning activities with them since Christmas. We have have worked on fractions and geometry with LEGOS as well as a number of other activities. Last year was the year of the Hexbug. We have tons of them too. I decide to combine LEGOS and the Hexbugs to create a Hexbug track for my son to race his Hexbugs in. The track and roaming area are supposed to look like a rainbow connected to a cloud. I thought what would be a fun theme for spring and St. Patrick's Day.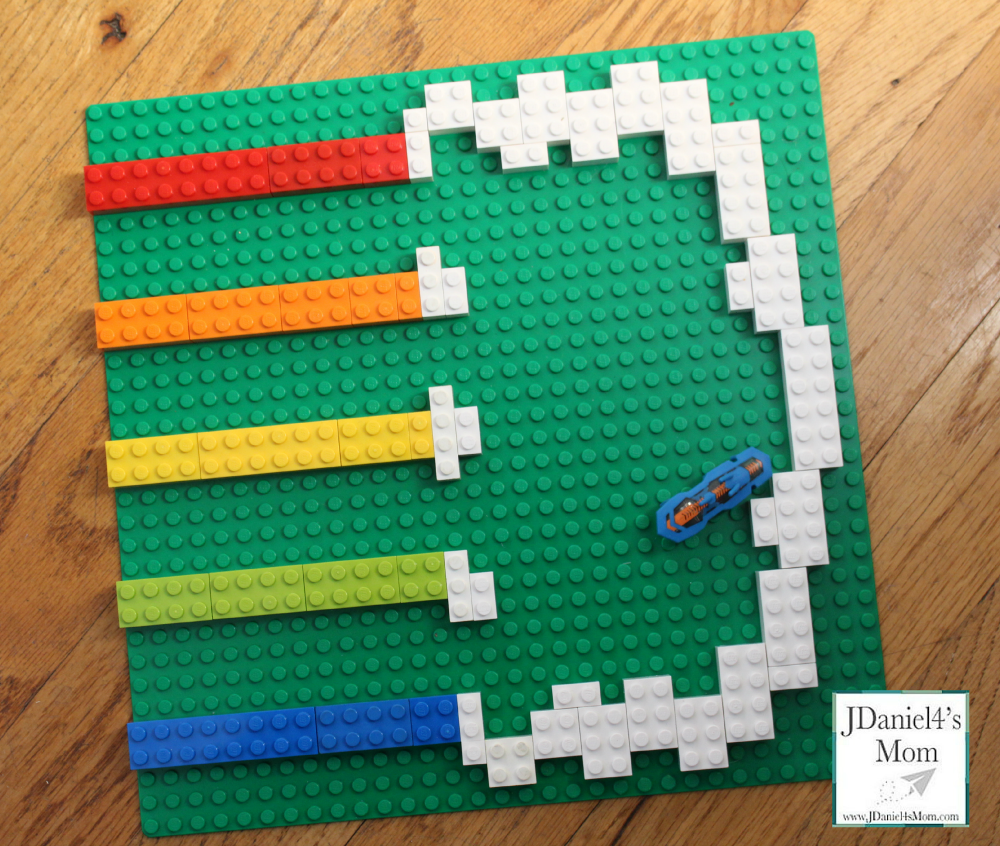 Putting the Hexbug Track Together
The link below is an affiliate link.
We use a LEGO® Base 32 x 32  a lot for building and learning. It was large enough to create a four lane entry track for the Hexbugs and display the outline of a cloud.  I used the first five colors of a rainbow in order to create entry lanes. A variety of sizes of white bricks were used to make the cloud. (If you have a lot of round 4 x 4 white LEGOS, they would make your cloud a little more cloud like. We don't have any of those.)
The cloud was left empty at first it gave the Hexbugs a lot of open space to roam in.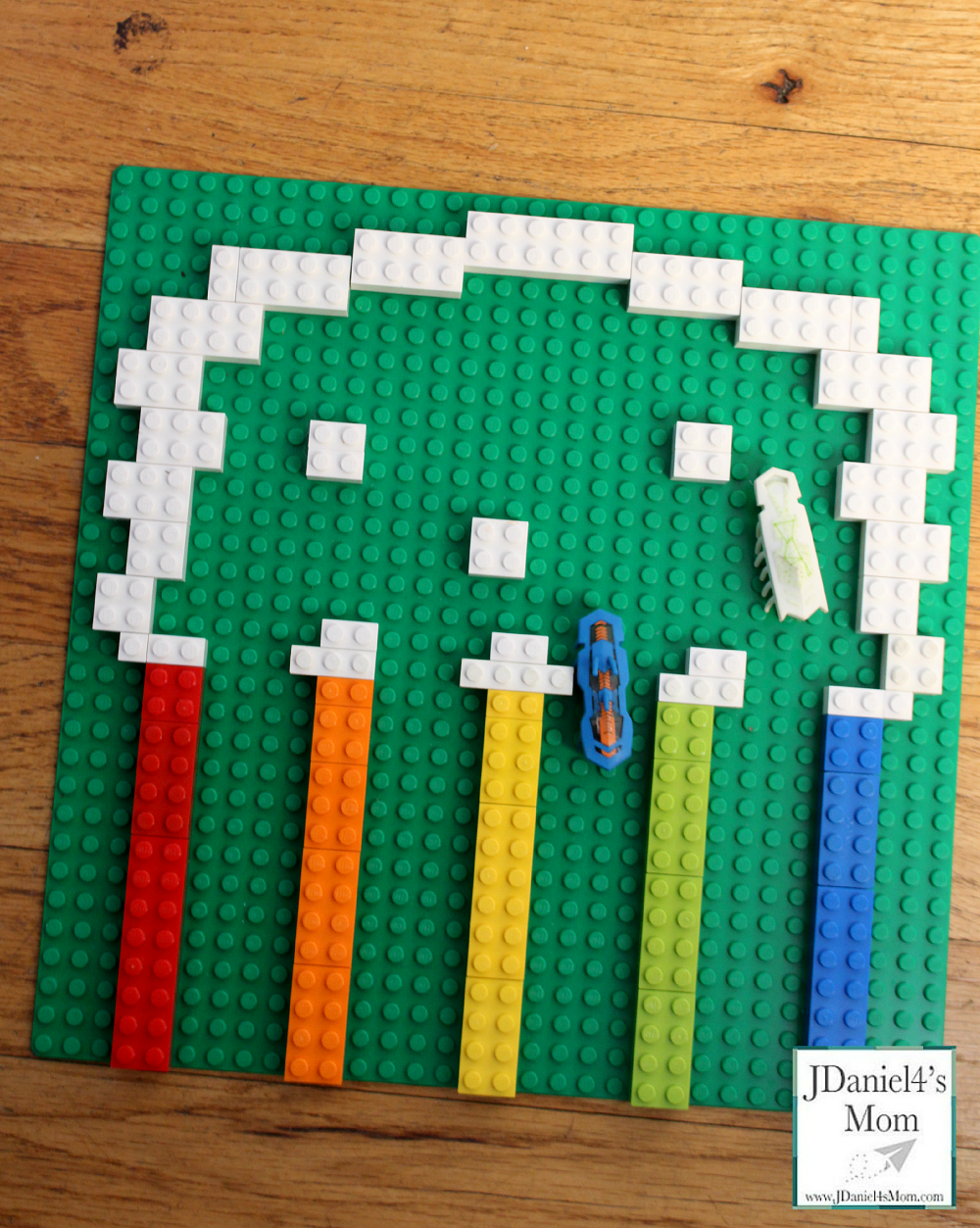 After a few races some small white bricks were set up as barriers inside the cloud. They posed a challenge for the Hexbugs! One of the great things about Hexbugs is that they are designed to patiently shake their way around barriers.  The barriers were placed in the center of the cloud to make them less frustrating for the Hexbugs and for the boy that would be watching them jostle around the cloud.
It was fun to see if horizontal or vertical barriers would be the most challenging. We tried using both 1×2 and 2×2 bricks to see which would be easiest for the Hexbugs to get around.
Beyond playing with Hexbugs this activity ending up using problem solving skills. ( I love activities that stretch children's brains.) What could be done to make the Hexbugs race down the track and around the cloud easier or harder? Each of these concepts was explored as we played.
Here are some other wonderful LEGO activities:
Five Days of LEGO Learning Activities
Geometry Riddles Solved with LEGO

Valentine Ideas – Graphing with Candy Hearts and LEGO
Math with LEGO- Activity for Improving Word Problem Skills
How long will your boat float?
Counting Syllables with LEGO Bricks
Over in the Meadow LEGO Creations and Book
LEGO Count and Move ( Free Printable)
Three Billy Goats Gruff Retelling with LEGO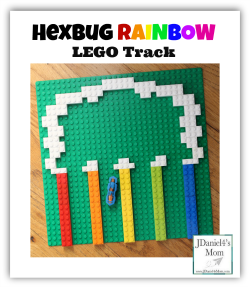 If you do try any of the above LEGO learning activities, please leave me a comment below telling me about it  or share a picture of it on my Facebook page. If the activity is from another wonderful blog, I bet they would love for you to share how much you like it on their blog or Facebook page.

(Visited 865 times, 1 visits today)