I love to make fun snacks for my son. Recently I made a Christmas tree that features Christmas food items I know he enjoys. This fruit tree snack was so easy to make and only needs two fruits to make. I bet JDaniel could replicate it with very little help from me.
The trickiest part of creating this Christmas food featured snack is getting to the fruit. The peeling of the kiwi isn't really that tricky. You do have to make sure the peeler is going deep enough to get under the skin. The pomegranate is a totally different story. I usually wear rubber kitchen gloves when I cut work with the pomegranate.
How Open a Pomegranate
Cut of the flowery area at the top.
Cut down the sides of you pomegranate on the ridges if your pomegranate has them. I tend to make four or five slits.
Slowly pry open the pomegranate. Watch for seeds trying to escape or seeds you may have accidentally cut open.
We remove the seeds from one section at a time.  (We have found that turning the section over and lightly pushing out the seeds is helpful.
Hint: After removing the seeds, check the floor for stray seeds. If you accidentally step on one, the juice can be messy to clean up.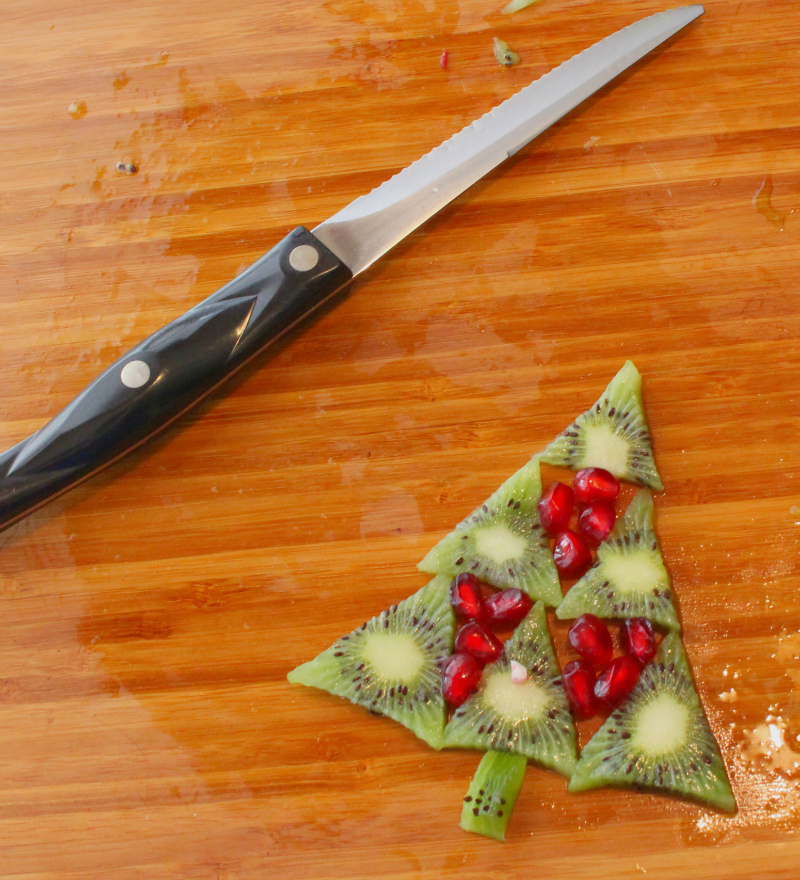 Construction Instructions
After cutting the kiwi into thin slices, we cut each slice into a triangle. We were going for equilateral triangles, but ended up with irregular triangles. (Don't worry about the round edges you cut away. The scraps at my house were quickly inhaled. There were no uneaten pieces of kiwi left when we were finished. )
One small piece of kiwi was cut into a rectangle to make the tree's trunk.
Then we tucked four pomegranate seeds in between the kiwi triangles.
Here are Some Other Wonderful Christmas Food Ideas:
Some of them can be found here on JDaniel4's Mom and some are from other wonderful blogs.
Hot Chocolate Recipes for Families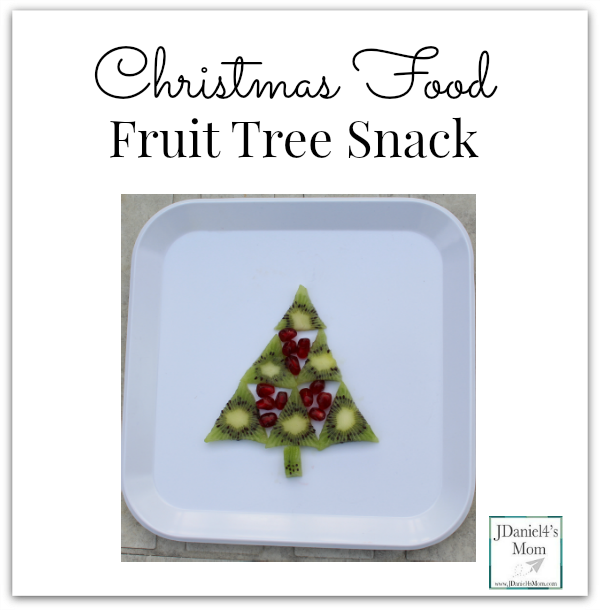 You can find more Christmas food ideas on my Food Creations Pinterest Board.

(Visited 176 times, 1 visits today)