During the last few weeks, I have shared geometry activities that focused on vertices and sides. JDaniel got make geometry aliens and explore geometry riddles with LEGO at home to re-enforce the skills he was working on at school. If he was working on geometry at school and it made sense to review those concepts at home. Now he is moving on to fractions at school so, we have moved on to them too. Today's activity uses LEGOS to play fraction games.
Disclaimer:
We have tons of LEGOS at home! (So many LEGO that I made him a special LEGO storage bucket.) We are using them a lot to review and learn skills. If you have tons of blocks, you might want to use them for this activity instead.
How We Put the Workspace Together: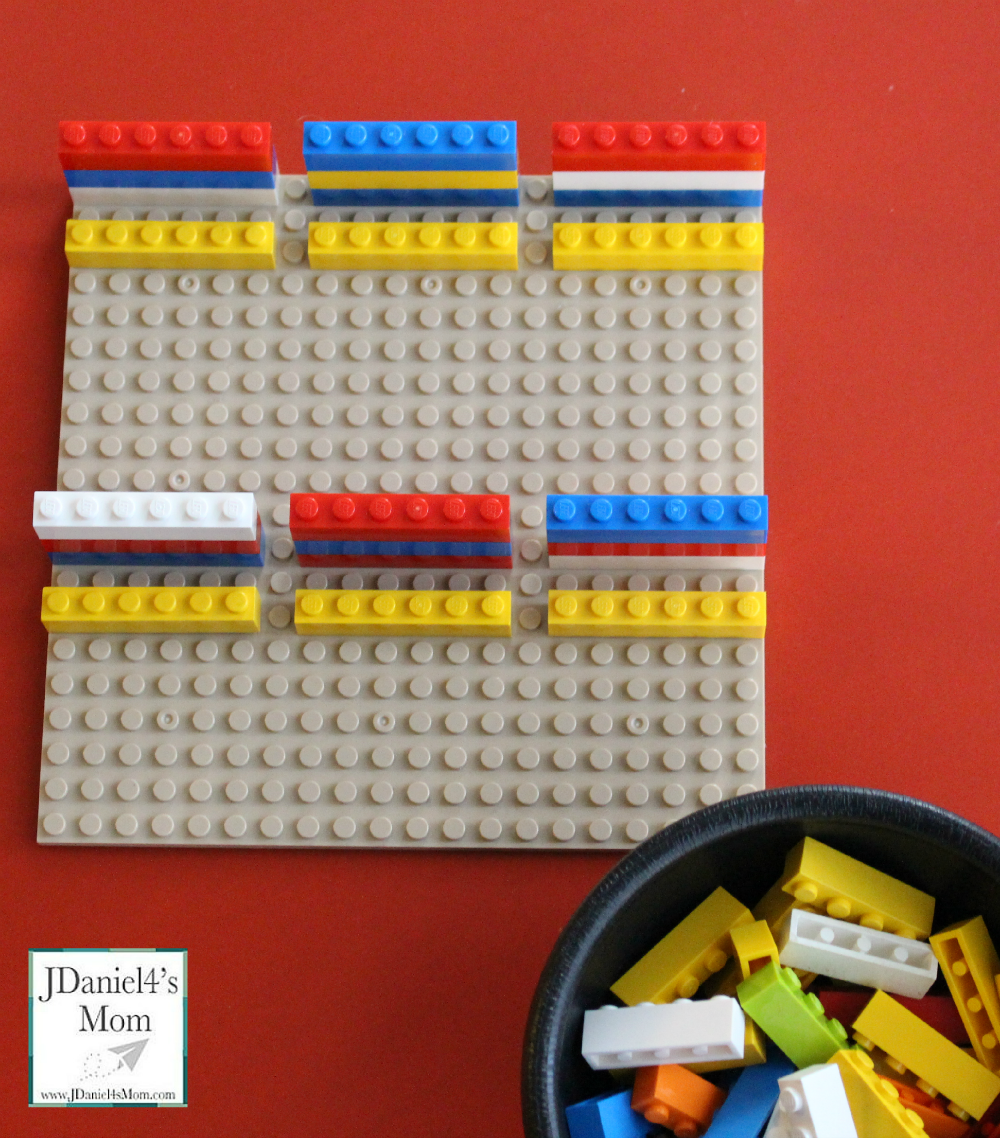 Supplies
Base plate
A lot of 1×8 LEGOS
A lot of 1×4 LEGOS
Index cards
Magic Marker
The link below is an affiliate link.
Tip:
We accumulated a lot of LEGO by purchasing an assortment of LEGO with 884 Pieces in a box.
Steps
We created six towers using three 1×8 in each.
The three towers were placed in two rows.
A single 1×8 was placed two rows in front of each tower.
This created an index card display space.
With the workspace completed I wrote various fractions of small pieces of  index cards.
Playing the Fraction Games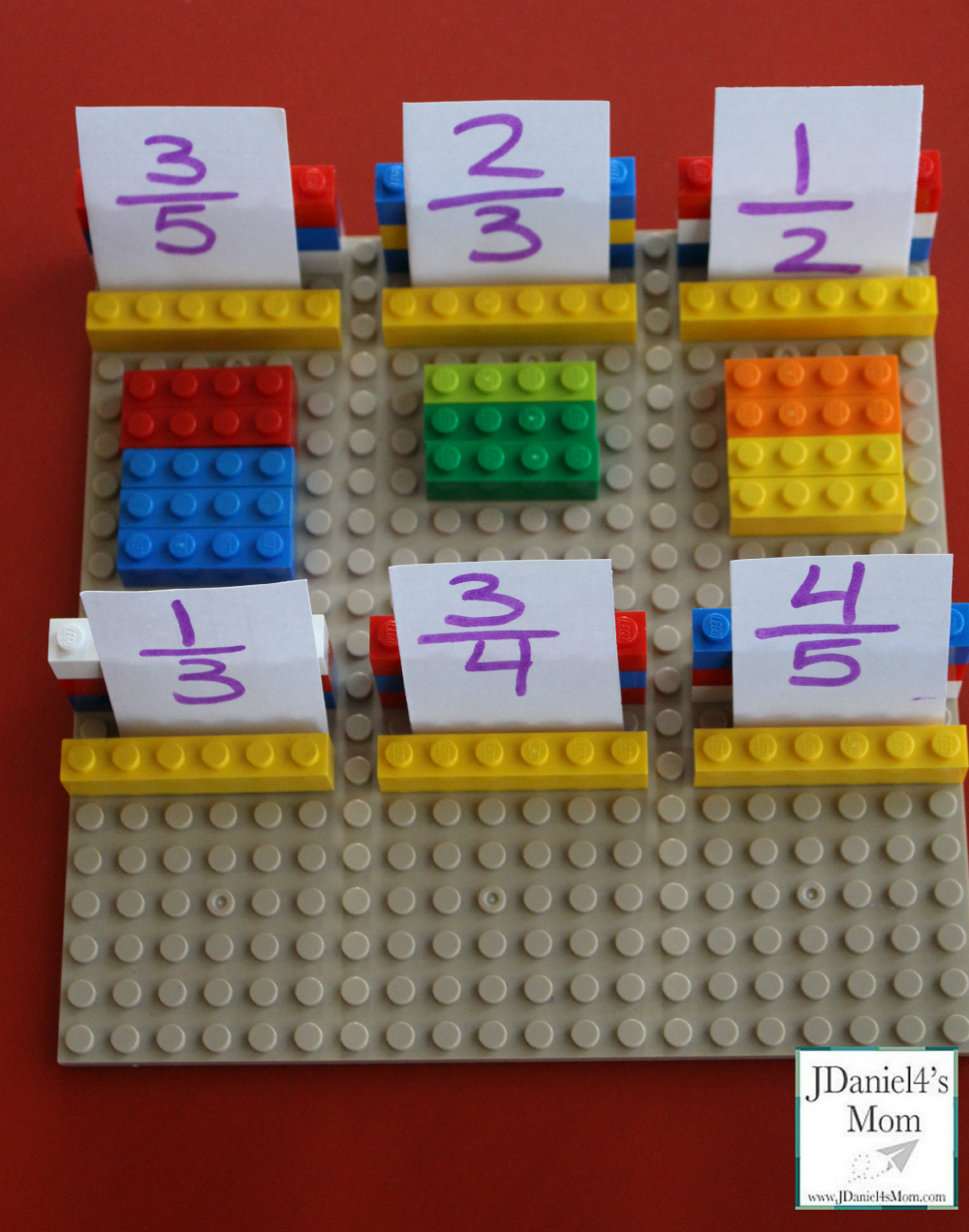 I laid the fraction cards out on the kitchen table along with a bowl of 1×4 LEGOS. JDaniel was asked to select a fraction and place in it a card holder. Then he was asked to display that fraction.
He chose to display some of the fractions horizontally and some vertically. We talked about how it really didn't matter how the LEGOS were displayed. What mattered was that they displayed the right fraction!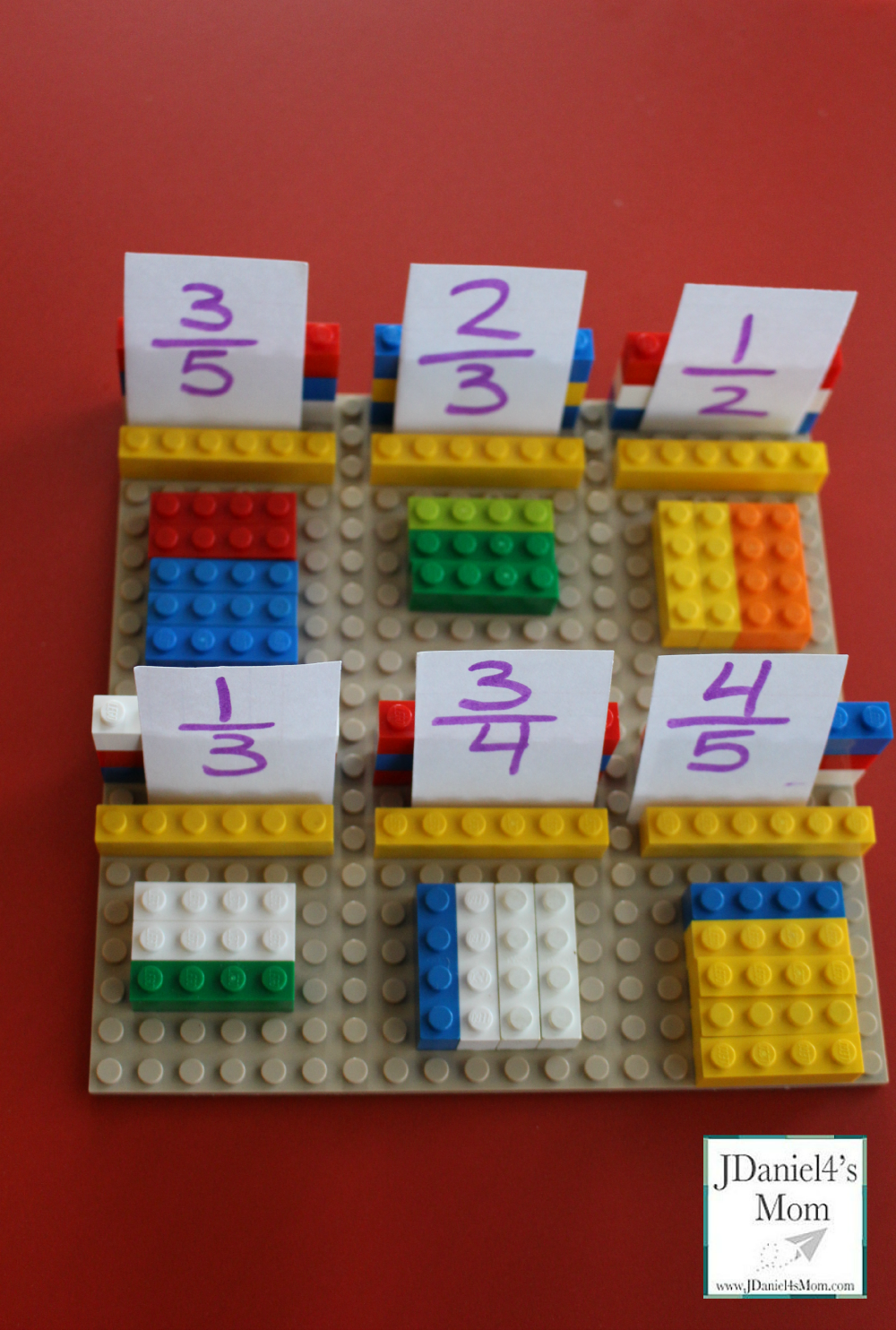 Fraction Game Alternatives
After he had finished the two rows of fractions, he decided that it would be fun to build the fraction and have me find its fraction card.
This would be fun for two children to play or an adult and child as we did.
Here are several more fraction game ideas we tried out:
Vertical Fractions
We displayed our fractions flat on the base plate. Children could display the fractions in towers if they like. There really isn't a wrong way to play these fraction games.
Opposite Fraction
After we created the fraction displayed in bricks based on the card, we talked about what the other fraction displayed. The first fraction displayed in the first row of this picture showed three fifths of the bricks as blue, but what fraction was displayed by the red bricks? It displayed the fraction two fifths.
Reducing Fractions
If you had a larger base plate to work with, you could work on larger fractions. If you worked on larger fractions, you could then talk about reducing the fractions to their lowest terms.
JDaniel noticed that one half and two fourths were the same when we worked on building the  fractions. The LEGO fraction display made it easier to see that relationship. I think working with bigger fractions will do that with many fractions.
Call the Color of the Numerator
If you are ready to go into numerators and denominators, children could be asked to display the top number in a specific color. The remaining bricks could be different colors or all the same of any color but the one used for the top color.
JDaniel pointed out that to me with he was working on fractions. If was a great time to introduce "big kid" math words.
If you do try any of the above fraction games, please leave me a comment below telling me about it  or share a picture of it on my Facebook page.

(Visited 32,462 times, 11 visits today)