I love coming up with new LEGO ideas. We have used LEGO to explore addition sentences, do science experiments, and illustrate book characters. I thought it was time for us to use LEGO to do an art project.  LEGO make a great tool for printmaking with paint.
My son wanted to have LEGO themed birthday party this year. We went to a local Bricks 4 Kids and then out to a pizza buffet restaurant.  I thought and thought about LEGO ideas for birthday parties that are not held at home. I wanted to bring something to decorate the table with, but I didn't want cart a lot of stuff into the restaurant.
I had my son and two of his friends use LEGO to decorate some paper placemats. They dipped LEGO of all different sizes and shapes into small bowls of paint. Then they stamped them on the placemats. The kids loved them and I thought they looked great.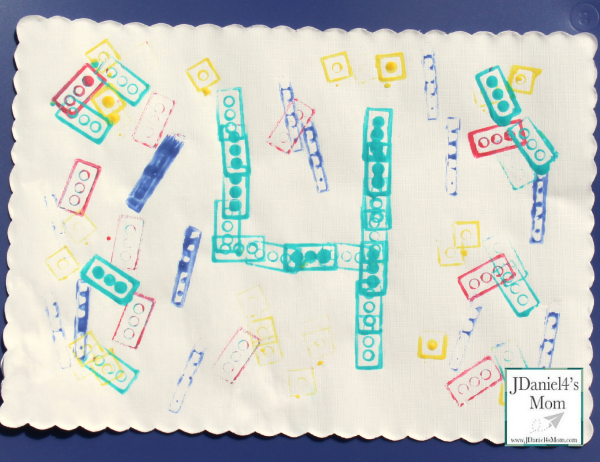 Unfortunately I didn't take pictures of the kids creating the fun LEGO placemats that we made for the party. Recently we redid the craft so I could share it with you. We created these placemats using the number 4 in the center.  My son is 7 but, we made them with a number 4 on them to use on May the Fourth Be with You Day. This is one of those LEGO ideas that can be used for children's birthdays or a special holiday you are celebrating.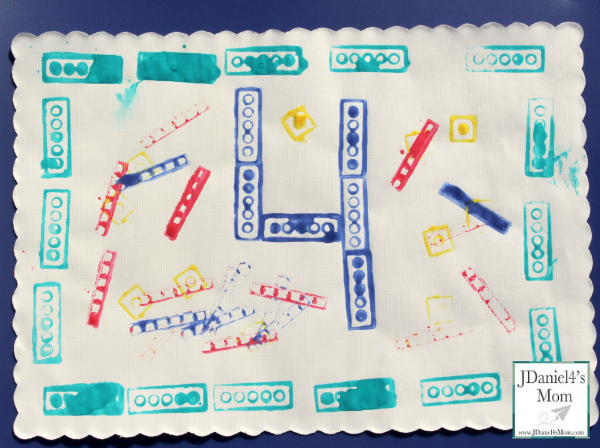 Warning: We used paper place mats and tempera paint so; spills or food smears changed their appearance. You could do this on cloth place mats with fabric paint if you want them to last beyond your party or event unblemished. We told the kids ours would be thrown away at the restaurant and they were fine with that.
Here are Some Other LEGO ideas:
Geometry Riddles Solved with LEGO

Valentine Ideas – Graphing with Candy Hearts and LEGO
If you try these LEGO activities , please leave me a comment below telling me about how your experiments went  or share a picture of it on my Facebook page. If you are looking for more LEGO learning games, you will find a number of them on my LEGO Learning Activities Pinterest board.

(Visited 466 times, 1 visits today)