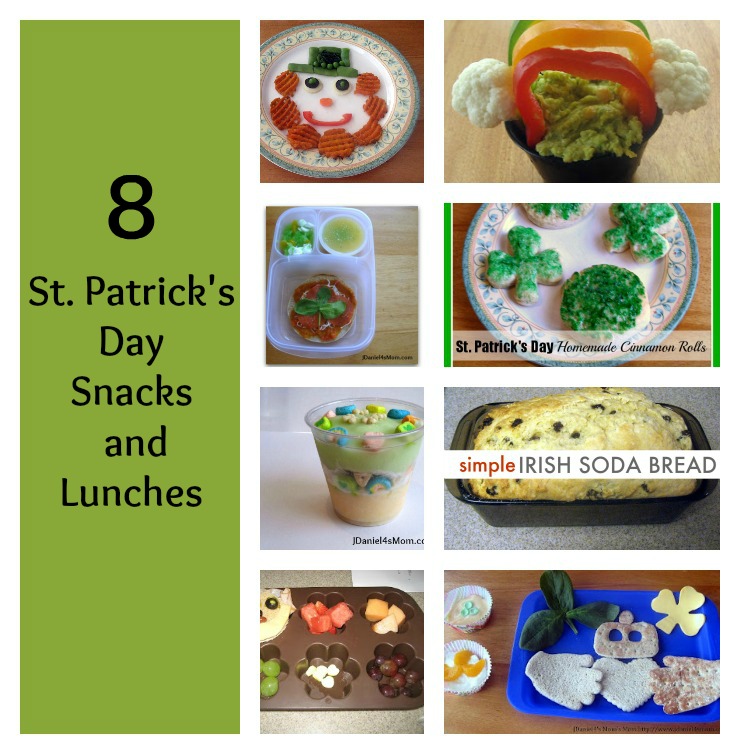 I thought I would share with you several of the St. Patrick's Day snacks and lunches I have created. Half of them are from posts I wrote for this blog and  the other half are from  posts I wrote for other blogs. I hope you will take a moment and explore the posts that they were originally shared on.
Here are the St. Patrick's Day Snack's and Lunches
>The leprechaun face in vegetables is from a post I wrote for the Iowa Farmer's Wife called Getting Children  to Eat New Foods: St. Patrick Loves Veggies.
The colored pepper rainbow over homemade spinach hummus is from post I wrote for Kid's Activities Blog called Crafting a Healthy St. Patrick's Day Snack.
JDaniel recently had a special St. Patrick's Day lunch with a spinach pizza served in a bento box. He loved it! I think you will too.
St. Patrick's Day Cinnamon Rolls
is a post I wrote for Kid's Activities blog. It will featured tomorrow on their blog. They are simple to make and yummy to eat.
JDaniel loved this fruit and yogurt parfait. It was super easy to make and he said it was delicious.
Last year I shared how to make Simple Irish Soda Bread on No Time for Flashcards.
We had a St. Patrick's  muffin tin a couple of years ago that featured a leprechaun turkey burger. The post was called St. Patrick Needs Fruit.
JDaniel had an Irish Symbols Snack for Muffin Tin Monday. It featured the symbols from the Claddagh ring. They stand for love, loyalty and friendship.
You will find more St. Patrick's Day lunches and snacks on my Food Creations board on Pinterest. Please take a moment to check them out.
What will you have having for lunch or a snack on St. Patrick's Day?

(Visited 207 times, 1 visits today)