Something super wonderful happens every summer in not too far away from where we live. The Aloft hot air balloon festival in held at Heritage Park in Simpsonville, South Carolina. While many families attend the festival to enjoy the rides, special food, concerts and to observe a field filled with balloons, we enjoy the balloon festival from outside the park. Why? We love balloon chasing.
Somewhere between 6-8 p.m. each night of the festival the balloons take off  from Heritage Park. We head down to the park  around 6:30 to see which way the cars in front of the park are facing. The direction they are facing is usually the way the balloons are going to travel.
This year they were facing toward the southeast. We drove to a school near by and waited with about thirty other cars filled with people for the balloons to take off. After waiting about fifteen minutes, JDaniel challenged me to chase him around a grassy area in front of the school. Until the balloons took off, JDaniel and I were the entertainment. Well, their were a few other children running around too.
Some of the people in the parking lot had taken out chairs, picnic dinners, and coolers of drinks. These were the non-chasers. The chasers were waiting for the first few balloons to take off and then they would hustle out of the parking lot to follow them.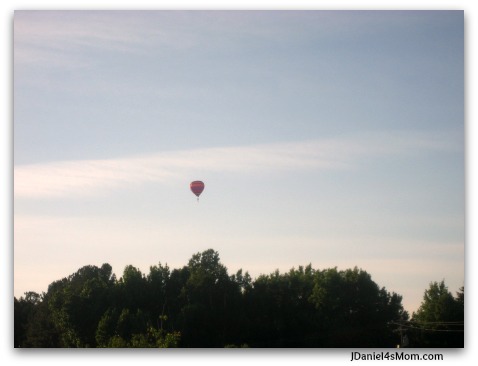 We as I mentioned are in the balloon chasing group. My sister and nephew ( Who were visiting us.) were shocked to learn that my family is not the only family to spend a Saturday night in May chasing balloons.  As soon as we had seen twelve or so balloons, we began our chase.
During the hot air balloon chase it can look like balloon are heading one direction only to swerve off in another direction. They go where ever the wind blows them. We go where ever the roads will let us go. Sometimes we end up in a housing developments that suddenly dead end. When that happens, we have to backtrack out of the development try to find a main road that will take us the direction we want to go it.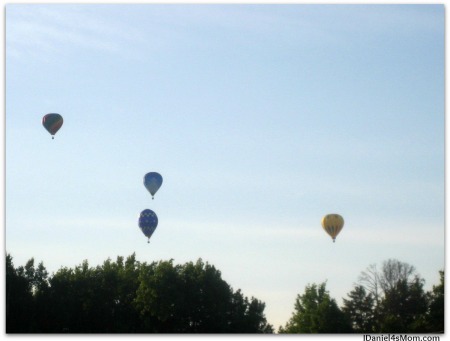 A sign we have gone in the right direction is the appearance of a chase vehicle for a particular balloon. If we get behind one of them, we know we will end up where a hot air balloon is going to land. This year when came across one, but it was on the side of the road. Its passengers had spread a map across its hood. We decided not to wait for them to find the right road. We headed off to find it on our own.
Not soon after we did find it. There were a line of cars in front of us that had found it too. Thankfully we found a golf course with a parking lot that was open to the public to park in near where we thought they would land. Several dozen balloons flew over our heads while we got out of our car. It was amazing.
We decided not to return to the line of cars chasing the balloons instead we walked on a path across from the parking lot to follow the balloons on foot. Some of us walked. My nephew and JDaniel ran to try to catch the balloons.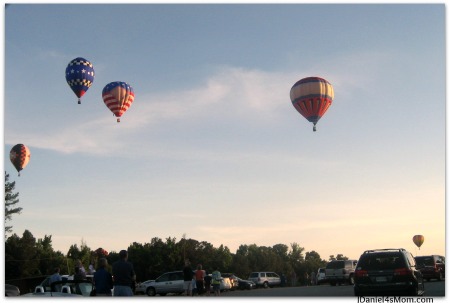 We followed the path to its end and watched more balloons stream past us. It looked like we won't be able to see a balloon land this year.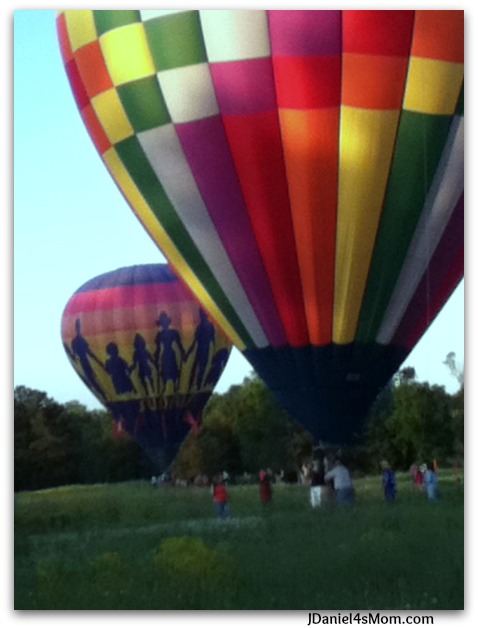 God must have heard the pleas of two boys who desperately wanted to see a balloon land. Just was we turned around to head back to the car two balloons landed in the field.  The boys were thrilled.  They got to run up to each of the balloons to check it them out.
What a night! Simpsonville, South Carolina is not the most hip or cool place to be most Saturday nights, but once a year it is the coolest place to be. There is something wonderful about watching a hot air balloon take off and sail across the sky. Watching a balloon traveling across a blue sky is better than any movie. I don't know how many times we each said words like cool, incredible, awesome, or amazing.
If you are ever near Simpsonville on a Memorial Day weekend, I hope you will go balloon chasing too.
This post is linked to Mrs. Matlock's Alphabe Thursday.
Follow JDaniel4's Mom on 

Facebook

, 

Pinterest

, and

Twitter

.

(Visited 68 times, 1 visits today)