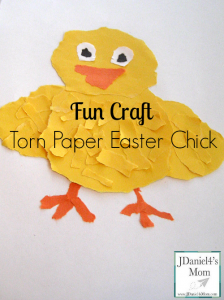 Easter crafts are fun to make and send to friend and family. We recently sat down at the kitchen table and created this fun craft creates a fun torn paper Easter chick.
One of the best things about torn paper crafts is that there isn't a wrong way to tear paper. There are times when you try to tear the paper in a shape as we did for the chicks head and body. When you are trying to tear it in a shape, it can help to draw that shape on the paper and tear around it. Be warned that sometimes the paper won't cooperate. You may end up with a wonky looking circle. We like odd shaped circles at my house so, that didn't bother us.
There are times when you just want to tear off strips of paper. When you are going to use those strips as feathers for an Easter craft chick, having odd bends or twists in the paper you are tearing works out really well.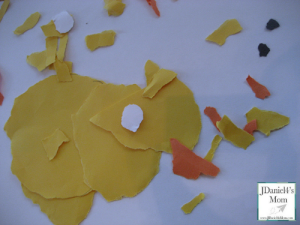 We tore the body and feathers for the chicks out of yellow paper. The beak and the feet of the chicks were torn out of orange paper.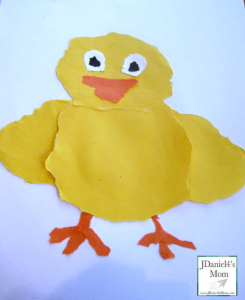 We both experimented a little with torn paper placement on our Easter craft chick before we glued the pieces in places. One of us put a little more thought into our creation than the other, but we both shifted, flipped, and rotated the torn pieces.
When we both had our chick's bodies decorated the way we wanted them to be with torn paper, we added eyes to our Easter craft. Once again we tore paper. White paper was used for the outer eye and black paper was used for the inner eye or eyeball.
I just love the look of a fun craft of torn paper. The torn paper seems to give this Easter craft texture. The layering effect of the paper also gives it a 3-D look too.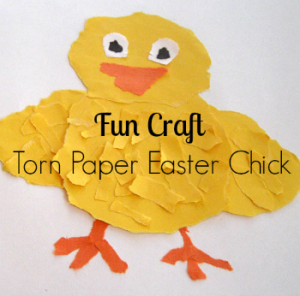 These Easter craft chicks turned out as well as the torn paper penguin we made in the winter. I will need to work on some more torn paper crafts with JDaniel. If you are looking for more spring art projects, you may want to check out my Spring Craft board  or Easter Craft board on Pinterest.