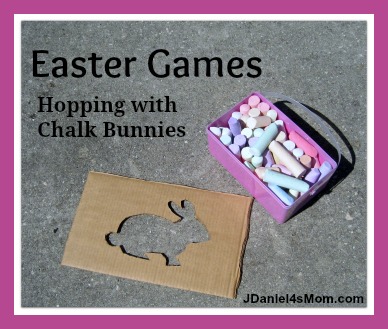 The weather has been warmer here and we have needed to get out and move. I thought we could boogie to the left, boogie to the right and play Easter game I am calling the chalk bunny hop. We have been hopping like a rabbit all week. It has been a lot of fun. Sometimes we stop by our row of bunnies on the way to the mailbox and hop, hop, hop.
Here is how we made our bunny hop:
I printed out a picture of a rabbit and traced it onto a piece of cardboard from a box. Then I used an Exacto knife to cut the picture of the rabbit. It was a little challenging to cut out his ear and feet. His feet didn't end up as rounded as they had been in the picture. I think I am a little rusty at using the Exacto knife
Then we took the template outside and used sidewalk chalk to draw a line of rabbits on our driveway. We really had to push down with the chalk to make the rabbit outlines stand out. The chalk really had to be shoved into the ears and feet. The ear and feet areas are not really that big.
Once the bunnies had been drawn, we were ready to get moving. We hopped from bunny to bunny. We stepped from bunny to bunny. Finally we boogied from bunny to bunny. We really could have jumped, sidestepped, galloped or tiptoed too.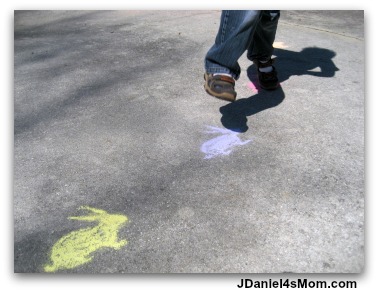 The goal of this activity was to get out and move in the warm sunshine. I think this would a great activity to do with children on Easter Sunday. After a morning filled with sitting in church and inhaling sugary sweets, playing Easter games that get you moving is a great idea.
I hope you will make a chalk bunny template and have bunny hop of your own. Your children will probably love playing this Easter game too. You will find more Easter related games and activities on my Easter Pinterest board.
Here are some wonderful Easter games and activities right here you might want to check out:
Experiments with Egg Parachutes

(Visited 4,060 times, 1 visits today)