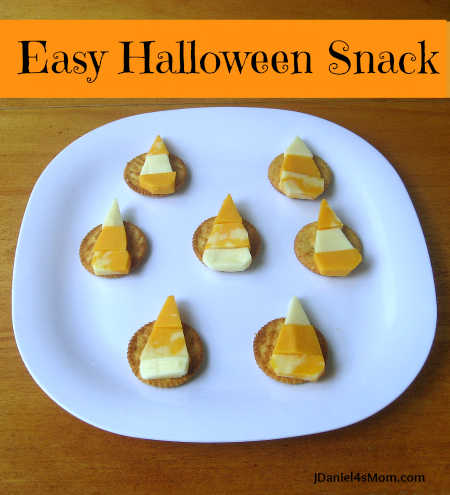 When I  have looked on Pinterest for fun and easy Halloween snacks, I have some great ones. I have even started a board for them called Halloween Food Ideas. Many are sweet treats (I love them.), but  I decided that I needed to come up with an easy Halloween snack that was a little on the healthier side.
JDaniel is a huge fan of cheese. I thought it would be fun to create something that looked a Halloween sweet, but was made using one of JDaniel's favorite foods. That is how I came up with candy corn cheese on crackers using Colby jack, sharp cheddar and mozzarella cheeses.
How Did I Make This Easy Halloween Snack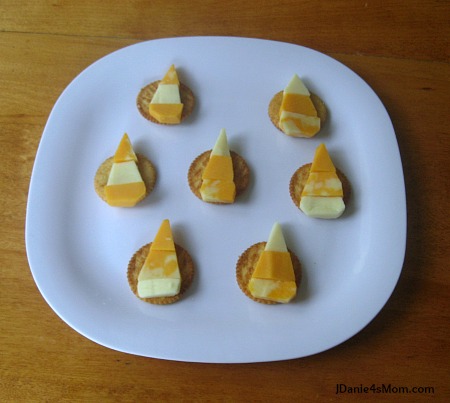 I would love to say it was perfectly easy to make. It should have been easy, but the cutting the cheese perfectly was a little tough for me. Seriously? Yes, I have a difficult time cutting cheese into nice straight slices. I know there is probably a tool for that, but I didn't have one on hand. If you have the right tool or are just a gifted straight slicer of cheese, it will be easy.
The slices were then placed into two stacks. (One stack would have been too tall for me to work with.) Each stack was then cut into triangles. The triangles were then cut into three sections to replicate the three sections of a piece of candy corn. I did find that I could do straight cutting for this step in creating an easy Halloween snack.
Then it got a tiny bit tricky. (Not bad trick, but challenging tricky.) This step involved matching one type of cheese up to create a candy corn creation that was the same thickness, and width. I confess I did trim so of them to get them match up better.
The final step was super easy. All I had to do was to place each candy corn cheese creation onto a whole grain round cracker.
How Did They Go Over
JDaniel really enjoyed them. He does seem to like cheese as much or more candy anyway. A mock candy snack was something he really enjoyed.
What do you like better cheese or candy?