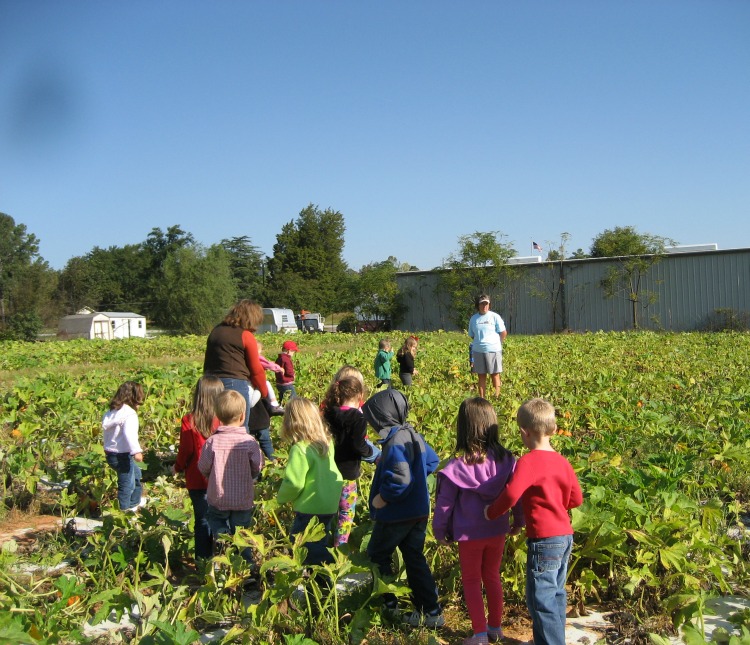 After the children in JDaniel's preschool class had the parts of a pumpkin and the rules for holding a pumpkin  explained to them, the headed into the pumpkin patch to choose a pumpkin to take home.
The lady giving us the farm tour said to search for just the right pumpkin for you. When you found it, you were to stand by it with your hand up and someone would come across the pumpkin patch and cut it off the vine for you.
Searching the Pumpkin Patch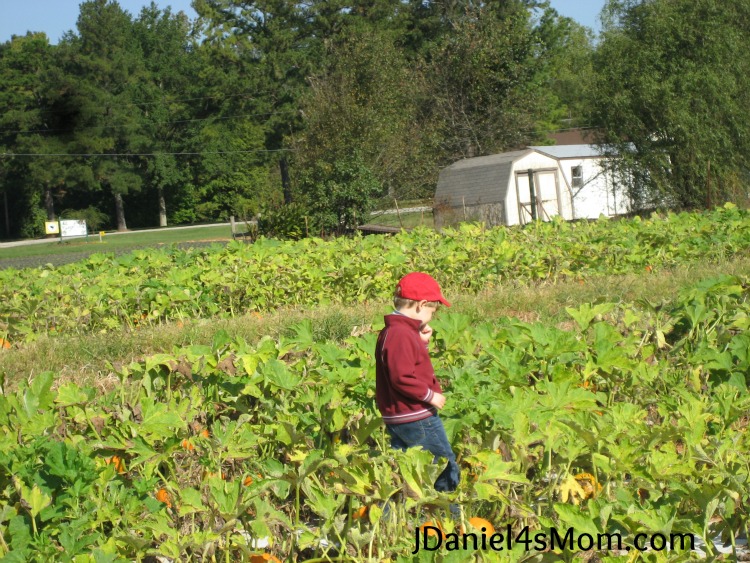 Some of the children barely made it into the field when they found the pumpkin they wanted. The lady came over and snipped the vine and they hustled out of the field to wait for the others to pick theirs.
If they had known how long that wait would be, they might have might have stayed in the field a little longer. The early pumpkin pickers ended up having to wait quite awhile for the others to find theirs. Soon few more children found their pumpkins and some kept looking and looking. Just an average pumpkin wasn't going go home with them.
More and more of the class picked their pumpkins, raised their hand, had their pumpkin's stem cut, and headed out of the field. Still there was one little boy who had to keep looking.
Despite my questioning whether it was possible to have passed the ideal pumpkin, he keep looking and looking.
"Are you looking for a small pumpkin or a large one?" I asked. He simply shrugged his shoulders and kept looking.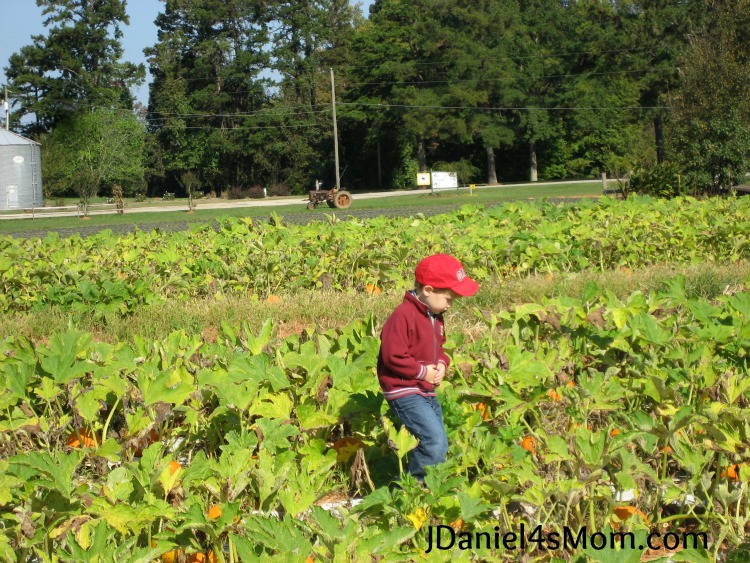 There was so much thought going into a decision that seemed to take others no time to make.  He wanted it to be just right. I started to wonder if he would ever find one.  We had driven ourselves to the farm. We could stay just a little bit longer than the class if we needed to.
Finally after everyone in his class had found their pumpkin his hand shot into the air. The guide quickly came over to cut the stem of this much searched for pumpkin. JDaniel was thrilled with it. Finding just what he had wanted to really made his day.
What did the perfect pumpkin look like?  It is orange with green spots on it. It is on the large size of small pumpkins and it is really heavy. It was too heavy for a now tired from searching little boy to carry any further than the hay wagon we had to taken to the field on.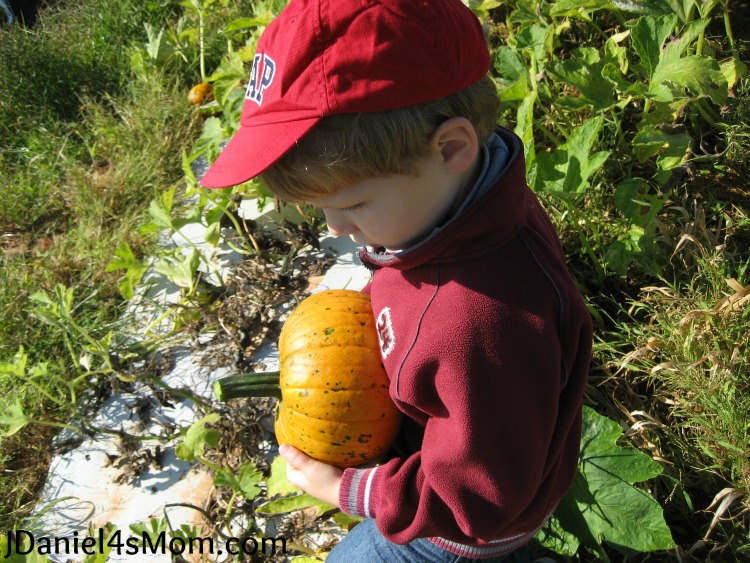 Just as it is with other things we search for life. Finding just the right thing can take awhile. When you find it, it can make your whole day!
This post is part of a blogging link up called Outside Play: Pumpkins and Leaves. If you have a post on this theme I would love for you to link it up below.
This link up is being co-hosted  by
Enchanted Homeschooling Mom,
One Stop Mom Talk
,    
Home Learning Journey, 
Train Up a Child
,  
Kitchen Counter Chronicles
,
The Usual Mayhem,
Here Come the Girls.