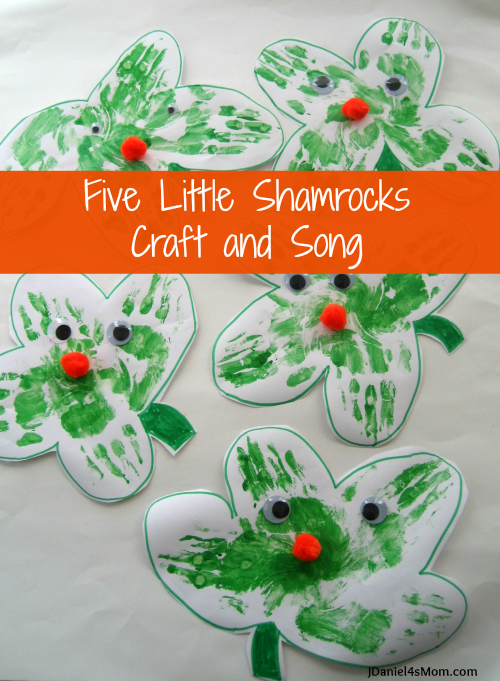 Have you heard the Five Little Shamrocks song before? Have you ever made a hand print shamrock? We hadn't done either until we started to work on this Five Little Shamrocks craft and song. We love Five Little… so much that I searched and searched until I found one for St. Patrick's Day.
Five Little Shamrocks
One green shamrock, in the morning dew,
Another one sprouted,
and then there were two.
Two green shamrocks, growing beneath a tree;
Another one sprouted,
and then there were three.'
Three green shamrocks, by the cottage door;
Another one sprouted,
and then there were four.
Four green shamrocks, near a beehive
Another one sprouted,
and then there were five.
Five little shamrocks, bright and emerald green,
Think of all the luck
these shamrocks will bring.
While I think the Five Little Shamrocks is a super cute song that can be song all by itself, I love to try to come up with a craft to go along with rhymes and songs that we are working on. The crafts can be used as props while you sing the song. They are also  great for retelling the song. When you have finished using them along with the song,  they make wonderful crafts to display in the hallway outside of your classroom or on your kitchen fridge.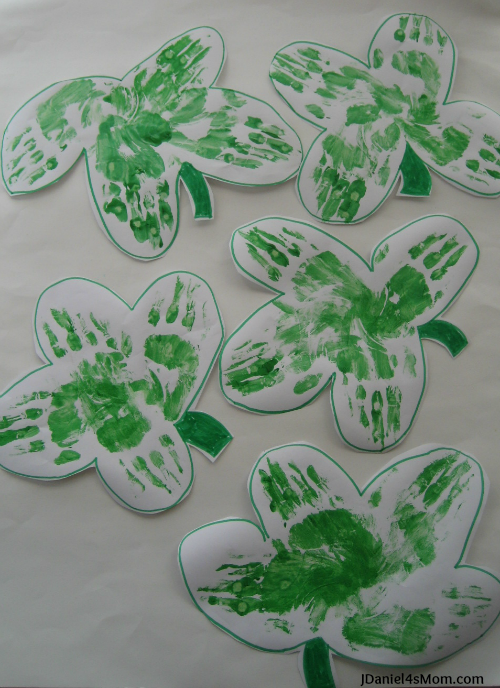 Our hand print shamrocks were so simple to make. We placed green paint on the palm side of a hand and placed four hand prints in flower petal design onto white paper. Then we cut out the hand prints and I added an outline around the shamrocks with green marker. A stem for the shamrocks was also drawn on with green marker.  Finally two wiggly eyes are placed on each shamrock along with an orange pom-pom. ( I tried a green pom-pom on the shamrocks, but it really didn't differ enough from the green paint and marker. ) Orange is one of the colors on the Irish flag and it added contrast so, we went with orange pom-poms.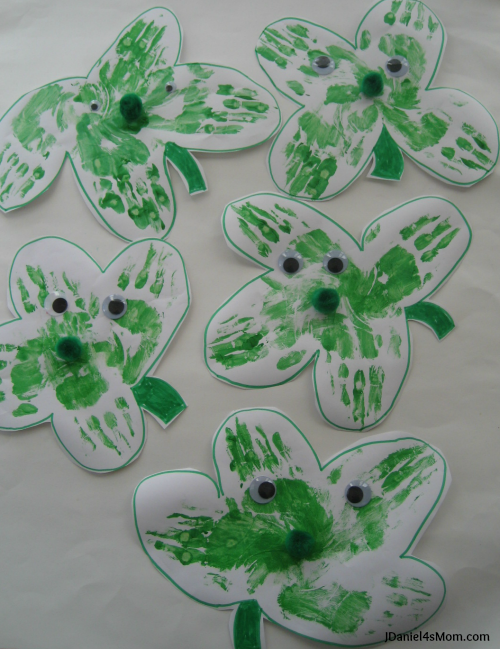 You may notice that one of the shamrocks has tiny eyes. I didn't have enough large wiggly eyes for all five shamrocks. It may look a little odd in the picture. I think it ended up being okay. Five is an odd number so, why shouldn't the fifth shamrock be a little odd.
Here are some other Five Little.. Songs and Crafts we have done: 
Deirdre Smith writes/owns JDaniel4's Mom. After twenty years as a elementary school and technology resource teacher in Northern Virginia, she became a stay at home mom in upstate South Carolina. Her blog features ways she and her 5 year old are exploring learning, crafting, creating healthy meals and living life to its fullest. Deirdre can also be found on twitter as @jdaniel4smom and on her blog's FB page. You can also check her out on Google+.

(Visited 3,205 times, 2 visits today)