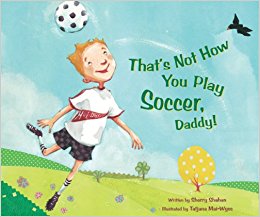 I love the dad in the book That's Not How You Play Soccer Daddy by Sherry Shahan! The dad in this wonderful book realizes his son is taking his job as team captain and his playing of soccer over seriously. He wants him to enjoy the game the way the other kids do.
Actually, the other kids would gather explore an anthill rather than plays soccer. Mikey thinks every rule should be followed.
After practice, his dad takes to a different part of the park for lunch and to play. Mikey just wants to practice.
Mikey's wise dad thinks he should play shoeless, with the family dog and with his hands.  After a tickle fest with his dad, Mikey agrees with his dad.
Sometimes you just have to have fun.
What did we do with this book?
Created a Game with Tomato Cages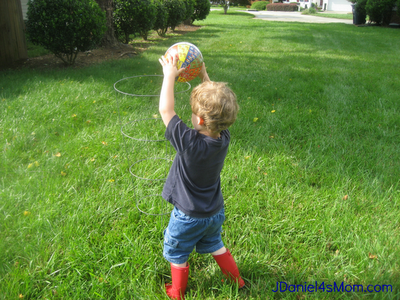 I planted two tomato cages across from each other in the yard imagining we would play a game that combined soccer and basketball.
JDaniel looked at the cages and decided that one cage was the starting line. You then had to run around two bushes and a tree before heading across the yard to drop the ball in the far tomato cage.

My game was a little simpler, but his game turned out to be lots of fun. Sometimes it is fun to just take out some materials and see what fun game you can create.
Made Ice Tea Playdough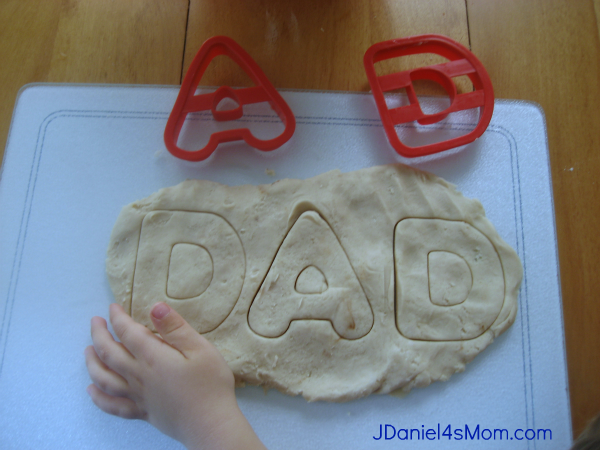 JDaniel and I started with the basic no-cook play dough found on Sun Hat & Wellie Boots using flour, salt, oil, and boiling water. We added to it a packet of ice tea powder. JDaniel's dad loves sweet tea and since we had read a book about a dad, I thought it would be fun.
The play dough we made turned a tan color, but really didn't smell like sweet tea. I didn't dump in a full packet of Lipton's Tea and Honey and that may have kept the full scent of the tea from coming to the surface of the playdough.
We had fun playing with it anyway.
What adventures have you had with books this week?