My mom's family is from the Breton area of France so, when I was asked what country I would like to share as a part of the Kid Blogger's Network's Christmas Around the World celebration I decided to focus on France. 
Other than making a butter cake called French Cake during the holidays my family did very little that passed out the French holiday traditions my great grandparents may have had. JDaniel and I headed to the library to look for books that would help us learn more about how the people of France celebrate Christmas. We found a wonderful book called
Christmas in France
by Kristin Thoennes.  It is a book filled with wonderful photos and lots of information about traditions related to Christmas in France.
Christmas Around the World- Exploring French Traditions
Yule Log

We learned that in the past many people in France burned a yule log in their fireplace . Today they eat a yule log shaped cake called a buche de Noel.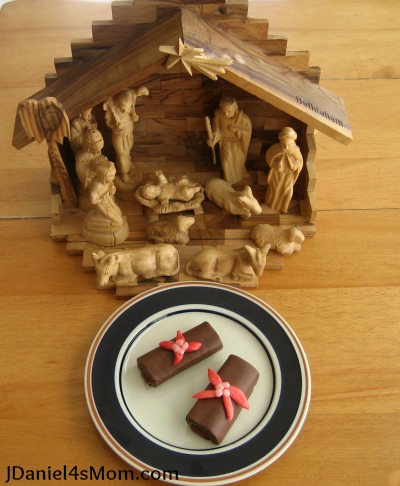 JDaniel and I decorated a store bought chocolate roll cake with candy petal and berries I made out of Starburst candy to create our yule log.
Christmas Presents
JDaniel was thrilled to learn that in France Pere Noel comes twice. He brings small packages of candy and treats on December 6th and also on Christmas Eve. During his stop on Christmas Eve, he lives games, toys, and candy in or around shoes left near a fireplace or creche.
I think he might want to visit France next December just experience to Father Christmas stops.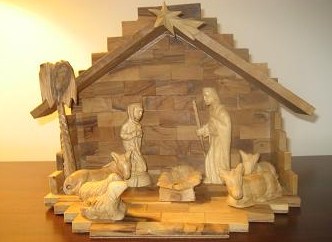 Creche
The link below is an affiliate link.
A creche is a nativity scene that displays the birth of Christ. A creche hold figurines or santons. Santons in France are made of terra-cotta clay.  The look like people and animals
We have a Willow Tree nativity scene made of the the people and the animals, but we don't have an creche for that set. We do have wooden creche and nativity set from Bethlehem that my in laws brought my husband.  Both sets are usually kept out of JDaniel's reach. Some of the wise men were cracked last year.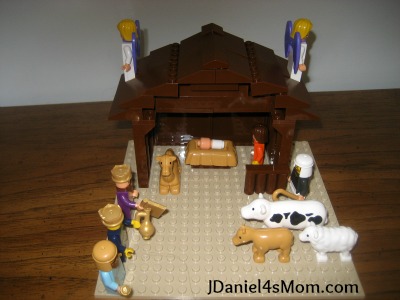 This year I decided to buy him his own set to play with. It doesn't have terra- cotta figures as a french set might. His is made of Lego like pieces and is called  Tales of Glory Nativity Playset
.
Christmas Crackers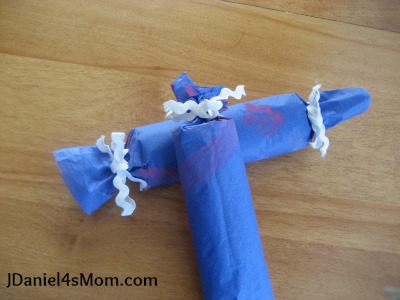 We read that children in France make Christmas crackers. The crackers are papers filled with candy that are pulled open.
We decided to make some of our own using tissue paper to create cylinders. JDaniel painted the tissue paper with cotton balls. He made a wild modern design of streaks, spots and blobs.  After placing the candy in toilet paper rolls, we wrapped them with the tissue paper and  taped them closed with scotch tape to keep the candy from leaking out the sides. Then I tied at each end with rick rack.